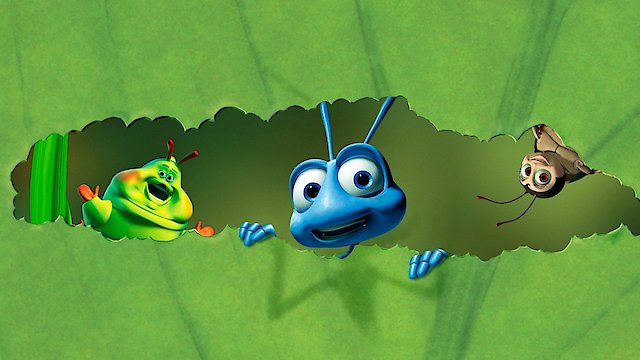 Where to Watch A Bug's Life

A Bug's Life is a captivating 1998 animated adventure-comedy film that immerses the audience in the world of miniature beings we often overlook, the bugs. Renowned actors like Kevin Spacey, David Foley, and Julia Louis-Dreyfus give voices to these tiny beings, creating an enthralling narrative brimming with humor, adventure, and heartwarming lessons about courage, individuality, and teamwork. This Pixar classic displays a masterful blending of engaging storytelling, breathtaking creativity, and cutting-edge animation. At the heart of A Bug's Life is the tale of an ant colony, living on an island in the middle of a stream. The protagonist is a quirky and inventive ant named Flik, voiced by David Foley. Unlike other ants in the colony, Flik views the world differently and has an inventive mind. However, his attempts to improve his colony's lifestyle often end in mishaps, leading to him being treated as an outcast. Their peaceful existence is monopolized by a gang of menacing grasshoppers led by the intimidating Hopper, voiced by Kevin Spacey. The grasshoppers instill fear, exploiting the ants' labor by forcing them to gather food for them. One day, Flik accidentally destroys the offering meant for the grasshoppers. Guilty and desperate, Flik decides to make things right. He proposes a brave plan to the Ant Queen, voiced by Phyllis Diller, and Princess Atta (Julia Louis-Dreyfus), who is being groomed as the successor. Flik embarks on a journey to find bigger bugs termed as the "warrior bugs" to fight off the grasshoppers. Through the course of his expedition, Flik encounters a variety of creatures, each with their distinct personalities and abilities. Believing he has found the ferocious bugs he was looking for, he enlists the help of a group of inherently harmless but uniquely skilled bugs who work in a failing flea circus run by P.T. Flea, voiced by Pixar regular John Ratzenberger. In the bug world filled with colorful characters and microscopic wonders, A Bug's Life showcases an array of tiny heroes and villains, including a stick insect, a ladybug, a praying mantis, a pair of beetles, a beautiful blue butterfly, and many others. Each character is wonderfully animated, well-developed and brings the captivating bug world of the movie to life. Energy and humor flow throughout the movie with lots of high-speed chases, slapstick comedy, and sharp dialogues. Kevin Spacey, with his charismatic voice, gives an exceptional performance, making Hopper one of the most memorable Pixar villains. David Foley charmingly portrays Flik's unwavering spirit to stand against oppression and his innocent desire to belong. Princess Atta, brought wonderfully to life by Julia Louis-Dreyfus, is a realistic portrayal of handling responsibilities and learning to trust one's judgment. A Bug's Life brilliantly paints a microcosm, reflective of the struggles in the real world, emphasizing personal courage, teamwork, and undercurrent messages about being unique. The dreamy animation, innovative camera angles, and detailed rendering enhance the film's immersive experience. The film's score, composed by the brilliant Randy Newman, accentuates the entire spectacle, accompanying the adventure with uplifting, thrilling, and tender musical arrangements that cement the viewer's emotional bond with the characters and the story. Pixar's pioneering use of computer-generated imagery results in some truly stunning visual sequences that are sure to captivate audiences of all ages. From the warmth of the ant hill to the dark menace of the grasshopper's lair, every frame of A Bug's Life is a piece of art. Despite dealing with themes of oppression, the film maintains a buoyant and often humorous mood, blending elements which could appeal to children and adults alike. In conclusion, A Bug's Life is a timeless tale of bravery, innovation, and perseverance. Its strong, memorable characters, stunning animation, humorous dialogues, and vital life lessons make it an enjoyable adventure for all audiences. With brilliant voice performances by Kevin Spacey, David Foley, and Julia Louis-Dreyfus, along with the masterful storytelling that Pixar is known for, A Bug's Life indeed stands as a classic in the canon of ani mated films.
A Bug's Life is a Adventure, Animation, Comedy, Kids & Family movie released in 1998. It has a runtime of 96 min.. Critics and viewers have rated it moderate reviews, with an IMDb score of 7.2. It also holds a MetaScore of 77.
How to Watch A Bug's Life
Where can I stream A Bug's Life movie online? A Bug's Life is available to watch and stream, buy on demand, download at Disney+, Apple TV, Amazon, Google Play, YouTube VOD, Vudu. Some platforms allow you to rent A Bug's Life for a limited time or purchase the movie for downloading.


Director
John Lasseter, Andrew Stanton (co-director)
Stars
Dave Foley, Kevin Spacey, Julia Louis-Dreyfus, Denis Leary Phyllis Diller Joe Ranft David Hyde Pierce Brad Garrett Richard Kind Bonnie Hunt Jonathan Harris Hayden Panettiere Madeline Kahn Roddy McDowall Michael McShane John Ratzenberger Ashley Tisdale
Genres
Adventure, Animation, Comedy, Kids & Family

Stream movies like A Bug's Life
Also starring Kevin Spacey
Also starring David Foley
Watch movies on Apple TV+