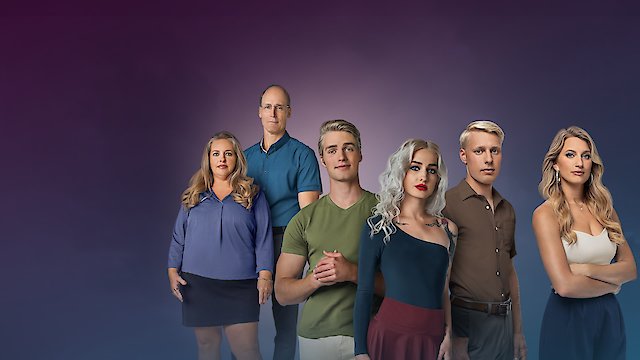 Where to Watch Welcome to Plathville
5
Parting Is Such Sweet Sorrow
Barry and Kim sit down with the kids to speak about more changes in the family. Moriah showcases her personal rebellion in the form of a tattoo.
Watch Welcome to Plathville Season 5 Episode 5 Now
4
Life's But a Walking Shadow
Ethan is frustrated by the schism between Olivia and his family and believes that time will mend their unsolved difficulties. Barry confides in Micah about his divorce.
Watch Welcome to Plathville Season 5 Episode 4 Now
3
To Thine Own Self Be True
Kim and Micah discuss the divorce, and he is surprised to learn she's ready to start dating. Olivia and her siblings bond in a bold, new way.
Watch Welcome to Plathville Season 5 Episode 3 Now
2
No Legacy Is So Rich as Honesty
Ethan strugglesto strike a balance between Olivia and his own family. Barry and Micah cement their new friendship.
Watch Welcome to Plathville Season 5 Episode 2 Now
1
Is This a Dagger Which I See Before Me?
Controversy at home spoils Ethan and Olivia's European trip. Meanwhile, Moriah makes a big decision without warning and meets Micah in Cairo to discuss the fallout with their parents.
Watch Welcome to Plathville Season 5 Episode 1 Now
101
Journey: Birds and the Bees
Watch Welcome to Plathville Season 5 Episode 101 Now
Watch Welcome to Plathville Season 5 Episode 102 Now

Welcome to Plathville is a fascinating reality television series that first aired on TLC in 2019. The show provides an in-depth look at the real lives of the Plath family, a large family from rural Georgia who live according to a unique set of rules that place a premium on simplicity, self-reliance, and family values. The Plath family features parents Kim and Barry, and their nine children Ethan, Hosanna, Micah, Moriah, Lydia, Isaac, Amber, Cassia, and Mercy, and their lifestyle, resolutely disconnected from the modern world, has been a magnet of interest for viewers. Taking a peek into the Plath family lifestyle, "Welcome to Plathville" introduces us to the parents, Kim and Barry Plath, who have chosen to raise their nine children, removed from mainstream society on their 55-acres farm in Southern Georgia. The show immerses viewers in their way of life, shedding light on how they navigate day-to-day tasks and challenges outside the influences of technology, pop culture, and contemporary influences most modern families are exposed to. Welcome to Plathville showcases how the family dynamics play out due to the parents' strict, old-fashioned approach to parenting. For instance, the Plath children are not permitted to drink soda, play video games, or watch television, and the family is also adherent to a healthy diet, devoid of processed sugar. It's an educational environment indeed, but the lack of exposure to the modern world has the potential to set up some intriguing conflicts as the children grow older and start to question their upbringing. However, within this context, the show is not all about limitations and restrictions. There's a considerable emphasis on the spirit of raw fun and bonding that's inherent to their lifestyle. We see family members engaging in outdoor activities, playing traditional instruments, and singing soulful tracks together. Despite the unavailability of mainstream media, internet, and social media, the energetic Plath family fills its time with creative pursuits, practicing their music, playing in their vast farm, and preparing the wholesome food from the produce they grow themselves. The eldest son, Ethan, and his wife, Olivia, provide the first real contrast on the show. In stark contrast to his upbringing, Ethan's life as a married man living independently with his wife Olivia unfolds through a different lens. The non-traditional lifestyle they pursue creates an interesting dynamic within the series, often leading to mild clashes with Barry and Kim's more traditional views, suggesting that the outside world is gradually seeping into their tight-knit family fabric. Another interesting story arc builds around Micah and Moriah, the teenage children, who start to rebel against their parents' strict rules and express a desire to explore the world outside the farm. Their curiosity about the broader world and ambition to carve out their independent identities offer narrative conflict that adds balance to the otherwise harmonious family portrayal. Welcome to Plathville, in essence, is a chronicle of an unconventional American family that adheres to conventional values yet faces the same universal trials and tribulations of any family. It offers viewers an opportunity to appreciate the power and value of family ties, simplicity, and self-reliance, while also inciting questions on the need and consequence of balancing tradition with modernity. The show is unique in its presentation. The reality television format and the unique lifestyle could easily lead audiences to expect constant conflict and high drama. However, Welcome to Plathville is more a reflection of family life under unusual circumstances, and the conflicts, while present, are generally handled with respect and understanding. As viewers, we are given the chance to witness the intricate balance between keeping children safe and sheltered and allowing them to grow and explore the world on their terms. The beauty of the show lies in its ability to present a unique family's lifestyle without being judgemental, allowing viewers to draw their observations and conclusions. Thus, throughout its course, Welcome to Plathville manages to blur the boundaries between what is seen as 'conventional' and 'unconventional,' providing a thought-provoking viewing experience that's equally enlightening and entertaining.
Welcome to Plathville is a series categorized as a currently airing. Spanning 5 seasons with a total of 69 episodes, the show debuted on 2019. The series has earned a moderate reviews from both critics and viewers. The IMDb score stands at 5.4.
How to Watch Welcome to Plathville
How can I watch Welcome to Plathville online? Welcome to Plathville is available on TLC with seasons and full episodes. You can also watch Welcome to Plathville on demand at Max, Amazon Prime, FuboTV, Philo, Apple TV, Amazon, Google Play, Vudu, TLC, Microsoft Movies & TV online.
Cast
Micah Plath, Olivia Plath, Moriah Plath

Similar Shows like Welcome to Plathville