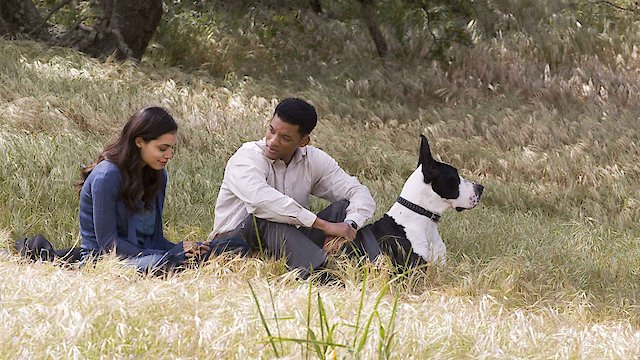 Where to Watch Seven Pounds

Seven Pounds, released in 2008, is an emotional and suspenseful drama that stars acclaimed actor Will Smith along with Rosario Dawson and Woody Harrelson. Directed by Gabriele Muccino, who also worked with Smith in 'The Pursuit of Happyness', the movie is a poignant exploration of guilt, redemption, and the inexplicable power of connection, love, and sacrifice. The film unfolds the deeply engaging story of IRS agent Ben Thomas, played compellingly by Will Smith, who begins an extraordinary journey of redemption by forever changing the lives of seven strangers. Haunted by a tragedy from his past, he embarks on a personal odyssey to help a select category of individuals in dire need of assistance. However, this mission of redemption isn't randomly charitable, and Seventh Pounds cleverly unravels the motives behind his actions as the story progresses. The movie also introduces the character of Emily Posa, portrayed by Rosario Dawson. Emily, a beautiful woman with a potentially fatal heart condition, is one character who becomes intricately entwined in Ben's strange, complex redemption process. Her interactions with Ben highlight a poignant interplay of emotion, bringing a vital human warmth to the film and reminding audiences of life's frailty and preciousness. Rosario Dawson delivers a moving performance, beautifully conveying the character's fragility, strength, and strange hope against terrible odds. Woody Harrelson also joins the cast as Ezra Turner, a blind man who works in customer service. The character often receives the wrong end of the stick, not only due to his sight disability but due to the unfortunate individuals he encounters. His dilemma and how his life comes into contact with Ben makes for fascinating and touching narrative threads throughout the movie. By engaging viewers with a series of intricate character sketches, the film slowly assembles the pieces of a haunting puzzle. Ben's meetings with these people come seemingly at random, but every interaction leaves a heartfelt impact, adding more clarity to the larger narrative arc. Seven Pounds skillfully uses suspense and mystery to keep viewers engaged, offering clues to Ben's tragic past and the reasoning behind his actions. Muccino's masterful direction crafts a melancholic mood throughout with a deliberate pace that allows the intensity of the story to slowly reach its powerful climax. By using devices like flashbacks and non-linear storytelling, the narrative structure remains intriguing and engaging. The story's emotional weight is further enhanced by the evocative score and somber cinematography, all of which create a captivating atmosphere that complements the film's thematic exploration of life, death, and redemption. One of Seven Pounds's main draw points is Smith, who significantly invests himself in his role as Ben Thomas. Delivering an emotionally nuanced performances, he convincingly delves into the psyche of a guilt-ridden man, conveying a host of emotions from grief to determination, depth to sensitivity. Rosario Dawson and Woody Harrelson along with the ensemble cast turn in solid performances, increasingly intensifying the audience's emotional investment in the story's outcome. The truth behind Ben's actions is skillfully kept away till the movie's conclusion, keeping audiences intrigued as they piece together the story's mysterious elements together. It's this central mystery, coupled with emotionally fraught interpersonal dynamics, that forms the movie's allure and provides for an unforgettable viewing experience. In a nutshell, Seven Pounds is an emotional drama punctuated by strong performances, especially from Smith, and intelligent storytelling that maintains an air of mystery. The film is a deep exploration of human emotions, driven by guilt and a desire to find redemption. It's a calculated slow burn, aimed at demonstrating the lengths a person can go to correct a past wrong and how love and connection can influence that journey significantly. Synopsis aside, the character exploration and depth offered in Seven Pounds is what keeps viewers gripped and the questions arising from its narrative are what keeps them thinking long after the credits roll. It does encourage one to reflect on the nature of redemption, the weight of guilt, and explores how far someone might go to find peace. Despite its emotionally charged plot, the movie delivers a satisfying cinematic experience, characterized by an appealing narrative mystery and artfully crafted performances. Whether you watch Seven Pounds for the acting prowess displayed, its intriguing plot, or to plunge into a moving tale of indomitable guilt and love-driven redemption, this film is a testament to well-rounded storytelling.
Seven Pounds is a Drama movie released in 2008. It has a runtime of 123 minutes. Critics and viewers have rated it moderate reviews, with an IMDb score of 7.6. It also holds a MetaScore of 36.
How to Watch Seven Pounds
Where can I stream Seven Pounds movie online? Seven Pounds is available to watch and stream, buy on demand, download at Apple TV, Amazon, Google Play, Microsoft Movies & TV, YouTube VOD, Vudu. Some platforms allow you to rent Seven Pounds for a limited time or purchase the movie for downloading.


Stars
Will Smith, Rosario Dawson, Woody Harrelson, Michael Ealy, Barry Pepper

Stream movies like Seven Pounds
Watch movies on Apple TV+
Also directed by Gabriele Muccino
Also starring Rosario Dawson