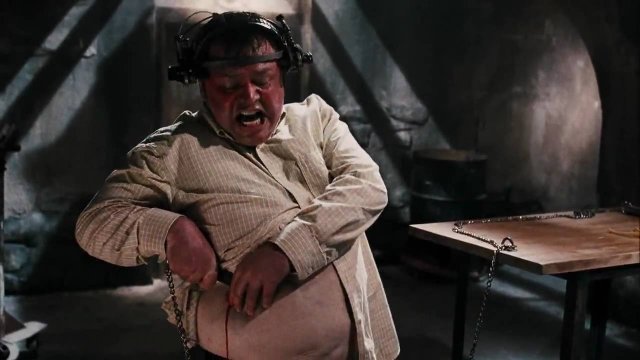 Where to Watch Saw 6 Unrated Version

Saw 6 Unrated Version is a 2009 horror film that takes audiences deep into the twisted world of Jigsaw, the iconic character of the acclaimed Saw series. Imbued with spine-chilling suspense and psychological intrigue, this 2009 directorial delivers an unprecedented dose of horror, skillfully navigating the fine line between the grotesque and riveting narrative storytelling. The central character Jigsaw, performed convincingly by Tobin Bell, exhibits the complex facets of his personality at full tilt. Jigsaw, or John Kramer, is known for his infamous legacy of choreographing eerily imaginative and brutally terrifying games as forms of sadistic punishments. Even as Jigsaw's physical existence reaches its conclusion, his almost omniscient influence and meticulously planned sequences of horror ascend in an elaborate orchestration of blood-curdling drama. Costas Mandylor is seen reprising his role as Detective Mark Hoffman, Jigsaw's right-hand man, bringing forth a chilling balance of cold stoicism and ruthless ingenuity to his character. Hoffman continues the frightening legacy of Jigsaw, pushing the franchise's central theme – survival of the fittest to unexplored territories of terror. He masterfully navigates the labyrinthine plotlines while grappling with personal stakes, creating tension that stretches beyond the gruesome games into the lives of the characters. Mark Rolston, known for his adeptness at playing intense, complex characters, portrays Erickson, a special agent who becomes entwined in the complex web of the Jigsaw murders. Rolston's performance reeks of desperation and conflict, as he portrays a character who is both a fearless pursuer of justice and an unwitting puppet in a game of gruesome proportions. Saw 6 Unrated Version reveals one of Jigsaw's most horrifying games yet, challenging six people to make unthinkable sacrifices, not only to save themselves but also their loved ones. One of the primary targets of this horrifyingly strategic game is William Easton (Peter Outerbridge), the head of a health insurance company known for rejecting coverage to desperate patients in need. Tangled between morality, survival, and love, the characters realize they are merely pawns in a much larger, horrifying game, leaving the viewers to constantly anticipate what could possibly befall next. The scenes are soaked in harrowing trepidation and suspense, keeping audiences on the edge of their seats throughout. The film effectively utilizes oppressively dark settings and gruesome visuals to underpin the constant sense of dread and uneasiness. Apart from the hair-rising visual effects, the film's narrative impresses with its intellectual and intricate plot twists. As the story unfolds, it keeps the viewers guessing about the outcome of the ominous game, creating a tension-ridden ambience that persists even outside the confines of Jigsaw's intricately set traps. Moreover, the screenplay's fascination with mortality and morality finds its roots deeply embedded in the franchise's original premise. The narrative continues to probe the limits of human resilience and mercilessly tests the survival instincts of its characters in the face of terrifying moral dilemmas. Composer Charlie Clouser's haunting score is pivotal in amplifying the film's somber atmosphere. The eerie compositions of ominous undertones, combined with the detailed, frightening visuals, provide the perfect backdrop for this horror extravaganza to unfurl. Saw 6 Unrated Version is masterfully directed by Kevin Greutert, an editor turned director, who showed his aptitude for wringing every chilling moment out of a scene while ramping up the suspense in this film. His adept manipulation of the film's pacing and tension fosters a certain level of uncertainty that continues to plague the viewers till the final scene. In conclusion, Saw 6 Unrated Version is a principal addition to the Saw franchise that successfully infuses the original narrative with inventive and harrowing plot developments. It is a rollercoaster ride of suspense, offering bone-chilling spectacle, jaw-dropping revelations and leaving a permanent imprint on the minds of its viewers. This film, with its intriguing plot, terrifying sequences, and textured characters, is sure to captivate the hardcore fans of the Saw series and new viewers alike.
Saw 6 Unrated Version is a Horror, Mystery movie released in 2009. It has a runtime of 90 min.. Critics and viewers have rated it moderate reviews, with an IMDb score of 6.0. It also holds a MetaScore of 30.
How to Watch Saw 6 Unrated Version
Where can I stream Saw 6 Unrated Version movie online? Saw 6 Unrated Version is available to watch and stream, buy on demand, download at Vudu. Some platforms allow you to rent Saw 6 Unrated Version for a limited time or purchase the movie for downloading.


Stars
Tobin Bell, Costas Mandylor, Mark Rolston

Stream movies like Saw 6 Unrated Version
Watch movies on Apple TV+
Also directed by Kevin Greutert
Also starring Costas Mandylor