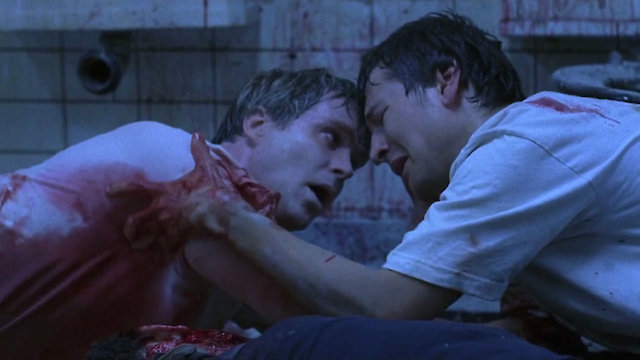 Where to Watch Saw

Saw is a 2004 psychological horror film that dabbles in the landscape of human ethology with an underpinning of suspenseful narrative. This gripping film captivates audiences with a blend of bone-chilling terror and intricate storyline that keeps viewers at the edge of their seats from the opening sequence until the credits start rolling. The movie stars Cary Elwes, Leigh Whannell, and Danny Glover, whose stellar performances add a palpable intensity to this disturbing puzzle of a movie. Directed by James Wan and written by Leigh Whannell, Saw unfolds a uniquely sinister plot that beckons the audience into an uncanny and macabre world following the entanglement of two men in a malevolent hold of a horrifyingly intricate game. Cary Elwes delivers a compelling performance as Dr. Lawrence Gordon, a successful but somewhat aloof doctor. His nuanced portrayal of a professional thrown into a harrowing situation contributes significantly to the movie's unsettling atmosphere. Leigh Whannell portrays Adam Faulkner-Stanheight, a man at the opposing end of both the rope and life spectrum when compared to Dr. Gordon. As a writer, candidly utilizing his raw experiences for his work, he finds himself caught in a maze of diabolical quandary, amplified by Whannell's strong performance. The enigmatic character of John Kramer, the elusive antagonist of the film, resonates throughout the story, adding a layer of convoluted thrills to the film. However, the role of Detective David Tapp, played by Danny Glover, is pivotal as it adds a layer of investigative realism, propelling the plot forward while increasing suspense. The storyline begins with two strangers waking up in a decrepit and unfamiliar location, each chained by the leg to pipes at opposite ends of the room. They have no memory of how they got there, and slowly piece together clues about their predicament. In the middle of the room lies a morbidly still body, revolvers in hand, and a cassette player. Inside the room, Dr. Gordon and Adam discover cassettes, meant for each of them, revealing they are victims of the infamous Jigsaw Killer. Unlike the typical serial killer, Jigsaw doesn't kill his victims directly. Instead, he forces them into situations where they must cause serious harm to themselves or others to survive. While being forced to partake in this sadistic game, the narrative threads to the ongoing investigation headed by veteran detective David Tapp. The movie adeptly intertwines the torment of the captives with Tapp's relentless pursuit of the Jigsaw Killer, creating an intricate web of narrative strands. Saw deploys a unique style of storytelling that intermixes present-day horror with revealing flashbacks, painting a broader landscape of the game's intricacies. The gripping storyline combined with James Wan's audacious direction and the movie's crude aesthetics create an atmosphere of organic and raw terror that extends beyond mere gore. However, Saw isn't a simple gore-fest—it transcends typical horror tropes to provide audiences with a diagetically interwoven narrative that deals with themes of survival, desperation, and human instinct in the face of mortal dread. The convolutions of the plot provoke thought and curiosity, making the audience active participants in the unraveling of the gruesome mystery. What sets Saw apart from other films in the horror genre is the manner in which it forces viewers and characters alike to question morality when survival is at stake. The film's inventive approach to horror obliterates the line between right and wrong, creating a morally ambiguous space soaked in dread and suspense. Moreover, the film's atmospheric dread is amplified by the cinematic techniques including dramatically striking color grading, unsteady camera movement, and ominous backlighting. A highly disturbing and graphic film, Saw raises the bar for psychological horror by providing an intelligent and plot-driven narrative that stirs emotion and curiosity. In conclusion, Saw is a landmark film in the horror genre that marks a departure from conventional slasher films, instead exploring the deep recesses of psychological terror. It offers a grim exploration of human survival instincts, blurring the line between victim and perpetrator. Driven by a suspenseful narrative and unforgettable performances, Saw remains a touchstone in contemporary horror cinema.
Saw is a Horror, Mystery, Crime movie released in 2004. It has a runtime of 103 min.. Critics and viewers have rated it moderate reviews, with an IMDb score of 7.6. It also holds a MetaScore of 46.
How to Watch Saw
Where can I stream Saw movie online? Saw is available to watch and stream, buy on demand, download at Amazon Prime, Apple TV, Amazon, Google Play, Vudu. Some platforms allow you to rent Saw for a limited time or purchase the movie for downloading.


Stars
Cary Elwes, Leigh Whannell, Danny Glover, Monica Potter, Michael Emerson, Shawnee Smith, Tobin Bell, Dina Meyer
Genres
Horror, Mystery, Crime

Watch movies on Apple TV+
Also directed by James Wan