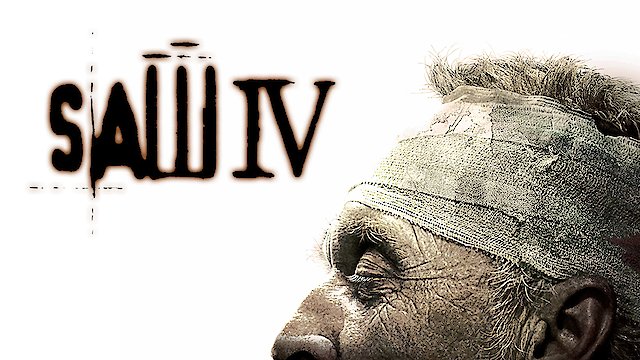 Where to Watch Saw IV

Saw IV, released in 2007, extends the gore-drenched franchise to even grislier territories, with an intense blend of psychological scares and physical horror. With returning stars Tobin Bell, Scott Patterson, and Louis Ferreira; the iconic characters of the series return to haunt the screen with abominable horror and bone-chilling terrors. The horrifying legacy of deceased serial killer John Kramer, portrayed by Tobin Bell, reverberates through this installment. Like the previous chapters, the story unfolds through a nightmarishly unpredictable maze of psychological manipulation and moral ambiguities. Saw IV teases the audience with Kramer's post-mortem game plan. Tobin Bell's enigmatic performance bolsters the character's posthumous presence, escalating the stakes and spreading an atmosphere of dread as those entangled in his deranged masterpiece find themselves in escalating, life-threatening dilemmas. Scott Patterson steps into the leading role as Special Agent Peter Strahm, an FBI agent hell-bent on tracking down those responsible for the nightmare that Kramer has left behind. His performance is laudable, portraying both frustration and determination as he tries to make sense of the horror inflicted on victims caught in Kramer's macabre puzzles. Alongside him, fellow Agent Lindsey Perez, played by Athena Karkanis, encounters similar mysteries, staking their lives to unmask the horrific truth. Louis Ferreira robustly steps into the role of Art Blank, a character lurked within the shadowy edges of the Saw universe, only to emerge in this edition with his own murky connections to the intricate web of horrors. The relationship between Art and other characters in the movie adds layers of intrigue and suspense, further deepening the horrifying mythology of the Saw series. The director, Darren Lynn Bousman, who had previously directed both Saw II and Saw III, returns to helm his third and final installment of the series. Yet again, he showcases his adept handling of the material's gruesome aesthetics by coordinating a symphony of shock and suspense. His attention to unsettling detail and pacing techniques create an environment that has become the Saw franchise's trademark effectively. Saw IV ups the ante in terms of gore, with some of the series' most intricate and stomach-churning traps to date. Yet, as previous installments showed, the Saw series isn't just about the physical torture; it continues to delve into the psyches of its characters, exploring their very motivations and fears. Through these elaborate traps, the movie attempts to convey a dark commentary on human morality and choices under impossibly grueling circumstances. The screenplay by Patrick Melton and Marcus Dunstan gives the Saw canon a continuity, drawing on elements from the previous installments while introducing new plot threads designed to build on the series' already complex and tortuous narrative. The writers skillfully juggle the series' history with the necessity of planting seeds for future entries, proving their mettle in the horror genre. The cinematography by David A. Armstrong anchors the film in reality enough to make the unimaginable horror believable. The tension ratchets up to almost unbearable levels, thanks to the tight editing by Brett Sullivan. In addition, Charlie Clouser's hauntingly atmospheric score underpins the nightmarish landscape of this world, adding another layer to the audience's sensory experience. While horror movies aren't for the faint-hearted, Saw IV stands prominent in the genre, giving its audience unsettling scenarios that push boundaries, forcing them to question their own moral compasses. Like the best horror movies, it takes its audience on a journey into the unknown; the unpredictable and the unfathomable horror that lies in wait. In conclusion, Saw IV, guided by its star-studded ensemble, astute direction, and devilishly twisted script, reinforces why the Saw franchise continues to dominate the landscape of contemporary horror cinema. It's a relentless ride of suspense and chills that dares its audience to watch without flinching, something that Saw fans have come to expect and relish from their beloved franchise. With its labyrinthine narrative architecture and innovative violence, Saw IV is less a simple movie and more a terrifying masterclass in cinematic horror that deserves its iconic status in the genre.
Saw IV is a Horror, Thriller, Crime movie released in 2007. It has a runtime of 91 min.. Critics and viewers have rated it moderate reviews, with an IMDb score of 5.9. It also holds a MetaScore of 36.
How to Watch Saw IV
Where can I stream Saw IV movie online? Saw IV is available to watch and stream, buy on demand, download at Hulu Plus, Amazon Prime, Apple TV Channels, Shudder, The Roku Channel Free, Pluto TV, The Roku Channel, Apple TV, Amazon, Google Play, Vudu. Some platforms allow you to rent Saw IV for a limited time or purchase the movie for downloading.


Director
Darren Lynn Bousman
Stars
Tobin Bell, Scott Patterson, Costas Mandylor, Betsy Russell, Lyriq Bent
Genres
Horror, Thriller, Crime

Watch movies on Apple TV+
Also starring Scott Patterson