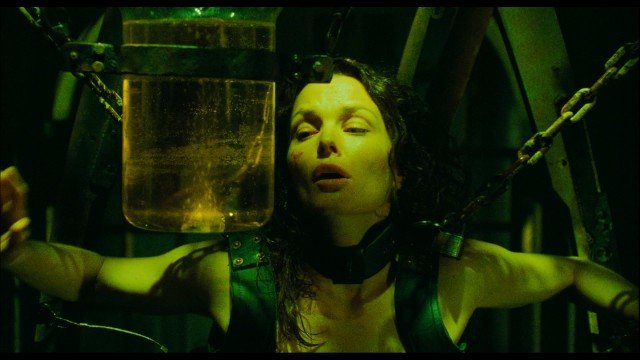 Where to Watch Saw 3 Unrated Version

The 2006 movie Saw 3 Unrated Version is a gripping continuation in the notoriously heart-stopping Saw franchise. Directed by Darren Lynn Bousman, this unrated version allows audiences to further explore the gruesome and disturbing world of Jigsaw, portrayed chillingly by Tobin Bell. Along with him, Shawnee Smith and Angus Macfadyen have given riveting performances, leading the audience through a winding journey of terror and suspense. As the third installment of the Saw franchise, the narrative takes a step further into the inventive horrors that have become synonymous with this series, and this unrated version allows audiences an even more unabridged view into the twisted mind of our central antagonist. The movie bears all the hallmarks of the previous installments but with a renewed sense of intricacy, unexpected turns, and high-stakes game-play. The storyline primarily revolves around the notorious serial killer John Kramer, usually known as Jigsaw. Though his health is deteriorating, Jigsaw's sick games are far from over. Tobin Bell portrays him with a soothing yet ominous calmness that subtly highlights the merciless nature of his character. The movie delves deeper into his character's psyche and his approach to his deadly games, serving a riveting showcase of Bell's talent and his indelible mark on the character that's become a veritable horror icon. Alongside Bell, Shawnee Smith returns as Amanda, Jigsaw's devoted apprentice, her layered performance expertly demonstrating the paradoxical qualities of her character. She is torn between her loyalty to her mentor and her own psychological struggles, often resulting in heightened tension and engagement in the storyline. Angus Macfadyen joins the cast as a new player, Jeff, who is a grieving father with a burning desire for revenge. His performance adds a new dimension to the franchise as he carries his pain and anger through a torturous labyrinth of Jigsaw's devising, grappling with moral dilemmas and emotional reckoning along the way. The movie, as expected from the previous Saw films, comes punctuated with a series of gruesome and nerve-wracking traps that are creatively horrifying and yet somehow, wickedly imaginative. These horrific games of survival cater to its core audience, who have come to appreciate and expect the franchise's recurrent theme of testing the human instinct for survival, at any cost. As is signature with the Saw franchise, each trap is meticulously designed, showcasing an alarming blend of creativity and morbidity. The film's narrative structure is intelligently woven, jumping between its main plotline and revealing flashbacks, further developing the characters and their relationships. While the story dives deeper into the twisted philosophy of Jigsaw, the film also wrestles with complex issues of morality, vengeance, and the value of life, setting it apart from typical gory horror flicks. In Saw 3 Unrated Version, the director Darren Lynn Bousman takes full advantage of his creative liberty to present an intensified version of the film. Not holding back any punches, this version explores gruesome detail and shocking twists, challenging audiences with its unflinching intensity. The intricate storyline, coupled with the skilled direction, effects, and sound design, comes together to create an atmosphere of dread and uneasiness that lingers long after the movie ends. Undoubtedly, the film is particularly suitable for those who are drawn to the horror genre, especially fans who enjoy psychological thrillers with deep-rooted narratives. However, the graphic nature of the movie is not something for the faint-hearted. This unrated version, in particular, pushes the envelope on its exploration of fear, terror, and the human instinct for survival. Overall, Saw 3 Unrated Version from 2006 is an addition to the franchise that amplifies its unique brand of psychological horror. The performances of Bell, Smith, and Macfadyen are remarkable, while the storyline is absorbing, maintaining a balance between horror and narrative engagement. This addition to the franchise not only sustains the essence of the Saw series but further escalates its intensity and disturbing charm.
Saw 3 Unrated Version is a Horror movie released in 2006. It has a runtime of 108 min.. Critics and viewers have rated it moderate reviews, with an IMDb score of 6.2. It also holds a MetaScore of 48.
How to Watch Saw 3 Unrated Version
Where can I stream Saw 3 Unrated Version movie online? Saw 3 Unrated Version is available to watch and stream, buy on demand, download at Vudu. Some platforms allow you to rent Saw 3 Unrated Version for a limited time or purchase the movie for downloading.


Director
Darren Lynn Bousman
Stars
Tobin Bell, Shawnee Smith, Angus Macfadyen

Stream movies like Saw 3 Unrated Version
Watch movies on Apple TV+
Also directed by Darren Lynn Bousman
Also starring Shawnee Smith