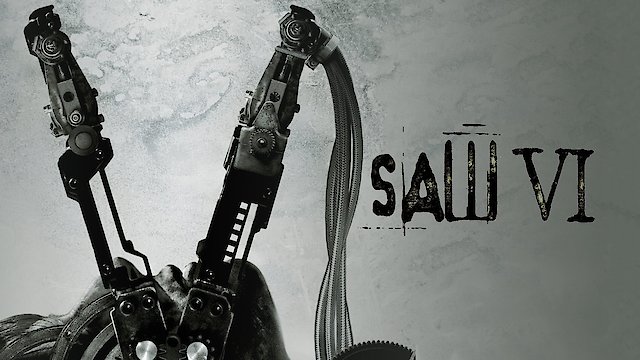 Where to Watch Saw VI

Saw VI, directed by Kevin Greutert and released in 2009, picks up the intriguing and twisted narrative of the notorious "Jigsaw Killer." The movie stars industry mainstays Tobin Bell, Costas Mandylor, and Mark Rolston and is the sixth installment in the gripping Saw Saga. Maintaining the series' traditions, the film marries elements of psychological horror, clever plot twists, graphic carnage, and moral quandaries, assuring its audience a spectacle they won't soon forget. Tobin Bell reprises his iconic role as the late John Kramer AKA "Jigsaw," the character with a twisted sense of justice who left a legacy of terror. Despite his death in the third film of the series, Jigsaw continues to haunt the narrative, appearing in flashback sequences or instructional tape recordings, reminding us of his grisly legacy and the continuation of his gruesome games. Bell's portrayal of Jigsaw upholds the character's eerie intellectual charm and unforgettable cruelty. Costas Mandylor returns as Detective Mark Hoffman, a character first introduced in Saw III as a seemingly ''good'' cop but later revealed to be Jigsaw's secret disciple. As the new game master, Hoffman must use all his cunning and ruthlessness in the labyrinth of the investigation to protect his identity and continue his mentor's work. Mark Rolston plays the character of Agent Dan Erickson, a senior member of the Federal Bureau of Investigation who is unyieldingly determined to unmask the person behind the current string of so-called "Jigsaw" killings. Rolston delivers an urgent and commanding performance throughout the movie, capturing the intensity and desperation of a man on the hunt for one of fiction's most elusive killers. Saw VI continues the series' signature storytelling approach, weaving back and forth between the past and present to tantalizingly reveal layers of characterization and plot. One gratifying aspect of this installment is its attention to the narrative threads from previous entries, rewarding loyal fans of the series. Without giving away too much, the movie interrogates themes of corporate greed and systemic failure, integrating societal issues into the personal horrors perpetrated by Jigsaw and his disciples. The movie is also characterized by its relentlessly sobering horror. At its core, Saw VI is a grisly inspection of the human survival instinct and the moral choices we are willing to make when backed into a corner. Relying on the series' tried-and-true formula, the film features a series of gruesome and innovative traps that surpasses mundane body horror and ventures into the realm of psychological terror. Just as in previous films, these terrifying games force victims to make life-or-death decisions that often involve self-mutilation or sacrificing others to assure their own survival. Each grisly contraption is reflective of the characters' wrongdoings or, as Jigsaw would put it, their ''lack of appreciation for life''. This specific choice of victims furthers tickets at a critique of societal ills, making Saw VI not just a horror movie but also a social commentary. The traps are creatively wicked, each one a brutal glimpse into the mind of the Jigsaw Killer. Their intricate mechanisms, combined with the tense countdowns, create an atmosphere charged with lethal anxiety and make for suspenseful viewing, keeping us on the edge of our seats. Like its predecessors, Saw VI is not for the faint-hearted. It's a continuation of a uniquely brutal saga that is as much about psychological horror as it is about physical torture. The film's creative team expertly crafts a narrative that, while bloody and violent, is grounded in an exploration of human nature and the lengths individuals are willing to go to survive. In conclusion, Saw VI offers viewers an outing that surpasses mere scares and dives into a complex narrative filled with intricate character development and intense mystery. It's a film that forces viewers to question the capacity for human cruelty and survival instinct, all while delivering the expected visceral horror and suspense that has become a staple of the franchise. Its uniquely structured narrative, intertwined with thematic substance and startling twists, cements the Saw series as a master of the horror genre. Saw VI is an engrossing watch for both fans of the series and those who have a soft spot for intelligent, thriller narratives combined with sweaty-palmed suspense. It's a trip into the darkest corners of man's capacity for survival and a testimony to the lengths some will go to keep their unthinkable secrets hidden.
Saw VI is a Horror, Mystery movie released in 2009. It has a runtime of . Critics and viewers have rated it moderate reviews, with an IMDb score of 6.0. It also holds a MetaScore of 30.
How to Watch Saw VI
Where can I stream Saw VI movie online? Saw VI is available to watch and stream, buy on demand, download at Hulu Plus, Amazon Prime, Apple TV Channels, Shudder, The Roku Channel Free, Pluto TV, The Roku Channel, Apple TV, Amazon, Google Play, Vudu. Some platforms allow you to rent Saw VI for a limited time or purchase the movie for downloading.


Stars
Tobin Bell, Costas Mandylor, Betsy Russell, Mark Rolston, Bryan Callen, Shawnee Smith

Watch movies on Apple TV+
Also directed by Kevin Greutert
Also starring Costas Mandylor