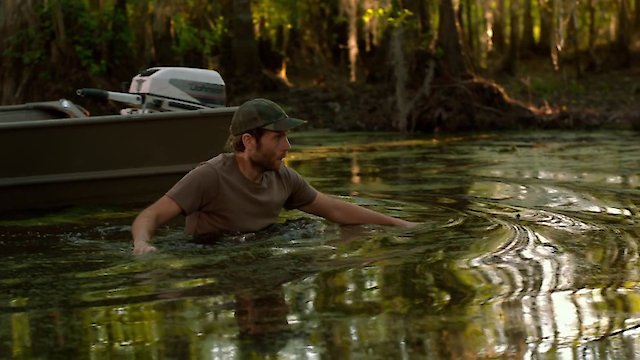 Where to Watch Jessabelle

Jessabelle is a chilling American psychological supernatural horror film, released in 2014, directed by Kevin Greutert and written by Robert Ben Garant. The film's star-studded cast includes Sarah Snook, Mark Webber, and Joelle Carter, whose performances provide an emotional backbone to a story that enthralls with its eerie suspense and supernatural occurrences. Sarah Snook stars as the eponymous lead character, Jessabelle. A young, sprightly woman whose life seemingly comes crashing down after a catastrophic car crash not only fatally injures her boyfriend but also leaves her partially paralyzed and dependent on a wheelchair. In the array of her miseries and deprivations, her only choice is to return to her childhood home in Louisiana. Placed under the care of her estranged and distant father, Jessabelle readjusts to her life in this downtrodden, dilapidated home that echoes of a painful past and disquieted memories. The setting of the movie serves as a key component, bringing to life the deep southern Gothic aesthetic that adds to the spooky undertone. The isolated Louisiana bayou, with its creepy crawly fauna, expanse of marshlands and the haunting air of dread certainly proves to be an unsettling environment for both Jessabelle and the audience. As Jessabelle attempts to handle her new circumstances, she stumbles upon a box of old VHS tapes that belonged to her late mother, who had passed away when Jessabelle was a baby. The tapes reveal an eerie part of her mother's past, dabbling in spiritualism and predicting her daughter's future with a rather sinister undertone. As she delves deeper into the video diaries, she unwittingly awakens supernatural forces that have been lying dormant, waiting for their chance to choke the living daylights out of her. On a parallel track, Mark Webber plays Preston, an old high school boyfriend who lives nearby and becomes an unexpected point of support for Jessabelle. His presence in the story provides a hint of mystery and intrigue as he harbors secrets of his own. The chemistry between Snook and Webber's characters adds a layer of genuine character depth to the storyline. Meanwhile, Joelle Carter, known for her role in the critically acclaimed series "Justified", plays Kate, Jessabelle's deceased mother who posthumously takes on a pivotal role in the plotline. The movie showcases elements of voodoo and supernatural folklore, adding a cultural aspect tied to the setting of Louisiana. This emboldens the film's structure, making it a unique standout within its genre. It's a journey into the profound depths of horror that present not merely as jump scares and thrills, but as a nuanced exploration of despair, isolation, and the haunted history buried within familial ties. Jessabelle exhibits a painting of horror that is dark, gritty and at it's the heart, deeply emotional. Led by Snook's strong performance, the film manages to unnerve the audience through the brilliant use of suspense, mystery, and spine-chilling supernatural activities. The immersive cinematography showcases a blend of natural beauty and grim shadows, perpetuating a multifaceted sense of fear and uneasiness. Kevin Greutert, known for his works within the "Saw" franchise, astutely directs the movie, adeptly employing an array of scare tactics and ensuring that there's never quite a moment when you feel at ease. Robert Ben Garant's captivating script smoothly intertwines the narratives of grief, supernatural horror, and personal journey with great finesse. Jessabelle is a masterclass in building tension and creating an atmosphere that leaves the audience constantly on edge, with a whirlwind of emotions that hit like a freight train. It's a potpourri of horror, melodrama, and thrills that intrigue the mind while chilling the marrow in your bones. It may not be your typical mainstream horror movie. Instead, it is a smartly written and well-executed piece that treads heavily on suspense and psychological terror, ensuring that the images and tale of Jessabelle linger long after the end credits have rolled. For those with a taste for thought-provoking horror films with a touch of Southern Gothic charm, Jessabelle might just be the haunting cinematic experience you're waiting for.
Jessabelle is a Thriller, Horror movie released in 2014. It has a runtime of 90. Critics and viewers have rated it moderate reviews, with an IMDb score of 5.4. It also holds a MetaScore of 37.
How to Watch Jessabelle
Where can I stream Jessabelle movie online? Jessabelle is available to watch and stream, buy on demand, download at Hulu Plus, Paramount+, Amazon Prime, Apple TV Channels, Showtime, FuboTV, Apple TV, Amazon, Google Play, Vudu. Some platforms allow you to rent Jessabelle for a limited time or purchase the movie for downloading.


Stars
Sarah Snook, Mark Webber, Joelle Carter, David Andrews, Amber Stevens, Ana de la Reguera

Stream movies like Jessabelle
Watch movies on Apple TV+
Also directed by Kevin Greutert
Also starring Sarah Snook
Also starring Mark Webber