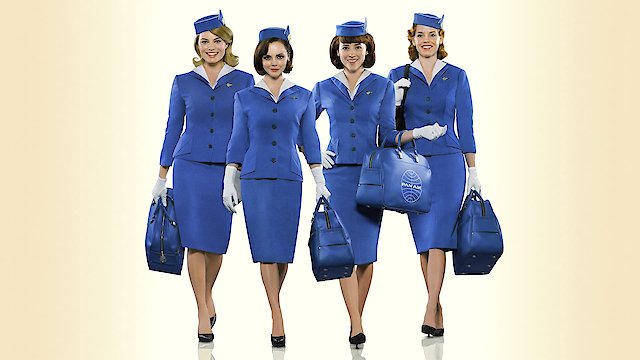 Where to Watch Pan Am
Since President Kennedy's assassination, everyone's lives have been turned upside down and are anticipating a new beginning.
Watch Pan Am Season 1 Episode 14 Now
Dean is surprised that Ginny follows him to Rome after their little fling.
Watch Pan Am Season 1 Episode 13 Now
Maggie reveals her reservations about Amanda to Ted; Dean can't stop thinking about Colette; Dean is accosted by the local customs officials, who are searching for a smuggler; Kate needs to learn a new talent as a pickpocket; and Laura is shocked to discover that the Life Magazine photographer, Graham, sold the nude photos he took of her to a gallery, where they are on display.
Watch Pan Am Season 1 Episode 12 Now
Dean is scheduled to fly the first-ever commercial flight to Moscow, but the day of departure, a veteran pilot takes the controls and makes Dean co-pilot.
Watch Pan Am Season 1 Episode 11 Now
Dean and Colette's romance takes a backwards step.
Watch Pan Am Season 1 Episode 10 Now
Kate gets involved with a life or death mission and Colette meets Dean's parents as the two face their real feelings for one another.
Watch Pan Am Season 1 Episode 9 Now
A flight headed to Caracas must make an emergency landing in Haiti, a hotbed of political unrest. Meanwhile, the stewardesses are charmed by a dashing millionaire (Aaron Diaz).
Watch Pan Am Season 1 Episode 8 Now
Sparks fly when Laura meets an interesting sailor on a rowdy flight.
Watch Pan Am Season 1 Episode 7 Now
Maggie is close to losing her job for insubordination. She looks back on the rocky path she took to get her dream job, but her decision to do whatever it takes to keep it that really surprises her.
Watch Pan Am Season 1 Episode 6 Now
Kate and Maggie compete for the attentions of a handsome passenger, but things get complicated when Kate discovers he's involved in her next covert mission.
Watch Pan Am Season 1 Episode 5 Now
Kate's routine courier mission takes a turn when there's a last minute change that takes the crew on a flight to Rangoon, making it difficult to make a drop be the deadline. Maggie shows Laura the wilder side of the city.
Watch Pan Am Season 1 Episode 4 Now
The crew takes a flight with journalists going to Berlin to cover an important speech by President Kennedy. Maggie campaigned for him and is determined to meet JFK no matter what.
Watch Pan Am Season 1 Episode 3 Now
On a trip to Paris, Kate and Laura have a surprise passenger - their mom who came to settle some unfinished business with Laura. Maggie faces the unwanted attentions of an aggressive passenger.
Watch Pan Am Season 1 Episode 2 Now
Meet the Pan Am pilots and flight attendants in the series premiere. Dean pilots the Clipper Majestic's first New York to London flight; Maggie covers a flight when the scheduled stewardess doesn't show; Kate takes a U.
Watch Pan Am Season 1 Episode 1 Now

Pan Am is an American period-drama television series that aired from September 25, 2011, until February 19, 2012, on ABC network. The series is centered around the iconic Pan American World Airways during the 1960s, hence the name Pan Am. The show stars Christina Ricci, Kelli Garner, Karine Vanasse, Margot Robbie, and Michael Mosley among others. Other significant characters providing interesting narratives throughout the series include Annabelle Wallis, Mike Vogel, Jeremy Davidson, Ashley Greene, and Goran Vi. The series is unique in that it goes beyond being just a dramatic show about air travel; it captures the spirit of the 1960s, the era of the Jet Age, focusing on the Cold War, Civil Rights Movement, and more. Thus, Pan Am emerges as a dramatic representation of a significant epoch in American and international history through the lens of a premier American airline and its daring crew. The series is an ensemble show, meaning it affords equal emphasis to multiple lead characters, much like modern sitcoms. The main characters are stunningly attractive flight attendants and dashing pilots of the titular airline. Christina Ricci is a standout, playing the role of Maggie Ryan, a fiercely independent, bohemian stewardess based in New York City who is trying to balance her high-voltage city life with her disciplined and demanding job. Other relevant characters include Colette Valois (Karine Vanasse), a charming and compassionate French woman who harbors a dark past; Kate Cameron (Kelli Garner), who is hiding a covert life as a CIA asset behind her stewardess uniform; Laura Cameron (Margot Robbie), Kate's younger sister and a novice flight attendant who is gaining popularity as the face of Pan Am; and Ted Vanderway (Michael Mosley), a wrong-side-of-the-tracks Yale graduate and naval pilot who aspires to command a Pan Am plane. While the series is a love letter to the Pan Am airlines, it is also about friendships, relationships, and loyalties of the crew members and the tangle of personal histories they bring aboard every flight. For instance, the sibling rivalry between Laura and Kate adds emotional depth to the story. The on-again, off-again relationship between Maggie and Ted keeps the audience hooked and presents an exciting and relatable human aspect amidst the historical backdrop. The series also does an admirable job in portraying the worldwide locales that the airline served, bringing in stories about the cultures and socio-political environment of different countries. Pan Am uses its global setting not only to satiate an escapist fantasy of exotic globetrotting among its viewership but also to put forth a variety of human experiences across nations. Throughout the show's single-season run, it carries the audience into the golden age of flying, when Pan Am ruled the skies, and travel was glamorous and exciting. Every element from the immaculate blue uniforms of the stewardesses, the faultless recreation of the Pan Am planes, and luxurious travel matched with perfect attention to detail accurately represents the era and elevates the nostalgic factor of the series. However, Pan Am isn't just about glamour. It equally delves into the challenges and social barriers the stewardesses and pilots had to face on personal and professional levels. From their grueling training and weight-checks to their intelligence-related assignments mid-air, the series underscores the sacrifices made by these young people in their pursuit to fly. Moreover, the series also addresses the women's fugitive freedom of the '60s, reflecting on their struggle and resilience through various scenarios on the show. This, along with the visually stunning settings, glamorous portrayals, and equally compelling plotline, makes Pan Am a truly remarkable series. In summary, Pan Am offers a journey down memory lane to the golden age of air travel and an insight into the tumultuous yet exciting 1960s era. With its top-notch acting ensemble, historical accuracies, and well-constructed plotlines, the series offers not just an ongoing story, but also a fantastic viewing experience, complete with glamour, drama, romance, and international intrigue. It is a unique combination of travel, history, and human stories, that remains appealing to the audience even after its initial run.
Pan Am is a series categorized as a canceled. Spanning 1 seasons with a total of 14 episodes, the show debuted on 2011. The series has earned a moderate reviews from both critics and viewers. The IMDb score stands at 7.0.
How to Watch Pan Am
How can I watch Pan Am online? Pan Am is available on ABC with seasons and full episodes. You can also watch Pan Am on demand at Amazon Prime, Crackle, Apple TV, Amazon, Google Play, Vudu online.
Cast
Christina Ricci, Michael Mosley, David Harbour, Ashley Greene