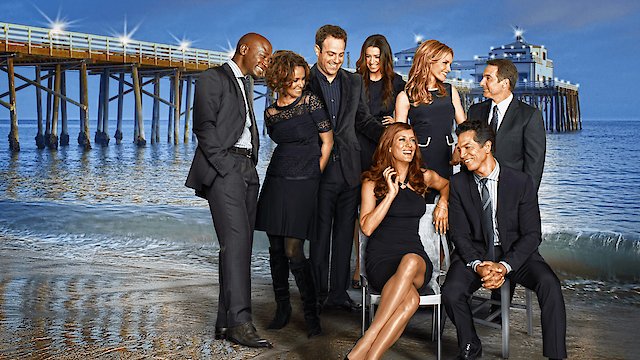 Where to Watch Private Practice
13
In Which We Say Goodbye
The series comes to a close with a special farewell to the doctors of Seaside Health and Wellness. Naomi returns to support Addison on her wedding day and Cooper struggles with being a stay-at-home parent.
Watch Private Practice Season 6 Episode 13 Now
The judge reveals concerns regarding Jake's past during Henry's hearing, Sheldon introduces Miranda to his friends, and Charlotte goes in to labor before Cooper can sign on their dream house.
Watch Private Practice Season 6 Episode 12 Now
11
Good Fries Are Hard to Come By
Clean and sober for over a year, Amelia is on the up and up and agrees to go on a string of blind dates set up by the other doctors. After they all end badly, she is caught off guard by an unexpected turn of events.
Watch Private Practice Season 6 Episode 11 Now
Despite doctors' orders, Charlotte continues to work from her doctor-ordered bed rest. Meanwhile, scared that Charlotte might never leave the hospital, Mason begins acting out in school.
Watch Private Practice Season 6 Episode 10 Now
Experiencing a rough patch in his life, Sheldon finds happiness with a new woman. Meanwhile, he becomes more concerned about his patient Nick's involvement in Sarah's disappearance.
Watch Private Practice Season 6 Episode 9 Now
An argument between Charlotte and Cooper causes distress for the triplets.
Watch Private Practice Season 6 Episode 8 Now
7
The World According to Jake
When Jake must meet with Henry's social worker for a home visit, he is afraid an unwanted incident in his past will be revealed. Meanwhile, Addison becomes skeptical of Jake's needy patient and James continues to pursue Amelia.
Watch Private Practice Season 6 Episode 7 Now
Addison is put to the test when Henry's biological mother asks if she can be more involved in his life.
Watch Private Practice Season 6 Episode 6 Now
A reality show centered around Sam offers insight into his colleagues' personal lives. Meanwhile, Sam's mother seeks his help after her boss falls ill; and the search continues for a girl who went missing from St.
Watch Private Practice Season 6 Episode 5 Now
4
You Don't Know What You've Got Till It's Gone
A little girl is missing from the ER; Addison and Jake clash over one of his patients.
Watch Private Practice Season 6 Episode 4 Now
Violet seeks Sheldon's advice when she gets a confession from one of the patients.
Watch Private Practice Season 6 Episode 3 Now
2
100th Episode: Mourning Sickness
The doctors celebrate at Addison's house while remembering the past. Meanwhile, Sheldon counsels a suicidal patient who makes an unexpected confession.
Watch Private Practice Season 6 Episode 2 Now
The sixth season finds Addison happy with the decision she made between Jake and Sam. Violet fears the worst when Pete fails to show up to his preliminary court hearing; and Charlotte shares a secret with Cooper.
Watch Private Practice Season 6 Episode 1 Now

Private Practice is a captivating medical drama series that aired on ABC from 2007-2013. The show is a spin-off from the highly popular medical drama, "Grey's Anatomy," and picks up following the character of Dr. Addison Montgomery, brilliantly portrayed by Kate Walsh, as she leaves behind the grey skies of Seattle for the sun-soaked surroundings of Los Angeles. Redesigned and resituated, Addison joins the prestigious cooperative Private Practice medical clinic, officially known as Oceanside Wellness Group, where she reunites with her old medical school friends. The clinic adds a unique spin to the common hospital setting, as it provides a wide range of specialists and practices under one roof. This multicultural and multi-professional clinic serves as the battleground for enthralling medical cases and challenging ethical questions, where professional and personal boundaries often blur. While the show primarily focuses on Kate Walsh's character, the ensemble cast, including Tim Daly, Audra McDonald, Paul Adelstein, KaDee Strickland, Chris Lowell, Taye Diggs, and Amy Brenneman, among others, brings life into this medical drama. Their finely etched characters carry their own unique storylines, contributing to the central narrative as it evolves. Complex relationships, diverse medical cases, and moral dilemmas make the viewers rooted for every character. The cast impresses with their performances, with the likes of Tim Daly as the alternative medicine specialist Dr. Pete Wilder, and Audra McDonald playing Dr. Naomi Bennett, the fertility specialist. The sparky dynamics between the characters, their personal growth across the series, and the cohesion within the ensemble cast, provide compelling and emotional drama that draws viewers into the intricate world of Private Practice. The series is known for dealing with difficult socio-medical topics, bringing light to what's often avoided in the conversations. It doesn't shy away from focusing on hard-hitting subjects like ethical medical dilemmas, mental health, substance abuse, domestic violence, and adoption rights, among others. Private Practice makes a commendable effort to humanize these issues through its characters' experiences, balancing heart-wrenching drama with moments of light-hearted relief. Private Practice not only offers captivating medical cases, but it also underscores the psychological and emotional weight doctors have to carry. The phenomenal portrayals and the real-life representation of doctors often caught between their professional conduct and their personal emotions, add another layer to the show. As the show progresses, audiences witness the compelling journey of its characters as they navigate their way through personal hardships, ethical dilemmas, and the complex world of medicine. Through its six-season run, the series succeeds in delivering engrossing storylines and medical uncertainties, intertwined with raw portrayals of human relationships, making it a benchmark in the medical drama genre. Whether it's the complicated love triangle between Addison, Sam Bennett (played by Taye Diggs), and Pete Wilder, or the emotional stability of Violet Turner (played by Amy Brenneman), every moment in Private Practice is designed to keep the viewer at the edge of their seat. The diversity of perspectives offered by the multi-faceted cast brings depth and balance to the narrative, portraying life in the medical field beyond the operations and consultations. In essence, Private Practice serves up a refreshing twist in the medical drama universe, blending rigorous, often controversial, medicine with absorbing relational dynamics. With gripping storylines, excellent characters, and a prime-time slot, Private Practice remains a landmark show in the annals of medical drama series, leaving a lasting impression on audiences worldwide.
Private Practice is a series categorized as a canceled. Spanning 6 seasons with a total of 111 episodes, the show debuted on 2007. The series has earned a moderate reviews from both critics and viewers. The IMDb score stands at 6.8.
How to Watch Private Practice
How can I watch Private Practice online? Private Practice is available on ABC with seasons and full episodes. You can also watch Private Practice on demand at Hulu Plus, Apple TV, Amazon, Google Play, Microsoft Movies & TV, Vudu online.
Cast
Kate Walsh, Paul Adelstein, KaDee Strickland

Stream shows like Private Practice