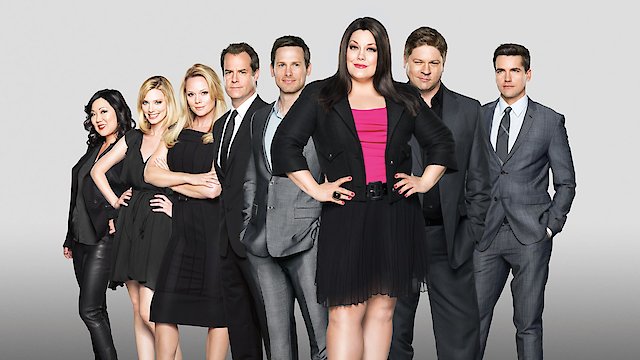 Where to Watch Drop Dead Diva
The tribe receives word that Fort Marshall is merging with an Air Force base. Kevin has a medical breakthrough.
Watch Drop Dead Diva Season 6 Episode 23 Now
Joan continues to fight with Roland about his treating Marcus' drug addiction. Kevin takes out his frustrations on Sophie.
Watch Drop Dead Diva Season 6 Episode 22 Now
Kevin is forced to return home and takes his frustrations out on Jackie. When Marcus shows up at Piedmont Place high, Roland decides to treat him without telling Joan.
Watch Drop Dead Diva Season 6 Episode 21 Now
The tribe deals with the fallout from the events that took place at the Centennial celebration. Roxy and Trevor are finally able to take their other twin home.
Watch Drop Dead Diva Season 6 Episode 20 Now
In the series finale, Jane faces Owen for the first time since leaving the firm. As Stacey attempts to salvage her wedding plans, Teri remembers Ian from her past and that he's the person that ruined her chance of being a star.
Watch Drop Dead Diva Season 6 Episode 13 Now
As Jane works to ban a dietary supplement that killed a teenage football player, Kim is desperate to save the job of a bailiff who protected her while dressed as a superhero.
Watch Drop Dead Diva Season 6 Episode 12 Now
Jane is desperate to prevent a man's execution on death row she believes is innocent, Kim represents a small dance company, and Owen experiences wedding anxiety.
Watch Drop Dead Diva Season 6 Episode 11 Now
As Jane (Brooke Elliott) takes on a client who's being sued for identifying the drunk driver who killed her brother, Kim (Kate Levering) represents a ventriloquist who can't fly without his dummy.
Watch Drop Dead Diva Season 6 Episode 10 Now
After his near-death experience, Grayson is seeing life in a whole new way. Jane represents a community who is battling fumes from a hot sauce factory.
Watch Drop Dead Diva Season 6 Episode 9 Now
Jane defends a transgender student. Grayson is shocked when Jane tells him who she really is.
Watch Drop Dead Diva Season 6 Episode 8 Now
Jane and Grayson help a teenager on her death bed find a bone marrow donor, while Owen defends his mayor friend who is facing impeachment.
Watch Drop Dead Diva Season 6 Episode 7 Now
Jane and Grayson defend a housewife who's been arrested for treason. Kim represents a family of foster children who are being kicked out by their new parents.
Watch Drop Dead Diva Season 6 Episode 6 Now
Teri pretends to be Paul's lawyer to help get him out of trouble when he gets in over his head in debt with credit cards. Grayson and Owen team up to defend a family that put in their own speed bump on their busy neighborhood street.
Watch Drop Dead Diva Season 6 Episode 5 Now
Jane feels awkward around Grayson now that he knows the truth; Grayson represents his childhood friend, who is now a widower, who wants to honor his wife's last wish to be buried in her backyard, but her family has different intentions; Kim returns to work and enlists Owen's help representing a 12-year-old foster child who is searching for a permanent home.
Watch Drop Dead Diva Season 6 Episode 4 Now
Stacey helps Jane get ready for her date; Grayson represents a woman who got evicted; Belinda and Jane represent a rock star.
Watch Drop Dead Diva Season 6 Episode 3 Now
Jane reveals the truth to Grayson; a new attorney temps for Kim; Jane subpoenas Owen to get help with a case; Grayson asks Jane out.
Watch Drop Dead Diva Season 6 Episode 2 Now
In the sixth season premiere, Jane does some pro bono work; Owen's estranged brother visits; Stacy and Nick go out.
Watch Drop Dead Diva Season 6 Episode 1 Now

Drop Dead Diva is a unique and compelling dramedy series that debuted on Lifetime in 2009 and ran for six successful seasons until 2014. The show boasts a remarkable ensemble cast, including Brooke Elliott, Margaret Cho, April Bowlby, Josh Stamberg, Kate Levering, Jackson Hurst, Lex Medlin, Justin Deeley, Carter MacIntyre, Ben Feldman, Gregory Alan Williams, Marcus Lyle Brown, and Mike Pniewski, each bringing to life distinct characters contributing to the series' unique storyline. The show brilliantly combines comedy, law, and life dilemmas with a supernatural twist, revolving around a shallow and vapid model named Deb Dobkins (played by Brooke D'Orsay in flashbacks) and her new life as a plus-sized attorney, Jane Bingum (Brooke Elliot). After a fatal car accident, Deb finds herself in the 'waiting room of heaven,' where the gatekeeper Fred (Ben Feldman) explains she hit the "return" button on his keyboard, sending her back to earth. However, instead of returning as herself, she gets a second chance at life in Jane's body, a brilliant, hardworking, but often overlooked lawyer who also died recently. Suddenly, Deb is tossed into Jane's life, possessing her body, her brilliant mind, and her job at a prestigious Los Angeles law firm. Yet, she maintains her lively spirit, love for fashion, and bubbly personality, creating a curious amalgamation of beauty and brains. At times, this duality poses challenges as she struggles to reconcile Deb's frivolous past with Jane's serious professional responsibilities and complex cases. Margaret Cho portrays Teri Lee, Jane's witty and fashionable assistant, adding her unique comic twist to the story. April Bowlby playing Stacy Barrett, Deb's best friend, is thrown into a whirlwind when Deb confides her secret transformation into her. Josh Stamberg plays the role of Jane's boss and partner at the law firm, Jay Parker, who often underestimates Jane's strengths due to her unconventional style. Jackson Hurst breathes life into Grayson Kent, who was once Deb's fiancé in her past life and now Jane's colleague at the law firm. Grayson's presence and his unawareness of Jane's true identity roots for many comedic and dramatic instances, adding an element of romantic tension to the plot. Kate Levering is Kim Kaswell, Jane's rival at the firm whose sharp professional rivalry with Jane underlines their recurrent interactions. Further upping the drama quotient are several guest appearances, intricate court cases, emotional twists, and the riveting work-life dynamics of a law firm. This unique blend of humor, law, and supernatural incidents keep the viewers hooked throughout the series. Crafted masterfully by creator Josh Berman, 'Drop Dead Diva' offers an insightful yet entertaining commentary on modern culture, especially in terms of the obsession with physical appearances. It challenges stereotypes about beauty, plus-size people, and women in the law profession, making a strong statement about self-worth and confidence. The series deviates from the usual portrayal of women on television, bringing to the forefront a plus-sized, successful and confident woman who is not just respected for her professional skills, but also desired by those around her. This blend of comedy, drama, and heartfelt emotion, along with highly relatable and diverse characters, set the show apart from other dramedies on television. Showcased through a legal lens, the narrative engages in tackling thoughtful and complex societal issues while maintaining an undercurrent of humor and lightheartedness. As the series progresses, the viewers are treated to Deb's (or rather Jane's) emotional journey as she grapples with her new life, her relationships, her career, and ultimately, her profound identity change. The show subtly captures this transformation from a superficial, beauty-obsessed model to an empathetic, quick-witted lawyer, keeping viewers riveted through her journey of self-discovery. Drop Dead Diva strikes the perfect balance between comedy and drama, laced with a supernatural premise, making it a must-watch series. It explores profound themes of identity, body positivity, self-acceptance, and the power of a second chance at life, all packed within the legal backdrop. It's a rollercoaster of emotions that keep you laughing, crying, and thinking all at the same time, making it a truly addictive watch.
Drop Dead Diva is a series categorized as a canceled/ended. Spanning 7 seasons with a total of 95 episodes, the show debuted on 2009. The series has earned a moderate reviews from both critics and viewers. The IMDb score stands at 7.5.
How to Watch Drop Dead Diva
How can I watch Drop Dead Diva online? Drop Dead Diva is available on Lifetime with seasons and full episodes. You can also watch Drop Dead Diva on demand at Apple TV Channels, Apple TV, Amazon, Google Play, Vudu online.
Cast
Brooke Elliott, Margaret Cho, Kate Levering

Stream shows like Drop Dead Diva