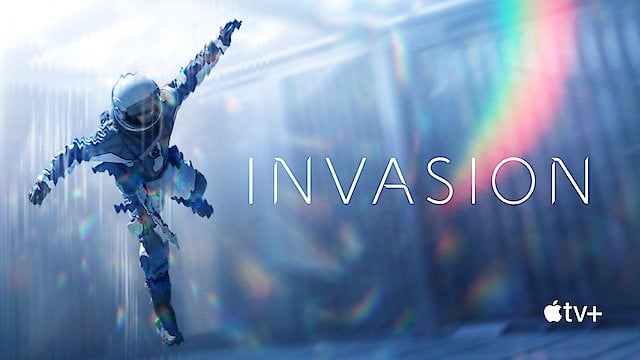 Where to Watch Invasion
Watch Invasion Season 2 Episode 10 Now
Watch Invasion Season 2 Episode 9 Now
Watch Invasion Season 2 Episode 8 Now
Watch Invasion Season 2 Episode 7 Now
Jamila and the gang reach the hospital and find a surprise. En route to Camp Pierce, the Movement get caught in a savage attack.
Watch Invasion Season 2 Episode 6 Now
5
A Voice From the Other Side
Aneesha, Luke, and the Movement make a plan to locate Sarah. Mitsuki has a devastating encounter with the alien entity.
Watch Invasion Season 2 Episode 5 Now
Jamila's decision to trek the Channel Tunnel puts the group face-to-face with an even deadlier enemy.
Watch Invasion Season 2 Episode 4 Now
A game-changing discovery could finally give Earth an advantage. Aneesha finds it difficult to trust the Movement, despite needing their help.
Watch Invasion Season 2 Episode 3 Now
At home in Miami, Trevante struggles with returning to day-to-day life. Similarly, Jamila feels an unceasing pull to search for Caspar.
Watch Invasion Season 2 Episode 2 Now
Mitsuki is taken to an alien ship in the Amazon jungle. Aneesha and her children take refuge with a group called the Movement.
Watch Invasion Season 2 Episode 1 Now

Invasion is a television series from Apple TV+ released in 2021 that explores the thrilling concept of a global alien invasion as experienced from multiple perspectives around the world. A unique blend of the sci-fi, drama, and action genres, the series is a compelling visual saga that unfolds concurrently across different geographical landscapes. The makers of the show have endeavored to provide an engaging and multidimensional narration that keeps viewers on their toes with unexpected plot twists at every corner. At the surface level, Invasion is premisely about an imminent alien invasion. But dig a little deeper, and you'll find it to be a poignant commentary on individual trials and survival instincts that resurface in the face of an unsettling and formidable extraterrestrial presence. The show is crafted as an ensemble narrative with disparate storylines, all linked together by one overarching theme - the alien invasion. The narrative orbits around five main characters, each hailing from different parts of the world—Japan, the United Kingdom, Afghanistan, the United States, and the Middle-East. They embark upon personal journeys as they face the external challenge of the alien invasion while dealing with their internal dilemmas. One of the key characters is Sam, a law enforcement officer based in Oklahoma, played by the talented Sam Neill. He's grappling with his personal tragedies when he's thrust into the middle of the alien chaos. Aiko, played by Shioli Kutsuna, is a mission control astronaut in Japan who begins to suspect strange happenings. An ambitious US Army Major played by Golshifteh Farahani, a Syrian refugee boy, and a London-based couple constitute other pivotal characters. They are swept into the cataclysmic events, and their personal narratives unravel intriguingly as the series progresses. Invasion is not just an apocalyptic portrayal of an alien invasion, but a deft exploration of the human condition and reactions to profound danger and uncertainty. It investigates the themes of fear, survival, resilience as it dismantles the quintessential narrative of an alien invasion to underscore the various facets of the human spirit. The emotional responses, internal conflicts, and inter-personal dynamics portrayed against the backdrop of a worldwide alien invasion provide a unique viewing experience. The series is a remarkable effort by creators Simon Kinberg (famed for his work in the X-Men series and Star Wars: Rebels) and David Weil (known for Hunters). Bringing together their collective expertise in drama and science fiction, they succeed in creating a deep, moody, and atmospheric series. Produced through a collaborative effort between the United Kingdom, the United States, and Japan, the multi-national production encapsulates a truly global feel, both in terms of its narrative and its production quality. The series also deserves commendation for casting a diverse group of actors, allowing for an authentic portrayal of characters from different parts of the world. Whether it's the farmlands of Oklahoma, the deserts of Afghanistan, or the urban metropolis of Tokyo, all locales have been impressively captured. The expansive, cinematic landscapes are an integral part of the narrative, further intensifying the series' scope. Policymakers have employed a careful mix of practical and computer-generated effects to create an immersive and believable world threatened by an alien invasion. The cinematography and sound design are especially noteworthy, reinforcing the emotional tonality and major plot points. Showrunners have skillfully used visual and auditive elements to heighten suspense, discomfort, and awe at the right moments. The tight script, seamless direction, and a gripping plot, along with commendable performances, work in perfect harmony to bring this massive and ambitious project to life. It is more than just a spectacle of an alien invasion; it delves into the human heart and its strength amidst fear and hopelessness. Overall, Invasion on Apple TV+ is an ambitious attempt to paint a global canvas of an extraterrestrial invasion from various facets. Beyond visual effects and alien action, its true strength lies in how it turns the lens towards the underrepresented human stories and their combined strength in the face of a global crisis. It's a slow burn but worth the wait as it forces you to contemplate more profound matters pertinent to humanity.
Invasion is a series categorized as a new series. Spanning 2 seasons with a total of 15 episodes, the show debuted on 2021. The series has earned a moderate reviews from both critics and viewers. The IMDb score stands at 6.1.
How to Watch Invasion
How can I watch Invasion online? Invasion is available on Apple TV+ with seasons and full episodes. You can also watch Invasion on demand at Apple TV+ online.
Genres
Drama, Science Fiction
Cast
Shamier Anderson, Billy Barratt, Azhy Robertson

Similar Shows like Invasion