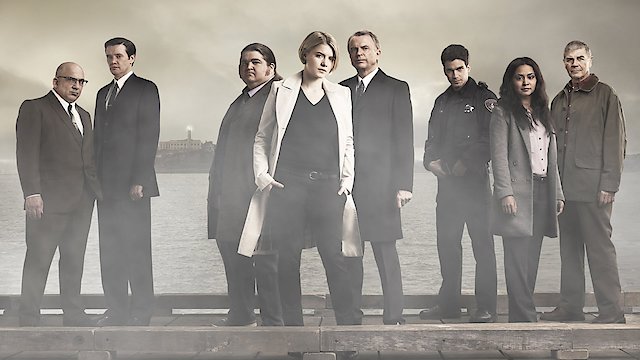 Where to Watch Alcatraz
In the first season finale, lives are put in a precarious position.
Watch Alcatraz Season 1 Episode 13 Now
In Part 1 of the first season finale, Rebecca and Doc search for a man who may possibly know why the criminals are resurfacing, and a discovery is made beneath the halls of Alcatraz.
Watch Alcatraz Season 1 Episode 12 Now
Musically talented serial killer Webb Porter returns.
Watch Alcatraz Season 1 Episode 11 Now
An innocent man from Alcatraz resurfaces and is now guilty of committing crimes.
Watch Alcatraz Season 1 Episode 10 Now
Sonny Burnett's dark side is worse than most and now he is back.
Watch Alcatraz Season 1 Episode 9 Now
When Herman and Pinky Ames, two of the most brutal of Alcatraz's prisoners, who tried escaping in 1963, return to Alcatraz in the present day and find things not as expected
Watch Alcatraz Season 1 Episode 8 Now
Madsen and Hauser pursue Johnny McKee, a murderer skilled in chemistry; details about Madsen's grandfather come to light.
Watch Alcatraz Season 1 Episode 7 Now
An inmate resurfaces and places bombs throughout populated areas of San Francisco
Watch Alcatraz Season 1 Episode 6 Now
Guy Hastings, an Alcatraz guard, reappears. Although a good man, Hastings is involved with criminal activity and will come face-to-face with an old acquaintance.
Watch Alcatraz Season 1 Episode 5 Now
Rebecca is desperate to get Cal Sweeney, a former bank robber, out of a hostage-filled bank before people discover his identity.
Watch Alcatraz Season 1 Episode 4 Now
When child killer Kit Nelson, a terrifying kidnapper who's signature move is to return his victims back to their home - after he's killed them - reappears from the past, the team is desperate to catch him before he kills again.
Watch Alcatraz Season 1 Episode 3 Now
When sniper Ernest Cobb focuses on young victims, the team is forced to investigate the past in order to solve this modern day mystery.
Watch Alcatraz Season 1 Episode 2 Now
A special task force is assigned to locate Alcatraz inmates who vanished 50 years earlier in the series premiere. A trap causes Amber to go blind temporarily while Nina and Fabian find safety from the beacon.
Watch Alcatraz Season 1 Episode 1 Now

Alcatraz is a gripping television series debuted in 2012 on FOX that features a unique blend of crime drama, mystery and supernatural elements. With the story set in one of the world's most infamous prisons, the show captivates audiences with its intriguing plot line, complex characters, and unconventional premise that pushes the boundaries of television storytelling. The series stars Sarah Jones in the lead role as Detective Rebecca Madsen, a determined and dedicated law enforcement officer with the San Francisco Police Department. Known for her relentless pursuit of truth and justice, Detective Madsen stumbles upon a mysterious case that alters the course of her career and life. When former inmates of the notorious Alcatraz penitentiary, reportedly dead for decades, start appearing in the city committing crimes, she takes it upon herself to solve the enigma surrounding the unexplained phenomenon. To aid in her investigation, Madsen teams up with Dr. Diego Soto, portrayed by Jorge Garcia. Soto is an Alcatraz expert and comic book enthusiast who brings an analytical and academic perspective to the investigation, providing valuable insights into the past lives of the reappearing inmates. Their unlikely partnership, characterized by their sharp contrasts in personality and approach, adds a layer of charm and depth to the series. Another key character is Emerson Hauser, a secretive government agent brilliantly played by Sam Neill. Hauser has intimate knowledge of the Alcatraz mystery, one that dates back to the prison's supposed closure in 1963. Though he is not forthcoming with the full extent of his knowledge, he does provide Detective Madsen and Dr. Soto access to a hidden facility dedicated to capturing the reappearance of these supposedly vanished inmates. The series relies on a premise wherein the closure of the prison was a cover-up for a mysterious event that resulted in the unaccountable disappearance of 302 inmates and guards. Decades later, they materialize, unchanged and without any aging, to continue their previous life of crime. It's the age-old question of 'what if', taken up several notches: What if one of history's most dangerous and dastardly criminal populations simply skipped 50 years and came back to wreak havoc in the modern world? Alcatraz employs an intriguing mix of narrative techniques. Each episode typically spotlights one of the returning criminals—throwing light on their past lives, crimes, and incarceration in the doomed prison, while paralleling these with present-day events as the central characters pursue them. While both timelines often serve as independent narratives, they eventually interlink and offer remarkable plot twists, creating a well-structured and engaging storyline that keeps the audience on tenderhooks. The show does not shy away from violent and shocking elements, befitting its subject matter, but it balances this with well-executed character development, intelligent dialogues, and an atmospheric setting that evokes the aura of the real-life Alcatraz. Moreover, the series incorporates a subtle yet intriguing supernatural element that furthers the mystery connected with the disappearance and reappearance of the inmates. In addition, Alcatraz offers a rich tapestry of themes — the endurance of human spirit, the exploration of good and evil, the effect of time, and the relentless pursuit of truth. The mystery deepens as the series progresses, revealing pieces of a grander puzzle involving not just the dark past of Alcatraz, but a conspiracy with potentially earth-shattering consequences. While Alcatraz boasts an impressive ensemble of talented actors, it is the charismatic leading performance of Sarah Jones that truly anchors the series. Her portrayal of Detective Madsen stands out, as she adeptly balances the character's toughness and vulnerability, making every step of her journey worth following. On the whole, Alcatraz is an engaging and highly inventive series that takes audiences into a world of mystery and thrilling suspense, wrapped in the eerie ambiance of one of the world's most notorious prisons. A unique blend of historical intrigue and supernatural suspense, Alcatraz is a television experience like no other, one that is sure to leave viewers hanging on the edge of their seats and craving for more.
Alcatraz is a series categorized as a canceled. Spanning 1 seasons with a total of 13 episodes, the show debuted on 2012. The series has earned a moderate reviews from both critics and viewers. The IMDb score stands at 6.9.
How to Watch Alcatraz
How can I watch Alcatraz online? Alcatraz is available on FOX with seasons and full episodes. You can also watch Alcatraz on demand at Apple TV, Amazon, Google Play, Vudu online.
Genres
Action & Adventure, Crime, Drama, History, Mystery, Science Fiction
Cast
Ian Tracey, Sarah Jones, Jason Butler Harner, Parminder Nagra, Sam Neill, Robert Forster, Santiago Cabrera, Jorge Garcia, Jeffrey Pierce, Leon Rippy, David Hoflin, Jonathan Coyne, Jeananne Goossen

Similar Shows like Alcatraz