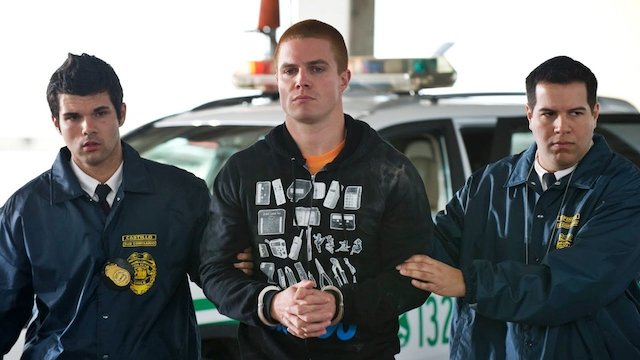 Justice for Natalee Holloway

Where to Watch Justice for Natalee Holloway

Justice for Natalee Holloway is a gripping and suspenseful drama based on true events that unfolded in 2005. The film, directed by Stephen Kay, was released in 2011 and features dazzling performances from its main cast: Tracy Pollan, Stephen Amell, and Scott Cohen. The protagonist of the movie, Beth Holloway, is portrayed by the exceptionally talented Tracy Pollan. This dedicated mother depicts an inspirational fight for justice to resolve her daughter's tragic disappearance during a high school graduation trip to Aruba. Every scene is a testament to her determination, intensity, and unshakable dedication to uncovering the truth - no matter how distressing - about what happened to her daughter, Natalee Holloway. The film also features a promising performance by Stephen Amell as Joran van der Sloot, a primary suspect in the case and a figure shrouded in mystery from beginning to end. Amell's performance as the smug, manipulative suspect is utterly convincing. He successfully encapsulates the character's deceptive nature, keeping the audience questioning his true intentions. Scott Cohen delivers an excellent performance as John Kelly, Beth's lawyer, who stands by her side throughout her fight and shares her determination for truth and justice. Cohen's portrayal of the supportive yet assertively professional attorney provides a strong backbone for the script, offering viewers an idyllic representation of dogged pursuit of justice through lawful means. The film is to be commended for its excellent character development. Tracy Pollan's portrayal of Natalee's immensely strong mother, who tirelessly seeks justice for her daughter, isn't just touching, but it's also a testament to her unwavering spirit in the face of challenge. Amell's character is the perfect counterbalance, casting a chilling shadow on the storyline as the prime suspect whose actions continually rouse suspicion. The narrative of "Justice for Natalee Holloway" gradually unfolds by switching between the investigation's present time and the happenings in Aruba five years into the past. This movie blends fact and dramatized events to transport audiences into the heart of the real-life investigation. Rave reviews have praised the movie for its accurate retelling of events that were drawn from original court documents, real undercover footage, and personal testimonies. Director Stephen Kay masterfully orchestrates suspense that keeps one on edge throughout the film. The process of collecting evidence, interrogations, and courtroom scenes are interlaced with intense emotions, adding depth to the narrative. Each evidentiary development or setback in the case only amplifies the level of suspense gripping the viewer. Unlike typical crime dramas, "Justice for Natalee Holloway" chronicles not only the efforts to ascertain the truth about the crime but also the human endurance and spirit of a mother who refuses to rest until justice is served. It doesn't just aim to explore the story remitting on the facts of this criminal case alone. Manifold dimensions of human capacity for perseverance, resilience, and the pursuit of justice are intricately woven into the tale. Moreover, the film is well-paced, and the storyline is laid out effectively without going into the morose details of the case. This enables viewers to focus on the story's emotional aspect and the efforts to seek justice rather than just the horrifying act itself. It is here that this film differentiates itself from many sensationalized crime dramas, focusing on a more honest, realistic portrayal of a mother's fight for truth. In essence, "Justice for Natalee Holloway" manages to maintain an uncompromising balance between telling a horrifying real-life tale while honoring the life of its victim and her family's ordeal. With powerful performances, particularly that of Tracy Pollan who becomes the beating heart of the film with her striking showcase of strength, tension, and desperation, this movie is a dramatic exploration of a high-profile case that shook international headlines. The popularity of this film and its preceding 2009 television movie, "Natalee Holloway," bears witness to its success in bringing a sensitive real-life tale to the screen in a respectful and memorable way. It's a must-watch for those who appreciate not only crime dramas but the very human stories behind them.
Justice for Natalee Holloway is a TV Movie, Drama, Thriller, Crime, Mystery movie released in 2011. It has a runtime of 90 min.. Critics and viewers have rated it moderate reviews, with an IMDb score of 5.2..
How to Watch Justice for Natalee Holloway
Where can I stream Justice for Natalee Holloway movie online? Justice for Natalee Holloway is available to watch and stream, buy on demand, download at Tubi TV, Apple TV, Amazon, Google Play, YouTube VOD, Vudu. Some platforms allow you to rent Justice for Natalee Holloway for a limited time or purchase the movie for downloading.

Stars
Tracy Pollan, Stephen Amell , Scott Cohen
Genres
TV Movie, Drama, Thriller, Crime, Mystery

Stream movies like Justice for Natalee Holloway
Also directed by Stephen Kay
Also starring Tracy Pollan