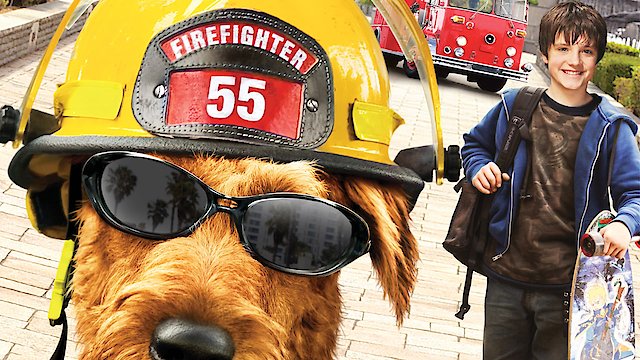 Where to Watch Firehouse Dog

Firehouse Dog is a heart-warming, family-friendly film released in 2007, directed by Todd Holland, featuring renowned actors such as Josh Hutcherson, Bruce Greenwood, and Bree Turner, among others. The film skillfully combines elements of comedy, drama, and adventure, revolving around the unique bond between a young boy named Shane Fahey and Rexxx, an extraordinary canine. The opening scenes of Firehouse Dog introduce us to Rexxx, Hollywood's most famous stunt dog, who, by a twist of fate, finds himself hilariously tumbled out of an airplane and landed in an alleyway of a decaying, largely forgotten neighborhood. Amnesiac and separated from the glitz of Hollywood, Rexxx finds himself entangled with a newfound companion, 12-year-old Shane Fahey (Josh Hutcherson), son of a local firefighter captain, Connor Fahey (Bruce Greenwood). Shane, a scrappy and rebellious youngster, experiences a rollercoaster journey with this stray dog that crashed, quite literally, into his life. Shane's father, Connor, is the captain of the rundown urban fire station, Dogpatch, which just might find its ray of hope with the arrival of their new firehouse mascots – a dog no less charismatic than the neighborhood is rundown! The father-son relationship between Shane and Connor forms the core of the drama, with Connor trying to foster not only a meaningful bond with his son but also to motivate his fire station team that is under the burden of underperformance, financial struggles, and potential closure. He is further concerned with a series of mysterious local arsons, which ties to a larger plot that eventually converges with Rexxx's mysterious disappearance. Rexxx, on the other hand, transitions from a Hollywood stunt dog to a firehouse dog, in the process learning the real art of heroism in contrast to his reel life stunts, as he works with Shane, Connor, and the entire Dogpatch fire station crew. Shane, too, finds a loyal friend and a source of adventure in Rexxx, and with his father and the fire station crew, embarks upon an exhilarating journey to solve the ominous mystery that plagues their town. Aside from the lead characters, we also have Liz Knowles (Bree Turner), a successful television reporter who serves as a potential love interest for Connor and plays a crucial role at the story's crossroads. As the story progresses, Firehouse Dog beautifully unravels their individual stories and relationships with each other while doubling down on the combination of suspense, thrill, and humor. The casting is spot-on, breathing life into their characters. Murphy, the Irish Terrier who played Rexxx, deserves special mention for his adorable and almost human-like performance. Hutcherson, known for his versatility, does not disappoint in his role as Shane, creating an empathetic and likeable character. Greenwood's portrayal of Connor is strong and sensitive, lending a sincere depth to the story. Turner, as Liz, adds a charismatic vibrancy to her performance. Firehouse Dog is more than just a children's film – it's an emotional journey that resonates with all ages. This film masterfully explores themes of friendship, bravery, mystery, and teamwork, touching the chords of the heart while bringing in the edge-of-the-seat thrill. It darts, dives, and weaves, much like Rexxx himself, to leap beyond basic family fare and offers a touching film about rediscovering passion, fostering unexpected friendships, and uncovering mysteries. With a steady pace and continued excitement, the film successfully marries reality and fiction, offering a distinctive breed of movie with a skillful blend of humor, action, heart, and a fair amount of slobber. Firehouse Dog is sure to leave audiences with a renewed appreciation for man's best friend – our loyal, loving, and sometimes extraordinary – dogs.
Firehouse Dog is a Kids & Family, Comedy movie released in 2007. It has a runtime of 111 min.. Critics and viewers have rated it moderate reviews, with an IMDb score of 5.5. It also holds a MetaScore of 43.
How to Watch Firehouse Dog
Where can I stream Firehouse Dog movie online? Firehouse Dog is available to watch and stream, buy on demand, download at Amazon Prime, Plex, Apple TV, Amazon, Google Play. Some platforms allow you to rent Firehouse Dog for a limited time or purchase the movie for downloading.


Stars
Josh Hutcherson, Bruce Greenwood, Dash Mihok, Steven Culp, Bill Nunn
Genres
Kids & Family, Comedy

Watch movies on Apple TV+
Also directed by Todd Holland
Also starring Josh Hutcherson
Also starring Bruce Greenwood