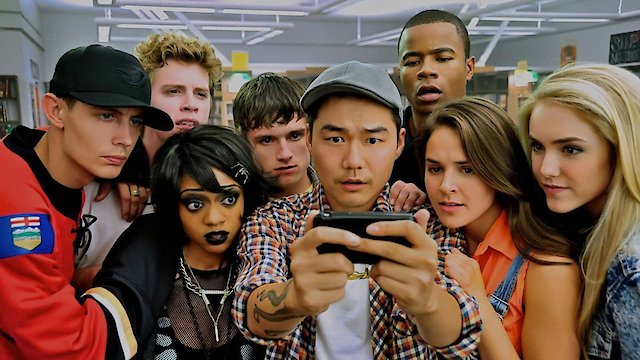 Where to Watch Detention

Detention from 2011 is a unique genre-mashing movie directed by Joseph Kahn, notable for incorporating elements of teen rom-coms, horror slashers, time-travel sci-fi, and many more genres into its absurdly fast-paced plot. The film's cast is headlined by Josh Hutcherson, Shanley Caswell, and Spencer Locke. Their performances breathe life into a plot that, while dense and hard to pin down, is nothing short of entertaining. Josh Hutcherson, popular for his role in the Hunger Games franchise, does a significant shift as he takes on the character of Clapton Davis, the school's resident cool kid. Clapton is a skater with edgy pop-culture sensibilities, a unique fashion sense, and an affection for Ione Foster, the school's head cheerleader played by Spencer Locke. Locke's luminescent performance and Hutcherson's charming swagger bring energy and vigor to the fast-paced insanity of the plot. Adding to this love triangle is Shanley Caswell, who plays Riley Jones, a socially awkward, misfit teenager who harbors an unrequited love for Clapton. Despite her "invisible" status, she's witty, snarky, and provides one of the most grounded and relatable perspectives in the entire ensemble. The chemistry between the three main characters is undeniable and adds much-needed human touch amidst the chaotic whirlwind of events. Detention begins as a satirical teen comedy and abruptly plunges you into a brutal slasher horror, dropping the audience along with its cast into a twisted narrative that doesn't respect the boundaries of time and space. The story is set in Grizzly Lake High School, where not only do the students need to worry about standardized tests and prom dates, but they also have to dodge a serial killer who is mimicking movie murders. It gloriously parodies familiar tropes, citing numerous pop-culture references and is filled with wickedly funny dialogue. The film uses advanced visual tropes and modern storytelling techniques that help to keep its downbeat humor intact and enticing. Time-traveling bears, body-swapping, and bizarre close-ups keep the narrative speed at a breakneck pace. These components make Detention a dense, self-referential pop culture experience, constantly reinventing itself from scene to scene. Detention may appear on the surface as an absurd mishmash of genres, but as the movie progresses, we see the narrative unfold, combining all of the seemingly disjointed elements into a coherent, albeit outlandish, story. The plot feels like an intense roller-coaster ride that takes you on so many twists and turns that you find yourself invested in the lives of the characters who are as bewildered as you are. Although the teen-centric and high-energy narrative can be challenging to follow for those unfamiliar with the style, its humor is apparent. The film showcases moments of self-awareness, poking fun at various stereotypes and stigmas attached to high school life while maintaining a lighthearted, comical undertone. The result is a slice of cinematic absurdity that feels innovative in its storytelling methods despite the liberal use of worn-out clichés and familiar archetypes. The film's production design is vibrant and flashy, and the color palette varying between scenes establishes a lively mood contributing to the film's overall jovial atmosphere. The soundtrack consists of a dynamic assortment of tracks from various genres, ensuring it complements the rapid shifting of scenes and moods throughout the film. Detention is a hilarious, genre-bending flick that combines different cinematic tropes into an original and entertaining narrative structure. The chemistry among the cast ground the film, channeling its absurdist energy while also delivering relatable performances. Despite the unprecedented blending of genres, at its core, it is essentially a story about high school, love, and friendship, making it a unique cinematic experience. In conclusion, if you're in the mood for an unconventional teen movie that packs visual and narrative punch in every frame—and you don't mind your action spliced with parallel timelines—Detention from 2011 is assuredly an experience not to be missed.
Detention is a Horror, Comedy, Science Fiction movie released in 2012. It has a runtime of . Critics and viewers have rated it moderate reviews, with an IMDb score of 5.6. It also holds a MetaScore of 45.
How to Watch Detention
Where can I stream Detention movie online? Detention is available to watch and stream, buy on demand, download at Crackle, Apple TV, Amazon, Google Play, YouTube VOD, Vudu. Some platforms allow you to rent Detention for a limited time or purchase the movie for downloading.


Stars
Josh Hutcherson, Dane Cook, Spencer Locke, Shanley Caswell, Aaron David Johnson
Genres
Horror, Comedy, Science Fiction

Stream movies like Detention
Watch movies on Apple TV+
Also starring Josh Hutcherson
Also starring Shanley Caswell