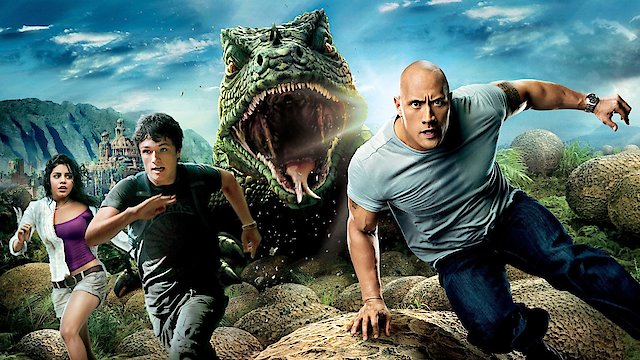 Journey 2: The Mysterious Island

Where to Watch Journey 2: The Mysterious Island

Journey 2: The Mysterious Island is a 2012 American science fiction adventure film directed by Brad Peyton. This captivating sequel to the 2008 Journey to the Center of the Earth is based on Jules Verne's novel, The Mysterious Island. The movie stars Josh Hutcherson reprising his role from the first installment, along with Dwayne Johnson, Michael Caine, Luis Guzmán, and Vanessa Hudgens joining the ensemble cast. The story picks up a few years after the events of the first film. The adventure-loving teen Sean Anderson, portrayed by Hutcherson, receives a coded distress signal from a mysterious island. Believing the signal to be from his long-lost grandfather, he becomes fixated on finding the island that shouldn't exist according to conventional maps and geography. However, his parents reject his plans, deeming them as his imaginative tales. Enterprising as ever, Sean eventually persuades his worried stepfather, Hank Parsons (Dwayne Johnson), to accompany him on this daring expedition. With intimate bonding serving as an undercurrent, Hank uses his military training to help decode the message. The duo's mission to locate the island leads them to Palau, where they hire a local helicopter tour operator (Luis Guzmán) and his fierce and independent daughter Kailani (Vanessa Hudgens) as their guides, venturing into what seems to be a terrifying storm. Finally breaking through the dreadful storm, they crash on the Mysterious Island, a phenomenal place boasting multiple terrains and climates. From mountains of gold to ominous forests, the area is teeming with surreal wonders and horrifying creatures. The island is literally another world, where gigantic animals roam, and miniature elephants scamper. On the island, they meet Sean's eccentric grandfather Alexander Anderson, brought to life by Academy Award-winner Michael Caine. Alexander has been living on the island for a few years and guides the estranged explorers about the island's mind-boggling anomalies. Journey 2: The Mysterious Island takes its viewers on an expedition through a landscape blended with extreme wonders, complete with lush rainforests, arid deserts, stunning waterfalls, and a mountain made of pure gold. Each corner of the island unfolds new adventures and discoveries. The group navigates through uncharted territories, dives into an undersea adventure and battles gigantic creatures while aiming to survive on the most fantastic place on Earth. The strength of this fantasy adventure film lies in its visually stunning graphics and proficient 3D effects that create an immersive experience for the audience. However, it's not just all about the aesthetics. The film has a strong emphasis on familial relationships, particularly the evolving dynamics between Sean and Hank throughout their mission, which adds depth to the narrative. Portraying the characters convincingly and maintaining relevant humor, the actors add soul to their roles. Josh Hutcherson successfully embodies the ardent, adventure-loving nature of Sean. Dwayne Johnson, adding a touch of lightheartedness with his comedic timing, offers a solid presence as Hank. Vanessa Hudgens gives a spirited performance as Kailani, and Luis Guzman provides comic relief. Michael Caine, elegant as ever, delivers an engaging performance as Sean's grandfather. Director Brad Peyton helms the film brilliantly, ensuring that the larger-than-life adventure narrative never overshadows the critical character relationships. The movie also includes a respectful nod to the science-fiction novels of Jules Verne, interweaving elements of Vernian lore into the plot. In conclusion, Journey 2: The Mysterious Island is an enthralling cinematic experience that successfully transports its audience to a different world. The film seamlessly unravels a compelling tale of adventure, persistence, and familial bonds. It blends captivating special effects with profound emotional moments, making it an engaging watch for viewers of all ages. Whether you are a devoted fan or a newcomer to the Journey series, this movie promises an unforgettable adventure of a lifetime.
Journey 2: The Mysterious Island is a Adventure, Action, Science Fiction movie released in 2012. It has a runtime of 94 min.. Critics and viewers have rated it moderate reviews, with an IMDb score of 5.7. It also holds a MetaScore of 41.
How to Watch Journey 2: The Mysterious Island
Where can I stream Journey 2: The Mysterious Island movie online? Journey 2: The Mysterious Island is available to watch and stream, buy on demand, download at Amazon Prime, Apple TV, Amazon, Google Play, YouTube VOD, Vudu. Some platforms allow you to rent Journey 2: The Mysterious Island for a limited time or purchase the movie for downloading.


Stars
Josh Hutcherson, Dwayne Johnson , Vanessa Hudgens
Genres
Adventure, Action, Science Fiction

Stream movies like Journey 2: The Mysterious Island
Watch movies on Apple TV+
Also directed by Brad Peyton
Also starring Josh Hutcherson
Also starring Dwayne Johnson