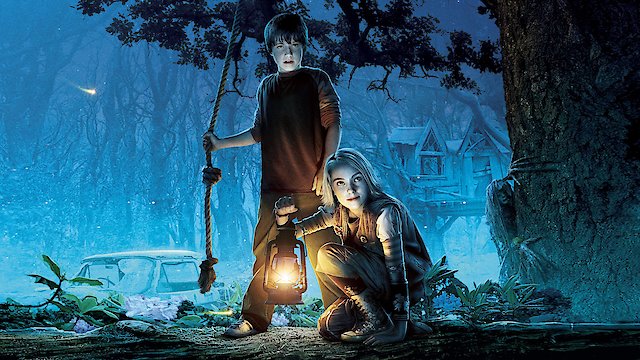 Where to Watch Bridge to Terabithia

Bridge to Terabithia is a 2007 fantasy drama movie directed by Gabor Csupo and produced by Walt Disney Pictures and Walden Media. The film features Josh Hutcherson, AnnaSophia Robb, Zooey Deschanel, and Robert Patrick in pivotal roles. Adapted from Katherine Paterson's Newberry Medal-winning novel of the same name, the movie deftly blends the adventure and magic of fantasy with the poignant realities of a coming-of-age tale. Josh Hutcherson plays the role of Jesse (Jess) Aarons, a young boy with a passion for drawing but is otherwise an outcast at school and is often overshadowed by his financially stressed family. Jess forms an unlikely friendship with Leslie Burke (played by AnnaSophia Robb), an imaginative and free-spirited girl who just moved in next door. The contrast between Jess's quiet sensitivity and Leslie's excitable creativity drives much of the film's unique charm, assuring viewers that the pair's blossoming friendship forms the emotional backbone of the film. What stands out about this movie is the world of 'Terabithia', a magical kingdom across a creek in the woods where Jess and Leslie become king and queen. Through the magic of Leslie's imagination, they transform a quiet patch of nature into the setting of grand adventures. Brimming with fantastical creatures who embody the threats and challenges they face in reality. Zooey Deschanel plays the role of Miss Edmunds, the music teacher who becomes a subtle yet influential presence in Jess's life. She recognizes his interest in art, encouraging him to explore it, which provides a much-needed break from his otherwise dismissive surroundings. Robert Patrick, as Jess's struggling father, effectively portrays a man preoccupied with his family's financial pressures, leading to conflicts with the dreamy escapism of his son's world. While the movie excels in presenting the fantasy elements, it never shies away from addressing life's struggles and realities. The narrative beautifully encapsulates moments of friendship, personal growth, grief, and learning, making it a relatable watch for audiences of all ages. Leslie, with her vibrant imagination, paints a brighter and more adventurous world that provides an escape from the grim reality surrounding Jess, but the film uses these imaginary escapades to delve into the emotional complexities that both children must confront. As much as the movie focuses on friendship and adventure, it also skillfully explores the emotional roller coaster of adolescence. The protagonists' responses to their complex feelings form a significant aspect of the story. Translating mature themes to a younger audience, Bridge to Terabithia insightfully addresses the concept of loss and grief without losing touch with its whimsical, adventurous spirit. Bridge to Terabithia delights its audience with a stirring journey through the limitless bounds of imagination. The superb performances by Hutcherson and Robb, coupled with superb visual graphics, breathe life into the alternate world of Terabithia. At the same time, it never loses sight of the perceptible, everyday reality faced by its young characters. The film humanely portrays growth, joy, sorrow, and the transformative power of imagination. Consequently, it appeals to children ready to embark on a magical journey, adults reminiscing about their own childhood fantasies, and parents seeking to understand the emotional complexities their growing children might be facing. Cinematographically, the movie beautifully contrasts the mundane and grim realities faced by Jess and his family with the enchanting, lush realm of Terabithia. The vivid imagination of children is wonderfully brought to life through seasoned special effects and splendid visuals. With an absorbing narrative, impressive performances, and a well-crafted blend of imagination and reality, Bridge to Terabithia offers an endearing, insightful, and evocative cinematic experience. This family-friendly movie shifts between compelling fantasy and harsh real-world circumstances, thus creating a layered and emotive storytelling experience that is sure to tug at the heartstrings of its viewers.
Bridge to Terabithia is a Adventure, Drama, Kids & Family movie released in 2007. It has a runtime of 96 min.. Critics and viewers have rated it moderate reviews, with an IMDb score of 7.2. It also holds a MetaScore of 74.
How to Watch Bridge to Terabithia
Where can I stream Bridge to Terabithia movie online? Bridge to Terabithia is available to watch and stream, buy on demand, download at Amazon Prime, Disney+, Apple TV, Amazon, Google Play, YouTube VOD, Vudu. Some platforms allow you to rent Bridge to Terabithia for a limited time or purchase the movie for downloading.


Stars
Josh Hutcherson, AnnaSophia Robb, Robert Patrick, Bailee Madison, Zooey Deschanel
Genres
Adventure, Drama, Kids & Family

Stream movies like Bridge to Terabithia
Watch movies on Apple TV+
Also directed by Gabor Csupo
Also starring Josh Hutcherson
Also starring AnnaSophia Robb