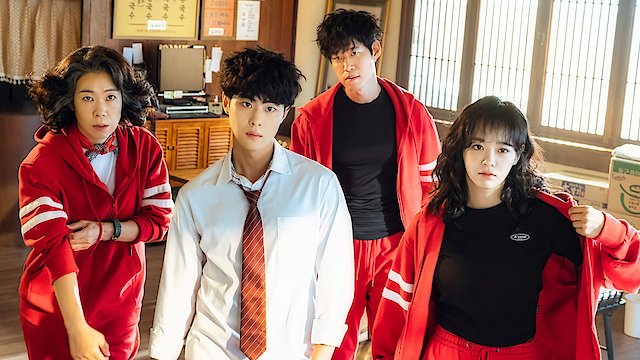 Where to Watch The Uncanny Counter
Watch The Uncanny Counter Season 2 Episode 12 Now
Watch The Uncanny Counter Season 2 Episode 11 Now
Watch The Uncanny Counter Season 2 Episode 10 Now
Watch The Uncanny Counter Season 2 Episode 9 Now
Watch The Uncanny Counter Season 2 Episode 8 Now
Watch The Uncanny Counter Season 2 Episode 7 Now
Watch The Uncanny Counter Season 2 Episode 6 Now
Watch The Uncanny Counter Season 2 Episode 5 Now
Watch The Uncanny Counter Season 2 Episode 4 Now
Watch The Uncanny Counter Season 2 Episode 3 Now
Watch The Uncanny Counter Season 2 Episode 2 Now
It's business as usual for the Counters as they work together to defeat malicious demons. Meanwhile, trouble starts brewing in a remote mansion in China.
Watch The Uncanny Counter Season 2 Episode 1 Now

Premiering in 2020, Netflix's The Uncanny Counter is an intriguing combination of superhero genre and Korean drama television series, based on a webtoon titled "Amazing Rumor" by Jang Yi. This South Korean television series provides a fresh spin on the ubiquitous world of supernatural entities and the individuals who combat them with a distinct cultural and aesthetic approach. The show centers around four unique individuals, known as "Counters," who have each gained superhero-like abilities after their death-defying encounters. Unlike regular superheroes, these Counters maintain their secret identities under the guise of employees at a noodle shop, Eonni's Noodles, and balance their 'day jobs' with their supernatural 'night duties'. Their mission is to track down and eliminate evil spirits, known as "evil echoes," that have escaped from the afterlife to wreak havoc in the human world. Besides their fighting capabilities, the Counters possess highly specialized powers, including incredible strength and rapid healing, psychometry, and the ability to identify the presence of evil spirits. The protagonist, a high school student named So Mun, takes center stage in the narrative. After a tragic accident that resulted in the loss of his parents and left him with a significant disability, So Mun's life takes a surprising turn when he is unexpectedly chosen as a Counter. Shaken up by the sudden change, he now has to juggle his daily school routine, his new-found abilities, his quest for personal justice, and the mystery surrounding the circumstances of his recruitment. One of the show's standout features is its focus on interpersonal relationships and personal narratives besides the Counters' supernatural duties. The Counters aren't just teammates; they're a closely-knit family who support and care for one another. So Mun, who has spent much of his life isolated due to his disability, finds acceptance and belonging within this unique group. Apart from this, the series touches upon a multitude of social issues, such as corruption, systemic oppression, and bullying, and doesn't shy away from showing the implications these have on the characters and their lives. The Uncanny Counter executes an intelligent blend of action, comedy, and drama, switching between exhilarating combat sequences, humorous antidotes, and emotional moments seamlessly. It effectively harnesses the power of Korean drama storytelling with relatable characters, plot-twists and cliff-hangers that leave viewers on the edge of their seats. The show's supernatural aspects don't overshadow its grounding in reality, helping to cultivate an emotional connection with its audience while maintaining its thrilling genre-based excitement. The series also sets itself apart with its brilliant cast. Jo Byung-gyu, who plays the leading role of So Mun, does an excellent job of communicating the character's internal struggles, naïve determination, and growth. The other Counters, played by Yoo Jun-sang, Kim Se-Jeong, and Yeom Hye-ran, bring their own depth and complexity to their roles. Not to be overlooked are the compelling villains, whose uncharacteristic ruthlessness and barbarity raise the stakes and maintain suspense throughout the series. The show's production quality is top-notch, incorporating sophisticated visual effects to create believable action sequences and spirit encounters. Furthermore, its use of South Korean locations provides an authentic setting that immerses viewers in the story. In terms of overall experience, The Uncanny Counter is a compelling narrative with a unique concept and heartwarming character relationships. Its proficient use of supernatural elements, relational dynamics, and social commentary, combined with solid acting, exceptional storytelling, and high production quality, indeed make it an outstanding show to check out for fans of diverse genres. The Uncanny Counter offers an entertaining, edge-of-your-seat, and sometimes, an emotional roller coaster ride. Its ability to break away from the formulaic aspect of the superhero genre and traditional Korean dramas, provides a refreshing perspective and creates added appeal for audiences worldwide. It's a solid choice for both hardened fans of the supernatural-action genre and those new to Korean dramas.
The Uncanny Counter is a series categorized as a currently airing. Spanning 2 seasons with a total of 28 episodes, the show debuted on 2020. The series has earned a mostly positive reviews from both critics and viewers. The IMDb score stands at 8.1.
How to Watch The Uncanny Counter
How can I watch The Uncanny Counter online? The Uncanny Counter is available on Netflix with seasons and full episodes. You can also watch The Uncanny Counter on demand at Netflix online.
Genres
Action & Adventure, Drama, Fantasy, Mystery
Cast
Byeong-gyu Jo, Joon-Sang Yoo, Se-Jeong Kim

Similar Shows like The Uncanny Counter