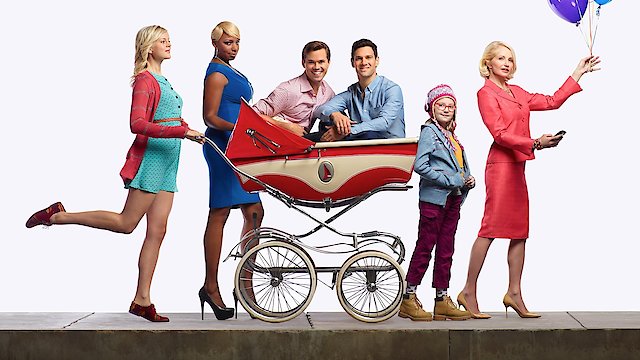 Where to Watch The New Normal
It's the wedding day, and despite all the obstacles, Bryan and David are determined to get married before the arrival of the baby - but their son may have other plans.
Watch The New Normal Season 1 Episode 22 Now
Bryan and David must decide what to name their baby. The conflict prompts Goldie to reveal the origin of Shania's name leading to brief identity crises for both of them.
Watch The New Normal Season 1 Episode 21 Now
David's Boy Scout membership is revoked due to his lifestyle.
Watch The New Normal Season 1 Episode 20 Now
Bryan's research of natural child birthing techniques inspires him to encourage David to accept a more alternative method of delivery.
Watch The New Normal Season 1 Episode 19 Now
18
Para-New Normal Activity
David stands up to Bryan when he starts making demands about his Halloween costume. Nicole Richie guest stars.
Watch The New Normal Season 1 Episode 18 Now
Bryan and David finally give in to Shania, Goldie, and especially Rocky's pleadings to let them throw a baby shower.
Watch The New Normal Season 1 Episode 17 Now
Bryan and David realize that their puppy, Harvey Milkbone, has been preparing them for the ups and downs of parenting.
Watch The New Normal Season 1 Episode 16 Now
When breastfeeding becomes a topic of interest while talking with their friends, Bryan begins to wish for a natural connection for their baby to-be.
Watch The New Normal Season 1 Episode 15 Now
When Shania meets Rocky's new crush, Chris, she claims that her 'gaydar' is indicating Chris is more interested in men.
Watch The New Normal Season 1 Episode 14 Now
Brian and David consider who should be the stay-at-home dad. Meanwhile, Rocky assumes David's position as producer.
Watch The New Normal Season 1 Episode 13 Now
In an attempt to help Gary find the right guy, Bryan and David hook him up with Bryan's ex, Monty, who is a bonafide party animal. Things take an unexpected turn when Monty asks Goldie to be his surrogate.
Watch The New Normal Season 1 Episode 12 Now
David's hiring of a baby proofer does not sit well with Bryan.
Watch The New Normal Season 1 Episode 11 Now
Is it a boy...or a girl? How will it affect the family dynamic?
Watch The New Normal Season 1 Episode 10 Now
The gang discuss their Thanksgivings from the past and decide to enjoy the holiday with their new family.
Watch The New Normal Season 1 Episode 9 Now
Bryan participates in his annual Halloween festivities by decorating the house and going to the pumpkin patch with Nicole Richie. With the help of Sam, the 'Sing' make-up artist, Bryan tells everyone what their costume will be.
Watch The New Normal Season 1 Episode 8 Now
David and Bryan want godparents for their baby.
Watch The New Normal Season 1 Episode 7 Now
It's a wedding celebration and Bryan decides to plan the event of the season.
Watch The New Normal Season 1 Episode 6 Now
While David intends to tell his mother, Francis about the baby, Bryan commiserates with Goldie about in-laws. Elsewhere, Jane experiences an unusual sensation during an encounter with a younger man and confides in David for advice.
Watch The New Normal Season 1 Episode 5 Now
Shania anticipates her school's upcoming mock election and shocks Bryan and David when reveals who she's voting for. Meanwhile, the boys begin a campaign to influence Goldie's all important vote.
Watch The New Normal Season 1 Episode 4 Now
Bryan disregards David's warnings and goes overboard buying baby clothes. Elsewhere, Shania wears one of the baby outfits to school and makes a new friend, which lands Goldie in an awkward parent teacher moment.
Watch The New Normal Season 1 Episode 3 Now
Nana locates Goldie's ex. Meanwhile, David and Bryan reminisce about the first time they met and decide to go out like they did when they were younger.
Watch The New Normal Season 1 Episode 2 Now
With successful careers and a committed, loving partnership, Bryan and David are missing only one thing: a baby. Could Goldie be just the surrogate mother they're searching for?
Watch The New Normal Season 1 Episode 1 Now

The New Normal is an American television sitcom that graced the small screen between 2012 and 2013. This entertaining and poignant show aired on NBC and became known for its fresh, unique concept, as well as its strong performances by a host of talented actors. One of the main characters in the series is played by Justin Bartha, a widely acclaimed actor known for roles in numerous films and other television series. The New Normal explores various themes central to contemporary life. It presents a layered and complex portrait of modern society and family dynamics, offering an engaging depiction of today's diverse range of family norms. The show nestles itself within the secret spaces of our lives where we find ourselves constantly adapting, evolving, and redefining the concept of home and family. The series focuses on Bryan (played by Andrew Rannells), a successful television producer, and David (played by Justin Bartha), a hardworking gynecologist. They are a happy, loving couple living in Los Angeles, but there's a longing that lingers, a void they can't seem to fill. They desire to start a family of their own. On their journey to parenthood, they come across Goldie Clemmons (Georgia King), a young mother from Ohio who is looking for a chance to realize her unrecognized potential and dreams. Goldie becomes their surrogate mother, carrying their child. This relationship is central to the plot, sparking off a chain of connected storylines that deal with family, love, relationships, and the very concept of normality. The contrasting worlds of Bryan and David; affluent, cosmopolitan, LGBTQ+ individuals, and Goldie; a young woman grappling with her goal of making a better life converge in decidedly interesting ways. Throughout the show, viewers get to explore the developing bond between this unconventional family. The characters are skillfully crafted, each one with his or her unique attributes and charms, idiosyncrasies, and flaws. The series explores the relationship dynamics between the involved parties and how they navigate through parenthood, bond, and learn from each other in the process. The show does a fantastic job of making these characters feel real and relatable, which adds to the appeal and brings depth to the humor and warmth that permeate the series. The dialogue in The New Normal is quick, witty, and often loaded with hilarity, spurring moments of uncontrolled laughter even as it probes sensitive topics. The show also incorporates elements of drama and emotion, weaving a fine tapestry of heartfelt moments that strike a chord. Embracing diversity and challenging the typical notion of a "normal family", The New Normal aims at highlighting the different facets of a family unit and how its meaning has evolved in today's society. This exploration is a significant strength of the show, often leading to moments that are strikingly profound and illuminating. The sitcom brings a comedic yet deeply sentimental view of the complexities of modern family life. Its humor is sharp, often parodic, mocking societal stereotypes, and treatment of non-traditional family units. Yet, the series never loses sight of its sensitivity, dealing with delicate issues like homophobia and conservatism with grace and respect. Justin Bartha shines through in his role as David, demonstrating the versatility of his acting prowess. His chemistry with co-star Andrew Rannells is compelling, driving home the series' central theme with an engaging mix of humor, warmth, love, and camaraderie. The rest of the cast is equally talented, making the sitcom a joy to watch. The New Normal, directed by Ryan Murphy (known for Glee, American Horror Story), was groundbreaking in its time, pushing the envelope and causing viewers to think, feel, and grow alongside the characters. The sitcom both reflects and challenges societal standards and norms, inviting discourse on what truly constitutes a normal family in the ever-evolving socio-cultural landscape of contemporary times. In conclusion, The New Normal is a sitcom that holds a mirror to society, compelling us to introspect and challenge our notions of family life. It's a series laced with humor and heart, with strong performances that make it an enthralling watch. This show isn't just about entertaining, it tells a powerful story about acceptance, love, and the reality that families, just like people, come in all shapes and sizes. Simply put, The New Normal redefines the concept of "normal".
The New Normal is a series categorized as a canceled. Spanning 1 seasons with a total of 22 episodes, the show debuted on 2012. The series has earned a moderate reviews from both critics and viewers. The IMDb score stands at 6.9.
How to Watch The New Normal
How can I watch The New Normal online? The New Normal is available on NBC with seasons and full episodes. You can also watch The New Normal on demand at Apple TV, Amazon, Google Play, Vudu online.
Cast
Justin Bartha, Andrew Rannells, Georgia King, Ellen Barkin, NeNe Leakes, Bebe Wood, Jayson Blair, Jackie Hoffman, Michael Hitchcock, Mary Kay Place

Stream shows like The New Normal