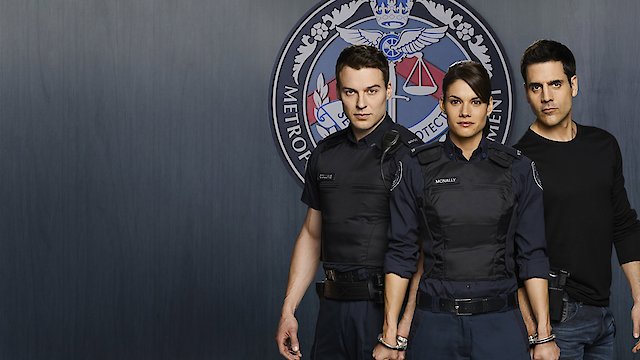 Where to Watch Rookie Blue
With the impending restructuring of the division, Andy and Sam's wedding comes just in time for the gang to celebrate one last hurrah.
Watch Rookie Blue Season 6 Episode 11 Now
On the day of Steve Peck's hearing, Inspector Jarvis makes a huge announcement. Andy debates leaving town on assignment.
Watch Rookie Blue Season 6 Episode 10 Now
Business at 15 Division is slowly getting back to normal as Alonso Santana and Steve Peck await trial, and as Oliver returns to work as a street cop, back in blue. With the city in the middle of a heat wave, 15 Division opens to the public as a cooling station.
Watch Rookie Blue Season 6 Episode 9 Now
With Oliver still the prime suspect in the bombing of 15's evidence room, Andy, Dov, Gail, and Nick plot to prove that Commissioner Alonso Santana is corrupt. Meanwhile Traci shadows Steve Peck, hoping to calm her fears about his involvement in the bombing.
Watch Rookie Blue Season 6 Episode 8 Now
Sam is shocked when Noelle - Juliet's boss at Internal Affairs - tells him that all evidence of corruption at 15 Division points to Oliver Shaw.
Watch Rookie Blue Season 6 Episode 7 Now
When a drive-by shooting occurs during a community-outreach baseball, Gail's relationship with her brother is put to the test.
Watch Rookie Blue Season 6 Episode 6 Now
When Traci fails to show for her first raid, 15 Division is afraid the worst has happened to her.
Watch Rookie Blue Season 6 Episode 5 Now
When Nick's estranged older brother shows up with new information on someone from their past, Nick takes matters into his own hands. When Juliet follows him, Nick is forced to let her into the secrets of his past.
Watch Rookie Blue Season 6 Episode 4 Now
Although Andy is suspicious of the mysterious Juliet, she realizes she'll have to work with her to make it out of the prison.
Watch Rookie Blue Season 6 Episode 3 Now
Andy contemplates her future with Sam after she discovers that Marlo is pregnant with his baby. But Andy's ideas about what makes a perfect family are put into perspective when she meets an out-of-control teen who needs to be protected from her own conservative family.
Watch Rookie Blue Season 6 Episode 2 Now
It's been one month since Ted McDonald's death, the evidence room bombing, and the revelation of Marlo's pregnancy. After a blissful and well-deserved few weeks away at Oliver's cabin, Andy and Sam return home renewed and ready to dig in.
Watch Rookie Blue Season 6 Episode 1 Now

Rookie Blue is a compelling Canadian police drama that aired on ABC from 2010 until 2015. This show offers an intriguing mix of crime-solving procedural elements and character-driven drama and stars talented actors such as Missy Peregrym, Gregory Smith, Ben Bass, Charlotte Sullivan, Enuka Okuma, Noam Jenkins, Aliyah O'Brien, Travis Milne, Priscilla Faia, Peter Mooney, Eric Johnson, Melanie Nicholls-King, Matt Gordon, and Aaron Abrams. Rookie Blue is centered around the lives of five young rookie police officers from 15 Division, who have recently graduated from the Academy and are thrown into the world of big city policing. Missy Peregrym stars as Andy McNally, the series' central character who aspires to make her mark while following her father's footsteps. The energetic and committed rookie often goes above and beyond in her commitment to justice but must balance well between her professional and personal lives. Gregory Smith portrays Dov Epstein, a passionate and eager cop whose humor, and sometimes careless decisions tend to put him in precarious situations. Priscilla Faia plays the charismatic, daring, and resourceful officer Chloe Price, while Travis Milne features as Chris Diaz, a peacemaker trying to maintain harmony among his peers. Charlotte Sullivan plays Gail Peck, a tough, no-nonsense officer from a family of policemen. Enuka Okuma stars as Traci Nash, an ambitious officer and a single mother, while Ben Bass plays Sam Swarek, a seasoned undercover officer and Andy's complicated love interest. Noam Jenkins also co-stars as Detective Jerry Barber, a seasoned detective who forms a romantic relationship with Traci, and Melanie Nicholls-King portrays Noelle Williams, a maternal figure and guidance to the rookies outside the police academy. Matt Gordon stars as the experienced officer, Oliver Shaw, who provides measured advice with a hint of humor. Aaron Abrams stars as a well-respected officer and later a conceivable threat to many others. Aliyah O'Brien and Peter Mooney also play key roles in the series, levitating the complexity of the characters and the plots. The series provides a new take on police dramas, focusing more on the rookies' perspectives. It allows the audience to grow with these characters from the early jitters, naivety, and mistakes to their professional growth, showcasing how small decisions can have far-reaching repercussions. Each episode of Rookie Blue usually features a specific case or situation where the rookies are tested. However, there also are ongoing story lines involving their personal relationships and career advancements. The training officers who guide these rookies also have their share of challenges, often finding themselves in the difficult position of having to protect their protegees from the harsh realities of the job while also ensuring they are prepared to face them. The trials and tribulations faced by these rookies are mirrored by their personal lives. From romantic entanglements, break-ups, friendships, to difficulties in handling their responsibilities and balancing professional duty with personal needs – Rookie Blue exhibits a strong emotional depth, reflective of the day-to-day reality and trials of police officers. Moreover, the show is named significantly - 'Rookie Blue.'. This title reflects the show's primary thematic focus on the 'rookies' or newly minted officers joining the force and the 'blue' embodying the common phrase "thin blue line," denoting the police force. Together, they encapsulate the central premise of the series: fresh faces in the police force experiencing growth and transformation. The organisers have cleverly grounded the series in Toronto, using the city as a backdrop to showcase its diversity and vibrancy. The setting and its portrayal add a unique sensibility to the storytelling, bringing an authentic, grounded, and relatable dimension to the plotlines. Rookie Blue artistically portrays the bond of a dreamed career in adversities, struggles, and turbulence—emphasizing the humanity that lies beneath the uniform. The series has six thrilling seasons, each one encapsulating unique experiences the rookies face, and thus, continues to captivate its audience with continual twists and turns. There's an authentic aura to the show, building it not just as a common police procedural but an emotional journey of several intertwined lives.
Rookie Blue is a series categorized as a canceled/ended. Spanning 6 seasons with a total of 85 episodes, the show debuted on 2010. The series has earned a moderate reviews from both critics and viewers. The IMDb score stands at 7.7.
How to Watch Rookie Blue
How can I watch Rookie Blue online? Rookie Blue is available on ABC with seasons and full episodes. You can also watch Rookie Blue on demand at Netflix, Apple TV, Google Play, Microsoft Movies & TV, Vudu, Amazon online.
Cast
Gregory Smith, Aaron Abrams, Missy Peregrym, Enuka Okuma, Charlotte Sullivan, Noam Jenkins, Travis Milne, Ben Bass, Matt Gordon, Melanie Nicholls-King, Devon Bostick, Eric Johnson, Peter Mooney, Priscilla Faia, Michael Mando, Aliyah O'Brien

Stream shows like Rookie Blue