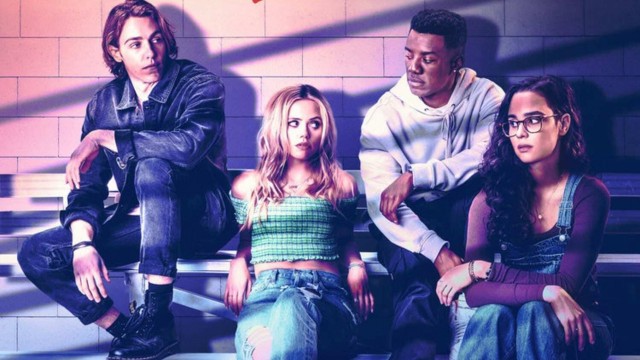 Where to Watch One of Us Is Lying
The Murder Club hatches a risky plan to stop Simon Says, but what they don't know could hurt them.
Watch One of Us Is Lying Season 2 Episode 8 Now
The Murder Club and Vanessa form an unexpected alliance to uncover the truth about Simon Says.
Watch One of Us Is Lying Season 2 Episode 7 Now
6
Simon Says You Better Pray
Vanessa doubles down on her investigation into the Murder Club and finds key evidence.
Watch One of Us Is Lying Season 2 Episode 6 Now
As Bayview celebrates the holidays, the Murder Club makes a difficult and shocking decision.
Watch One of Us Is Lying Season 2 Episode 5 Now
The Murder Club works to find the truth about Giselle. Vanessa digs deeper into Halloween night.
Watch One of Us Is Lying Season 2 Episode 4 Now
3
Simon Says Let's Get Personal
Demands from Simon Says get stranger and more personal. Someone from Jake's past reappears.
Watch One of Us Is Lying Season 2 Episode 3 Now
Simon Says blackmails the Murder Club with a surprising demand. Vanessa holds a rally for Jake.
Watch One of Us Is Lying Season 2 Episode 2 Now
The aftermath of Jake's death begins to unfold at Bayview. The Murder Club faces a new threat.
Watch One of Us Is Lying Season 2 Episode 1 Now

One of Us Is Lying is a highly intriguing and thrilling American mystery drama series that was released on NBCUniversal's streaming service Peacock on October 7, 2021. This series is notably an adaptation of the New York Times bestselling novel of the same name written by Karen M. McManus. The plot revolves around five high school students who walk into detention, but only four walk out alive. The students – Brownyn, Nate, Addy, Cooper, and Simon – all come from different social circles and are seemingly only connected by their school and the detention they are forced to attend. Simon, an outsider who runs a popular gossip app, is about to post juicy scoops on his four classmates when he suddenly dies in front of them. Simon's unexpected death and its suspicious circumstances throw the remaining four students into a whirlpool of accusations, suspicion, and secrets. Bronwyn is a smart, Ivy League-bound scholar who never steps out of line. Cooper, on the other hand, is a popular baseball pitcher who is on his way to becoming the prom king, but has a lot more to him than what meets the eye. Addy is the perfect homecoming princess, although she is not perfect at all. Meanwhile, Nate, the school's resident bad boy, is already on probation for drug dealing. These four students, who couldn't be more different from each other, are now tied together by this strange and troubling situation. One of Us Is Lying is not just a "whodunit" mystery series, but it also explores various pertinent themes like peer pressure, stereotypes, the pursuit of popularity, and society's expectations for teenagers. Each of the characters is introduced as a stereotype, but as the season progresses, viewers get to see the layers of their personalities and the struggles they face in their daily lives, giving them depth and making them more relatable. The detective in charge of the investigation, Detective Dana, adds another layer of suspense to the show as she starts bearing down on the four students, believing one of them may be responsible for Simon's death. Her belief that Simon's death was not an accident, but rather an act of murder, fuels the rising tension and paranoia among the main characters and viewers alike. This suspenseful series was developed by Erica Saleh, and Jennifer Morrison, well-known for her role as Emma Swan in Once Upon a Time, directed the pilot episode. One of Us Is Lying showcases a compelling combination of elements from high school dramas and murder mysteries, making it appealing to a broad audience base. The cast is comprised of relative newcomers who effectively bring the characters to life, infusing them with the right mix of vulnerability and grit. With an environment reminiscent of popular teen series like Riverdale and 13 Reasons Why, One of Us Is Lying delivers dramatically mysterious vibes along with a power-packed storyline, making viewers eagerly anticipate each episode. As viewers watch the characters unravel their intricate web of secrets, they are bound to be caught up in the pressing question: Who is lying, and why? One of Us Is Lying holds true to its title as it keeps viewers guessing throughout the series, making it a must-watch for those who enjoy high school drama mixed with intense suspense and mystery. Truth, lies, secrets, and the desperate need to protect one's reputation at a high-stakes level come into play in this thrilling series. As the story unfolds, viewers are taken on an adrenaline-fueled ride through the emotional, suspenseful, and social hiccups our protagonists go through, making this not just a mystery, but also a poignant exploration of teen life from multiple perspectives. In conclusion, One of Us Is Lying provides viewers with a remarkable blend of suspense and drama with a cast of memorable characters. Each episode unravels a new piece of the mystery, making it an emotionally intense and gripping story that successfully captures the audience's interest until the very end.
One of Us Is Lying is a series categorized as a new series. Spanning 2 seasons with a total of 16 episodes, the show debuted on 2021. The series has earned a moderate reviews from both critics and viewers. The IMDb score stands at 6.9.
How to Watch One of Us Is Lying
How can I watch One of Us Is Lying online? One of Us Is Lying is available on Peacock with seasons and full episodes. You can also watch One of Us Is Lying on demand at Netflix, Peacock Premium, Amazon, Vudu online.
Cast
Annalisa Cochrane, Chibuikem Uche, Marianly Tejada

Similar Shows like One of Us Is Lying