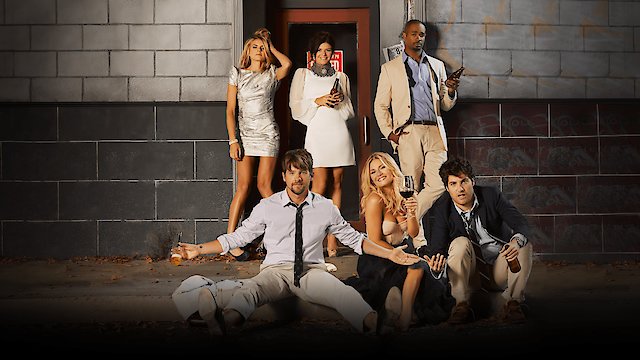 Where to Watch Happy Endings
Jane has the daunting task of planning the perfect wedding for her sister, Brooke, who is the alpha sister in the family.
Watch Happy Endings Season 3 Episode 23 Now
22
Deuce Babylove 2: Electric Babydeuce
Penny's mom, Dana, and Dave's dad, Big Dave, are in town visiting, and the couple has decided to adopt a baby together, prompting Penny and Dave to react the only way they know how - illogically.
Watch Happy Endings Season 3 Episode 22 Now
Chase, the ex-roommate whose life Max ruined, wants to seek vengeance upon Max, but Max's life is so pathetic it's "un-sabotagable." Max sets out to prove him wrong.
Watch Happy Endings Season 3 Episode 21 Now
20
The Ballad of Lon Sarofsky
Penny rebounds from her breakup with Pete by having an illicit affair with someone very unexpected -- the Car Czar. Meanwhile Max decides to enter the "Mr.
Watch Happy Endings Season 3 Episode 20 Now
19
The Storm Before the Calm
The gang is suspicious of Penny's well-being after her breakup with Pete when she writes a play entitled "Black Plague: A Love Story.
Watch Happy Endings Season 3 Episode 19 Now
During a couples game night, the competition gets out of hand prompting Penny to make an unexpected move.
Watch Happy Endings Season 3 Episode 18 Now
Dave recruits Brad and Max in helping him sabotage his #1 nemesis, but Max accidentally falls for the enemy's son and is forced to choose between his best friend or his boyfriend. Penny reaches out to her estranged father.
Watch Happy Endings Season 3 Episode 17 Now
When Max gets a haircut from Jane and Alex's long-time hairdresser, Krisjahn, he gets an ear full about the girls. But his loose lips may stir up trouble between the Kerkovitch sisters.
Watch Happy Endings Season 3 Episode 16 Now
When Max meets a cute girl who is a season tickets holder for the Bulls, he poses as a straight guy.
Watch Happy Endings Season 3 Episode 15 Now
14
In The Heat Of The Noche
Brad uses his skills and the help of the gang when he discovers the gym may be closing.
Watch Happy Endings Season 3 Episode 14 Now
13
Our Best Friend's Wedding
When newly-engaged Penny learns that Pete wants to elope, the potential wedding planner decides to take the happy couple and their friends to a wedding expo with intentions of changing Pete's mind.
Watch Happy Endings Season 3 Episode 13 Now
When the gang pranks Max into thinking he won a big lotto jackpot, he vows that karma can be a you know what.
Watch Happy Endings Season 3 Episode 12 Now
When Ryan, Jane's ex, comes to town for a visit, Brad is shocked to discover Ryan's identity.
Watch Happy Endings Season 3 Episode 11 Now
10
Kickball 2: The Kickening
Alex signs up the gang to take part in the Northside Kickball Classic tournament.
Watch Happy Endings Season 3 Episode 10 Now
9
Ordinary Extraordinary Love
When a hot young pop star comes into the store, Penny helps Alex give the event a little publicity. Meanwhile, Max struggles with his identity, so Jane and Derrick take him on a tour of Chicago's themed gay bars to find himself.
Watch Happy Endings Season 3 Episode 9 Now
Penny and Brad try to cover up their parrot's death!
Watch Happy Endings Season 3 Episode 8 Now
The gang is shocked when they find out Jane's real birthday is on Christmas day, so they decide to throw her a Christmas-free birthday celebration.
Watch Happy Endings Season 3 Episode 7 Now
Jane and Alex's parents host a party. Max tries to make Penny jealous with a new best friend.
Watch Happy Endings Season 3 Episode 6 Now
When Penny meets a terrific new guy, she is embarrassed by her prescription helmet. True to form, Jane tries too hard to break into the "boys' club" at the car dealership; and Max and Dave's fist bump issues bring back painful childhood memories.
Watch Happy Endings Season 3 Episode 5 Now
Alex and Dave host Thanksgiving dinner at their new place, and Dave goes too far in providing an authentic Navajo Thanksgiving.
Watch Happy Endings Season 3 Episode 4 Now
Max is working the Bar Mitzvah circuit as a "hype guy" who emcees, works the crowd and gets them dancing. Penny talks Brad into giving it a try but Max becomes jealous when Brad turns out to be good at it.
Watch Happy Endings Season 3 Episode 3 Now
Max helps Brad re-create his Saturday ritual on a budget. Dave and Alex search for an apartment, but their fear of commitment tests the real estate agent's nerves.
Watch Happy Endings Season 3 Episode 2 Now
1
Cazsh Dummy Spillionaires
The third season opens with Dave and Alex casually dating again. When an unfortunate accident lands Penny in a full body cast, Max becomes her nurse.
Watch Happy Endings Season 3 Episode 1 Now

Happy Endings is an American sitcom TV show that aired on ABC from 2011 to 2013. With Elisha Cuthbert, Eliza Coupe, Zachary Knighton, Adam Pally, Damon Wayans Jr., and Casey Wilson leading the star-studded cast, the show delves into the complex relationships of a close-knit group of friends residing in Chicago. Despite its comparatively short run, the show was widely acclaimed for its whip-smart writing, clever humor, and fantastically balanced ensemble cast. The show kicks off with a pre-marital meltdown, when Alex (played by Elisha Cuthbert) leaves Dave (portrayed by Zachary Knighton) at the altar. This chaotic situation sets the groundwork for the story, which revolves around the titular "happy endings" that the friends periodically circle back to amidst all the craziness. Eliza Coupe plays Jane, a disturbingly organized and competitive woman, who is married to Brad, portrayed by Damon Wayans Jr. Brad, on the other hand, is laid-back and often finds himself on the receiving end of his wife's hyper-organized antics. This odd couple provides the grounding mechanism for the group, demonstrating that it's possible to have wildly different personalities and still maintain a loving, meaningful relationship. Then there's Max, played by Adam Pally. He is a lovable, underachieving gay man who shatters stereotypes with his nonchalant attitude towards his sexuality and love life. He is messy, often lazy, and is endearingly known for his get-rich-quick schemes. His approach to life provides plenty of comedic fodder throughout the show. Rounding out the cast, Penny (Casey Wilson) is a perpetually single and hopelessly romantic woman who often stumbles through her attempts at finding love. Her journey offers many of the show's most heartwarming and hilarious moments. Each episode unfolds amidst this backdrop of strong friendship and unending optimism, even when things don't quite go as planned. The dialogue is fast-paced and sharp, filled with pop-culture references and witty banter that showcase the unique chemistry amongst the friends. The show balances out their life's trials and tribulations with humor and heartfelt moments, leading to an engaging and gratifying viewing experience. Another defining aspect of Happy Endings are the elaborate group hangouts. These moments, whether they're occurring in the local bar, at a rooftop BBQ, or during one of Penny's latest attempts at love, shape countless hilariously memorable scenarios. Whether they're navigating rescues from bad dates, throwing unusual theme parties, or just trying to make it through a typical day, these friends stay together through thick and thin. Happy Endings really shines in its unwavering commitment to showcasing a group of friends that genuinely love and accept each other. The characters are more than just convincing friends; they exude the natural energy of a real ensemble, both on and off the screen. The show also deserves recognition for its fresh take on modern relationships. It navigates the complex dynamics of platonic and romantic relationships in a way that feels fresh and genuine. Further, Happy Endings is often lauded for avoiding the pitfall of homophobic humor by portraying a gay character in a non-stereotypical manner. While Happy Endings was, unfortunately, short-lived, it left a lasting impact on audiences through its engaging storytelling, unique humor, and refreshingly authentic representation. It captured the essence of friendship and love amongst young adults navigating life's curve balls. The show perfectly blends comedy, sentimentality, and genuine human relationships into a delightful concoction of good-natured fun. Overall, Happy Endings is a testament that surrounded by the right people, life might just end up being a series of happy endings, regardless of the bumps and hitches along the way.
Happy Endings is a series categorized as a canceled. Spanning 3 seasons with a total of 58 episodes, the show debuted on 2011. The series has earned a moderate reviews from both critics and viewers. The IMDb score stands at 7.8.
How to Watch Happy Endings
How can I watch Happy Endings online? Happy Endings is available on ABC with seasons and full episodes. You can also watch Happy Endings on demand at Hulu Plus, Netflix, Apple TV, Amazon, Google Play, Vudu online.
Cast
Eliza Coupe, Elisha Cuthbert, Zachary Knighton, Adam Pally, Damon Wayans, Jr., Casey Wilson

Stream shows like Happy Endings