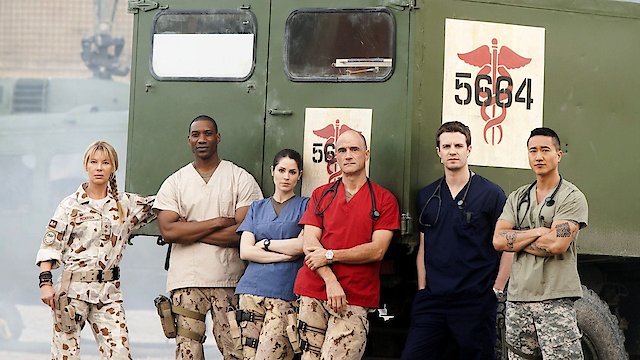 Where to Watch Combat Hospital
An attack on the women's clinic has severe consequences. The Role 3 hospital contends with significant losses while fighting to save a wounded assailant's life.
Watch Combat Hospital Season 1 Episode 13 Now
The annual friendly hockey game between allied forces turns violent when Bobby loses his cool. Simon's painful past is put on display in a prank gone wrong.
Watch Combat Hospital Season 1 Episode 12 Now
Rebecca assumes responsibility when Colonel Marks is injured.
Watch Combat Hospital Season 1 Episode 11 Now
An Army chaplain struggles with her faith when she is forced to hold vigil with Simon during a surgery.
Watch Combat Hospital Season 1 Episode 10 Now
One of Vans' friends comes under suspicion when he is injured by a bomb.
Watch Combat Hospital Season 1 Episode 9 Now
Bobby makes a decision that creates controversy between doctors and nurses.
Watch Combat Hospital Season 1 Episode 8 Now
Rebecca is doubting her decision to withhold treatment from a soldier, which may have caused his death.
Watch Combat Hospital Season 1 Episode 7 Now
Bobby admits to Rebecca that he just wants people to like him!
Watch Combat Hospital Season 1 Episode 6 Now
A civilian wedding party is caught up in Taliban crossfire and the Afghan groom and some of the guests are brought in to the Role 3. Pedersen heads to the clinic off base to help the wedding party's female victims, and Rebecca initiates a search to find the bride.
Watch Combat Hospital Season 1 Episode 5 Now
4
Wrong Place at Wrong Time
Simon hitches a ride on a medevac helicopter to the farm he bought from an Afghan family. Things don't go as planned when they make an unexpected stop.
Watch Combat Hospital Season 1 Episode 4 Now
Colonel Marks calls for a walking blood bank after Rebecca and Bobby deplete the blood supply during an operation on a soldier with severe gunshot wounds. Pedersen questions the soldier's buddies about the circumstances surrounding the shooting, but their stories don't make sense.
Watch Combat Hospital Season 1 Episode 3 Now
Rebecca almost gets hit by a truck full of Afghan National Army soldiers heading for the hospital. Their leader, who is actually an American Special Forces operative, carries in one of his men who has a serious infection.
Watch Combat Hospital Season 1 Episode 2 Now
An international team of doctors, nurses and medics provide supreme battlefield surgical care.
Watch Combat Hospital Season 1 Episode 1 Now

Combat Hospital is a gripping medical drama series that aired in 2011 on ABC. Starring acclaimed actress Deborah Kara Unger, the show offers a unique blend of intense moments and provocative characters that revolve around the realities of conflict medicine. Set in the midst of war-ravaged Afghanistan during 2006, Combat Hospital is an intense look at the lives of physicians, nurses, and support staff at a multinational medical unit located at a military base in Kandahar. It portrays a world in which medical dramas play out in a distinctly strife-ridden background, completely different from the clean, sterilized hospital environments of many other hospital dramas. Deborah Kara Unger (The Game, Thirteen), characterized as Major Grace Pedersen, is a psychiatrist from the Australian Army. She wields her vast knowledge, experience, and compassion to treat soldiers suffering from battle stress, aiming to give them hope and courage in a landscape where peace seems like a distant dream. Commanding the series' narrative feels incredibly real, thanks to the exhaustive research put into the storyline, which results in an authentic portrayal of the atmosphere within battlefield hospitals. The tension between serving doctors and nurses heightened by the constant chaos of war around them is revealed convincingly. The medical team in Combat Hospital is highly diverse, coming from different countries and cultures, and carries different motivations for accepting such a thrilling experience. From their initial struggle of adjusting to the severe and unpredictable life in the field hospital to their transformation into a cohesive, efficient team is an intriguing aspect that the show examines in detail. Throughout the series, the viewers experience the front-line medical response to various war injuries alongside the doctors, revealing the chaos and primeval fear of the war. However, the show doesn't limit itself to only the physical damage caused by the war; it capably delves into the psychological injuries, Post-Traumatic Stress Disorder (PTSD), and the effect it has on the soldiers. It renders a vivid picture of the daunting effects war has on an individual's mental health, further bringing to the surface the importance of mental health conversations, particularly within the traditionally stern and stoic military environment. Balancing the heavy subject matters, the show also incorporates lighter elements of humor, camaraderie, and evidence of resilient human spirit amidst the carnage of war, amplifying the appeal of the series. It meticulously manages to maintain a powerful human element which enables the viewers to form a strong connection with the characters and their journeys. On-screen, we can witness the characters' dilemmas, their doubts, their guilt, and the pressure they face to save lives daily - a matter of routine signifies the stark contrast between their world and the world they left behind in their homeland. Their personal trials, tribulations, friendships, rivalries, and budding romances on the show take on a starker significance given their life-and-death surroundings. In the realm of medical dramas, Combat Hospital carves its own niche by taking viewers into the heart of a battlefield hospital. It's a character-driven drama, with strong performances from an ensemble cast that brings a rich diversity of characters to life. The series, produced by Sara B. Cooper and Daniel Petrie Jr., offers a realistic portrayal of military medicine and the lives of those brave enough to step up to the challenge of healing in the midst of warfare. Using the backdrop of war, the medical professionals' relentless pursuit of healing, suppressed anxieties, and resilience, Combat Hospital underscores the grim reality of warfare and the contrasting hope and healing that emerge amidst chaos. This drama series is an interesting watch for those curious about the lesser-known aspects of military warfare and the physical and mental sacrifices the medical teams make at the forefront. In all, Combat Hospital is a compelling exploration of life in a military medical unit, marked by intense emotions, difficult challenges, and most importantly, the drive to save lives—even in the face of the grimmest and most impossible circumstances. With its engaging narrative, realistic scenarios, and profound character development, it's a must-watch for fans of high-stakes drama.
Combat Hospital is a series categorized as a canceled. Spanning 1 seasons with a total of 13 episodes, the show debuted on 2011. The series has earned a moderate reviews from both critics and viewers. The IMDb score stands at 7.4.
How to Watch Combat Hospital
How can I watch Combat Hospital online? Combat Hospital is available on ABC with seasons and full episodes. You can also watch Combat Hospital on demand at Apple TV, Amazon, Google Play, Vudu online.

Stream shows like Combat Hospital