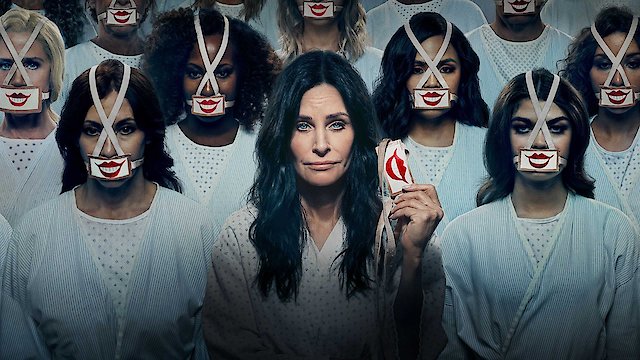 Where to Watch Shining Vale
Pat struggles to find someone she can trust. Terry's mayoral ambitions seem to have overwhelmed his loyalty to her.
Watch Shining Vale Season 2 Episode 8 Now
Pat discovers new fears about her book. Terry has found renewed purpose in a major life change. Gaynor is ghosted by her boyfriend and Jake breaks out of his hideaway.
Watch Shining Vale Season 2 Episode 7 Now
6
Chapter 14: What's the Matter with Sandy?
Pat becomes concerned about the readers of her new novel. Meanwhile, Terry's addiction to testosterone has him striving to make his mark on the town.
Watch Shining Vale Season 2 Episode 6 Now
The fractured family is brought back together by unexpected news while Terry embarks on a healthier lifestyle. Jake struggles to reconnect with an old friend in the house and Gaynor meets a sexy new friend.
Watch Shining Vale Season 2 Episode 5 Now
In the midst of having scary new dreams about the house, Pat finally comes clean to Terry, and has to deal with the consequences.
Watch Shining Vale Season 2 Episode 4 Now
Terry struggles to process the knowledge that Pat hit him with an axe and he may have cheated on her with his colleague Kathryn. Meanwhile, Gaynor gets some potentially good news, and Jake has a run-in with the scary goat.
Watch Shining Vale Season 2 Episode 3 Now
As the family struggles to reconnect, Pat's peculiar new neighbor brings a logical explanation for her psychotic break.
Watch Shining Vale Season 2 Episode 2 Now
Pat returns home and tries to put back together the family she broke. Terry meets his family for the first time after suffering a traumatic brain injury that wiped out his memory.
Watch Shining Vale Season 2 Episode 1 Now

Shining Vale is a horror-comedy show from Starz that first premiered in 2022. It combines elements of the supernatural with side-splitting humor for a unique blend that caters to both fans of horror lore and comedy enthusiasts. The plot features a dysfunctional family that moves from the city to a small town and into a haunted house, disrupting their already strained relationships further. The show stars the iconic Courtney Cox, known globally for her role as Monica in the legendary sitcom, Friends. She plays the role of Patricia "Pat" Phelps, a fallen-from-grace author struggling with mental health issues, writer's block, and the repercussions of an affair. Cox's well-timed comedic delivery melds seamlessly with the tone of the show, infusing moments of levity into an otherwise eerie backdrop. Greg Kinnear co-stars as Terry Phelps, Pat's long-suffering husband, who is trying to mend the rifts in their relationship. Complementing the dynamic duo is Mira Sorvino, who plays Rosemary, the mysterious woman who haunts their new home in Shining Vale, leaving the audiences on the edge of their seats. The plot of Shining Vale follows the Phelps family as they move from the hustle and bustle of city life to the quaint town of Shining Vale, Connecticut. They make this drastic change in the hopes of ironing out their woes and turning a new page in their life. The eerie house they move into, though, has a chilling history. Famously known as the "murder house", it was the site of a horrifying massacre in the late 19th century, and it seems the spirits from the incident still linger. The Phelps are soon entangled in a net of increasingly strange phenomena. Pat, who is dealing with depression and guilt over an extramarital affair, starts seeing and interacting with a ghost, Rosemary, a woman from the 18th century. All these unusual occurrences start taking a toll on the family's dynamics, with conflicts escalating, tensions simmering, and secrets threatening to be revealed. Meanwhile, the children, Gaynor and Jake, both portrayed by stellar young actors Gus Birney and Dylan Gage respectively, handle the adjustment to their new life and school in their unique ways, giving a rich subplot to the narrative. Gaynor, the rebellious, resistant teenager, embodies the angst and hormonal chaos of adolescence, while Jake's quirky demeanor and childlike innocence offer moments of relief against the backdrop of spectral chaos. Throughout the series, viewers are left guessing whether Pat's visions are a side effect of her medication, a breakdown, or the actual haunting of a distressed spirit. This cleverly woven narrative full of real-world challenges with an overlay of the otherworldly is what sets Shining Vale apart. The show masterfully straddles the genres, addressing serious issues like mental health, marriage infidelity, and familial ties while punctuating the narrative with moments of spine-chilling horror and laugh-out-loud humor. It teeters between the world of the living and the dead, and sanity and insanity, forcing both its characters and its viewers to question the nature of reality in an entrancing abyss of the supernatural. Visually, Shining Vale is as stirring as its narrative. The town of Shining Vale, weighed down by its shadowy past, is brought to life with atmospheric cinematography. The Phelps' new home is a character in its own right, with its creaking floors, whispering walls, and spooky staircases creating a chilling milieu that amplifies the unnerving feel of the story. Shining Vale is the intriguing journey of a family finding their bond amidst hardships and hauntings. It prompts uncomfortable conversations alongside scary moments, interspersing them with laugh-out-loud scenarios. The show is a captivating mash-up of genres that somehow works perfectly, creating a symphony of horror, comedy, and drama that keeps viewers hooked. Shining Vale's charm undoubtedly lies in its successful juggling of these contrasting elements, offering viewers a unique and memorable viewing experience.
Shining Vale is a series categorized as a . Spanning 2 seasons with a total of 16 episodes, the show debuted on 2022. The series has earned a moderate reviews from both critics and viewers. The IMDb score stands at 7.0.
How to Watch Shining Vale
How can I watch Shining Vale online? Shining Vale is available on STARZ with seasons and full episodes. You can also watch Shining Vale on demand at Hulu Plus, Apple TV Channels, Starz, Amazon Prime online.
Cast
Courteney Cox, Greg Kinnear, Gus Birney

Stream shows like Shining Vale