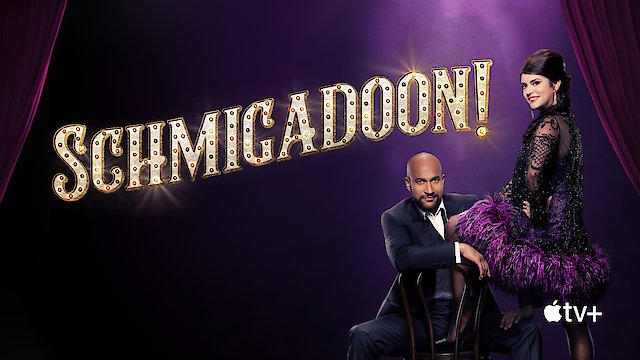 Where to Watch Schmigadoon!
Season finale. Will there be a happy ending? Josh and Melissa are presented with a life-changing choice.
Watch Schmigadoon! Season 2 Episode 6 Now
Convinced they're well on their way to a happy ending, Josh and Melissa both rocket to fame in Schmicago and get embroiled in a deadly plot.
Watch Schmigadoon! Season 2 Episode 5 Now
After Josh and Melissa realize they need to find a happy ending for everyone, they try to make that happen—with unintended consequences.
Watch Schmigadoon! Season 2 Episode 4 Now
While Josh spends time on the run with Topher and the tribe, Melissa explores Schmicago looking for clues and uncovers a family secret.
Watch Schmigadoon! Season 2 Episode 3 Now
As Josh makes a new friend in jail, Melissa hires a lawyer and goes undercover to clear his name.
Watch Schmigadoon! Season 2 Episode 2 Now
Feeling joyless in the real world, Josh and Melissa attempt to return to Schmigadoon but instead find themselves in the darker world of Schmicago.
Watch Schmigadoon! Season 2 Episode 1 Now

A delightful homage to classic American musicals, Schmigadoon! is a 2021 series created by Cinco Paul and Ken Daurio exclusively for Apple TV+. A comedic musical extravaganza, it follows the trials and tribulations of a contemporary couple as they navigate a magical town where life is a constant musical. While their intention was a backpacking trip designed to rekindle their dwindling romance, they unwittingly stumble upon an enchanting village ruled by the trope of musicals, complete with colourful characters and captivating song-and-dance routines. The central characters of Schmigadoon! are Dr. Melissa Gimble (played by Cecily Strong) and Dr. Josh Skinner (played by Keegan-Michael Key), both New York based doctors who find themselves inexplicably trapped in the quaint 1940s musical town of Schmigadoon. The twist? They cannot leave until they find "true love". As they navigate love, musical-inspired challenges, and memorable melodies, the audience is treated to a uniquely entertaining love story fraught with heartwarming moments, unexpected complications and endearing music. Schmigadoon! shines through its phenomenal cast, including comedy heavyweights and talented stars like Keegan-Michael Key and Cecily Strong. The pair anchor the main storyline and are complemented by an ensemble cast of well-known performers who are no strangers to musical theater. Among these figures are Fred Armisen, Cristin Milioti, Alan Cumming, Kristin Chenoweth, Aaron Tveit, Dove Cameron and many more. Each character in the idyllic town adds to the quaint musical storyline, offering their own brand of humor, sharp wit and riveting performances that keep you wanting more. It's the uncanny ability of Schmigadoon! to ingeniously parody traditional musicals while maintaining its own refreshing originality that sets it apart. The meta-commentary is executed with such seamless precision and sophistication that it neither displaces viewers who aren't ardent fans of the musical genre nor overshadows the engaging narrative on display. The musical numbers themselves, reminiscent of classic Broadway hits, are beautifully conducted, contributing another layer to the engrossing optical and musical spectacle that is Schmigadoon!. Set in a make-believe utopia, Schmigadoon! boasts production design akin to a theatrical stage. The vibrantly painted buildings, colourful landscapes, and enchanting costumes create the illusion of life as an endlessly entertaining musical. All these elements impeccably mirror the theme, tone, and aesthetic of the traditional musicals the series pays tribute to. What sets Schmigadoon! apart from other musical comedies is its ability to balance cynicism and earnestness. It satirizes and critiques the tropes and complexities of Golden Age musicals while retaining a profound appreciation for them. This duality allows the show to embrace the genre wholeheartedly while offering a fresh perspective. The characters' self-aware sarcasm coupled with their genuine emotional moments strikes a perfect balance and yields a rich storyline brimming with humour, authenticity, and resonance. Coupled with its unique premise, Schmigadoon! is also known for its gnarly one-liners, hilarious physical comedy, engaging narrative threads, and show-stopping music that all elevate the TV experience. While the plot is wrapped up in the stylish trappings of a musical, at its core, it explores deeper themes of love, relationship dynamics, and personal growth. This clever interweaving of comedy, music and thematic depth makes Schmigadoon! both entertaining and insightful. In conclusion, Schmigadoon! on Apple TV+ is a unique, playful, and wonderfully poignant tribute to an era of technicolour musicals. With its remarkable ensemble cast, perfectly timed comedy, and beautifully crafted musical numbers, it is a delightful spectacle that transports viewers into a bygone era. Whether you're an aficionado of classic musical theatre or just a casual fan looking for something different to watch, Schmigadoon!, with its heartening narrative and infectious energy, is the uplifting and thoroughly enjoyable series you didn't know you needed.
Schmigadoon! is a series categorized as a new series. Spanning 2 seasons with a total of 12 episodes, the show debuted on 2021. The series has earned a moderate reviews from both critics and viewers. The IMDb score stands at 7.4.
How to Watch Schmigadoon!
How can I watch Schmigadoon! online? Schmigadoon! is available on Apple TV+ with seasons and full episodes. You can also watch Schmigadoon! on demand at Apple TV+ online.
Cast
Keegan-Michael Key, Cecily Strong, Dove Cameron

Similar Shows like Schmigadoon!