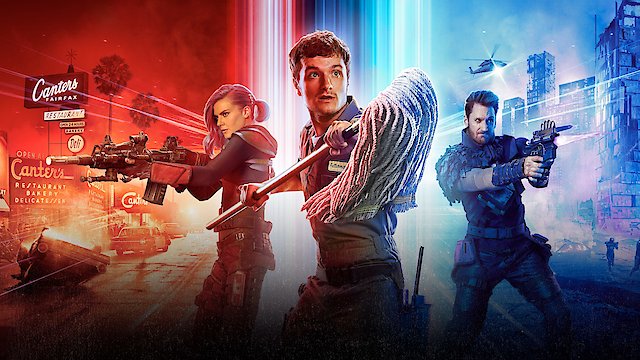 Where to Watch Future Man
The universe is about to end. For real this time.
Watch Future Man Season 3 Episode 8 Now
7
Time Rogues III: Escape from Forever
Josh and Wolf reunite and make a desperate move to escape while Tiger reconciles her past and present selves.
Watch Future Man Season 3 Episode 7 Now
Josh discovers a new happiness as Wolf loses his mind and Tiger embarks on an unexpected journey.
Watch Future Man Season 3 Episode 6 Now
Tiger and Wolf let Josh take command.
Watch Future Man Season 3 Episode 5 Now
4
The Outlaw Wild Sam Bladden
Tiger and Wolf come to terms with their true selves as Josh is forced to confront what and who he truly believes.
Watch Future Man Season 3 Episode 4 Now
Josh's crisis of faith comes to a head as Tiger connects with her killer instincts, and Wolf struggles to lay low.
Watch Future Man Season 3 Episode 3 Now
Josh puts his faith in The Voice while Wolf basks in his element and Tiger struggles to adapt.
Watch Future Man Season 3 Episode 2 Now
1
The Precipice of Yesterday
Josh, Tiger, and Wolf are forced to compete in the Diecathalon, but a complication arises that puts them at odds with each other.
Watch Future Man Season 3 Episode 1 Now

Future Man is a unique blend of genres that was launched on Hulu in 2017 and lasted until 2020. The series superbly combines science fiction, action, and comedy into a narrative that is loaded with pop culture references and some truly unexpected plotlines. The show was masterminded by Howard Overman, Kyle Hunter, and Ariel Shaffir, produced by the team of Seth Rogen and Evan Goldberg, the creative minds behind comedies like "Superbad" and "Pineapple Express". The main protagonist of the series is Josh Futturman, portrayed by Josh Hutcherson known for his role in "The Hunger Games" trilogy. Josh is an underachieving janitor who works at a sexual disease research center. He's addicted to the videogame 'Biotic Wars', a seemingly impossible to beat game that takes up most of his spare time. In his pursuit of defeating this game, he will discover that it is, in fact, a recruitment tool sent from the future. Upon surpassing the unbeaten game, he is visited by two soldiers from a dystopian future, Tiger and Wolf, portrayed by Eliza Coupe and Derek Wilson, respectively. They are part of a rebellion against the evil Biotics and believe Josh, whom they refer to as 'Future Man', is the key to their survival due to his impressive gaming skills. He's the only person in the world able to beat the game and, therefore, their only hope to defeat the Biotics in actual battle. Unfolding through three thrilling seasons, the storyline sees our trio embarking on wild time-traveling adventures while trying to alter the course of human history to prevent a catastrophic future. Each season has its unique flavor and vision, which keeps the show engaging and unexpected. The first season focuses mostly on their mission to stop the creation of a cure whose side effects resulted in the creation of the Biotics. The second season travels far into an unwelcome future in which each character faces novel challenges. In the third season, the narrative significantly diverges from earlier seasons, heightening the absurdity and humor while delivering a delightfully satirical message about heroism and destiny. Future Man is more than a conventional time-travel narrative. It's a roller coaster ride filled with bizarre paradoxes, hilarious dialogues, and a lot of fun. It absorbs influences from a wide spectrum of iconic science fiction, and action franchises, integrating them creatively into its storyline to build a unique watertight universe that's distinctly its own. For those interested in pop culture, the show is a treasure trove of references that pay homage to cult classics such as "Back to the Future", "Terminator", and more. The characters are endearing and humorous, each containing their own unique quirks that lend the series a kind of warmth and personality. Hutcherson's performance as the so-called savior of humanity is wonderful, playing him as a sympathetic if somewhat unwitting hero. Meanwhile, Wilson and Coupe are splendid as perfect fish-out-of-water characters, trying to navigatively and comically through a time period they don't understand. From comedic dialogue to intense action scenes, Future Man offers a balanced mix of humor and drama, which ensures its appeal to both the sci-fi enthusiasts and mainstream audiences. Despite its often absurd and over-the-top plotlines, at its heart, Future Man is about friendship, loyalty, and the lengths people are willing to go to save the world. It's a commentary on destiny, choice, heroism, and most importantly, the power of unwavering hope in the face of seemingly insurmountable challenges. In terms of production, the series is beautifully shot, and the visual effects are remarkable, which is surprising for a show with such a comedic bent. The soundtrack also adds to the overall atmosphere, with a mix of music that's appropriate for the various times and places the characters find themselves. Future Man may seem bizarre at first glance. Still, it's a brilliantly executed series that expertly navigates comedy and sci-fi in a way that satisfies on so many levels. A must-watch for fans of time travel, action, and comedy who are looking for a sci-fi twist on those genres. While silly, the show's craft and heart ensure it's anything but shallow. In conclusion, Future Man is an underrated gem in the landscape of streaming TV shows. Its clever combination of comedy, action, and drama compounded with lovable characters and a cohesive narrative makes it a captivating series that's well worth watching. Its brilliant balance of nostalgia, future-gazing, pop culture references, and character-driven humor make it an essential watch for fans of unconventional comedies and sci-fi series. The cheekily unpredictable narrative ensures viewers will never know quite where the show is going next.
Future Man is a series categorized as a new series. Spanning 3 seasons with a total of 35 episodes, the show debuted on 2017. The series has earned a moderate reviews from both critics and viewers. The IMDb score stands at 7.7.
How to Watch Future Man
How can I watch Future Man online? Future Man is available on Hulu with seasons and full episodes. You can also watch Future Man on demand at Amazon Prime, Apple TV online.
Cast
Josh Hutcherson, Eliza Coupe, Derek Wilson

Stream shows like Future Man