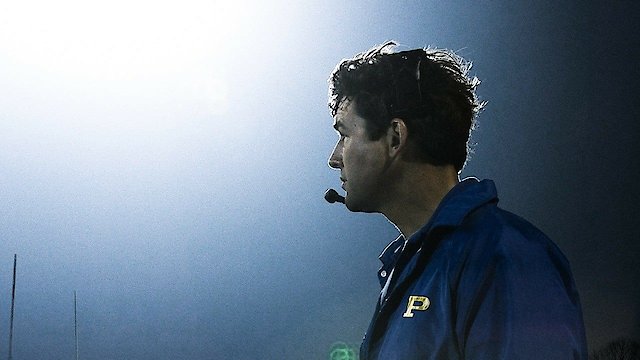 Where to Watch Friday Night Lights
The Taylors face several decisions that could dramatically change their lives.
Watch Friday Night Lights Season 5 Episode 13 Now
Coach Taylor is offered a deal of a lifetime. Tim assesses his future plans when an old flame returns to Dillon.
Watch Friday Night Lights Season 5 Episode 12 Now
Tami is flown to Pennsylvania for the opportunity of a lifetime; Coach Taylor feels threatened as East Dillon faces serious budget cuts; Vince becomes the man of the house again; The Lions begin their quest for state.
Watch Friday Night Lights Season 5 Episode 11 Now
An elite college football program attempts to lure Coach away from East Dillon. Vince vows to earn his spot back.
Watch Friday Night Lights Season 5 Episode 10 Now
Vince's alienation from the team leads to a tough decision for Coach Taylor.
Watch Friday Night Lights Season 5 Episode 9 Now
Coach worries that the team is falling apart as a result of Vince's ego, while Tami grows concerned about a student.
Watch Friday Night Lights Season 5 Episode 8 Now
Rivalry week stirs up controversy. Vince is caught in the middle between Coach and Ornette. Billy takes Luke under his wing.
Watch Friday Night Lights Season 5 Episode 7 Now
A popular magazine hails Coach as the "Kingmaker." Vince's past catches up to him. Luke reacts to the truth. A suspicious accident delays Julie's return to college.
Watch Friday Night Lights Season 5 Episode 6 Now
Coach discusses recruitment regulations. The Lions take a road trip. East Dillon's four stars make a pact. Julie's relationship becomes more complicated.
Watch Friday Night Lights Season 5 Episode 5 Now
Coach is forced to play mediator as tensions erupt in the locker room; Luke gets recruited; Buddy deals with the trials and tribulations of fatherhood; Tami deals with a troubled student; the Lions welcome a new player.
Watch Friday Night Lights Season 5 Episode 4 Now
3
The Right Hand of the Father
Someone from Vince's past resurfaces. Julie connects with a faculty member. Eric tries to instill discipline in the team. Buddy stumbles upon troubling news about his son.
Watch Friday Night Lights Season 5 Episode 3 Now
2
On the Outside Looking In
Eric realizes that the Lions' performance in the first game of the season hasn't pleased everyone; Vince receives unexpected benefits from his status as a football player; and Luke's aggression on the field has consequences.
Watch Friday Night Lights Season 5 Episode 2 Now
Coach Taylor (Kyle Chandler) tempers high expectations for East DillonÂ's impending season as Tami (Connie Britton) becomes frustrated in her new job. Meanwhile Vince (Michael B.
Watch Friday Night Lights Season 5 Episode 1 Now

Friday Night Lights, a critically acclaimed television drama aired on NBC from 2006 to 2011, is a riveting portrayal of American small-town life viewed through the prism of high school football. Based on the non-fiction book by H.G. Bissinger, the show revolves around the football-obsessed town of Dillon, Texas, where football is not just a sport, but a way of life that binds the community together and, at times, divides it just as powerfully. Kyle Chandler stars as Eric Taylor, the indomitable head football coach of Dillon High School's Panthers. His character stands as the steadfast moral compass amidst the tumultuous lives of his players, his students, and the Dillon community. He holds the reins of the team as well as the extraordinary responsibility of steering the lives of the teenagers placed under his watch. Simply put, Taylor is not just a football coach: he is an impromptu father figure, mentor, and guiding light for many of the characters throughout the series. Connie Britton stars alongside Chandler as Tami Taylor, the coach's wife and steadfast partner who carries her own set of challenges as a working woman, a mom, and eventually, the school principal. The on-screen pairing of Chandler and Britton paints a raw, intimate portrait of a marriage brimming with love, respect, negotiation, and compromise. Their combined roles lend a strong support system not only for their on-screen daughter, portrayed by Aimee Teegarden, but also for the team and residents of Dillon. The ensemble cast includes a stunning array of talented young actors who bring the show's diverse characters to life. They include Zach Gilford, Minka Kelly, Adrianne Palicki, Taylor Kitsch, and Jesse Plemons among others. Each season introduces new characters, breathing new life into the series as it unfolds, with the likes of Michael B. Jordan, Matt Lauria, Jurnee Smollet, Madison Burge, and Grey Damon joining in later seasons. The show dives deep into an intricate web of stories surrounding the cast, pushing them from the cusp of adolescence into adulthood amidst tumultuous pressures. From the charmingly rogue Tim Riggins (Taylor Kitsch) to the ambitious and driven Matt Saracen (Zack Gilford) to the fiercely independent Tyra Collette (Adrianne Palicki), high-school character arcs are expertly crafted to display a myriad of personalities. In Friday Night Lights, football serves as much more than backdrop—it is a catalytic force that propels the narrative, colors the relationships, and acts as a lens to intricately examine the societal dynamics of the small-town setting. From the first inspirational rallying cry of "Clear eyes, full hearts, can't lose," Friday Night Lights uses the rigors and passion of football to explore deeper issues of class, race, and gender. The creators of the show succeeded in making Dillon a town of compelling complexity, painting a diverse and gritty spectrum of American life that is at once intimately specific and universally resonant. Racial tensions, economic disparities, relationships, educational inequities, family dynamics and adult angst—all are delved into with rare honesty and courage. Coming-of-age narratives and adult dramas populate the television landscape, but Friday Night Lights stands out for its heartfelt exploration of the human spirit under duress, the strength of community, and the fragility of dreams, all set against the throbbing energy and thrilling spectacle that is high school football in the American South. Striking a fine balance between intricate character studies and edge-of-your-seat sports drama, the series examines burning questions about life, love, and the pursuit of personal dreams while basking in the reflector glow of stadium lights. Equally endearing and compelling, the charisma of this show lies not just in the vibrant plot and striking performances, but also in its ability to tap into the emotions of hope, struggle, and resilience, making Friday Night Lights a uniquely gripping human drama that tugs at all the right heartstrings.
Friday Night Lights is a series categorized as a canceled. Spanning 5 seasons with a total of 76 episodes, the show debuted on 2006. The series has earned a mostly positive reviews from both critics and viewers. The IMDb score stands at 8.7.
How to Watch Friday Night Lights
How can I watch Friday Night Lights online? Friday Night Lights is available on NBC with seasons and full episodes. You can also watch Friday Night Lights on demand at Hulu Plus, Amazon Prime, Netflix, Apple TV, Amazon, Google Play, Vudu online.
Cast
Kyle Chandler, Connie Britton, Zach Gilford

Stream shows like Friday Night Lights