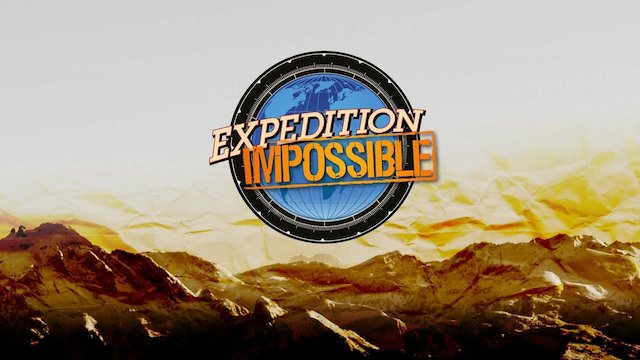 Where to Watch Expedition Impossible
10
And Then There Were Four
The final four teams give everything they've got to be crowned the winners of Expedition Impossible in the season finale.
Watch Expedition Impossible Season 1 Episode 10 Now
In an effort to make it to the final four, the remaining teams navigate through raging rapids and tight spaces.
Watch Expedition Impossible Season 1 Episode 9 Now
The teams rapel down cliffs and go kayaking as they advance in the competition. A lingering injury continues to threaten one team's hopes of moving on.
Watch Expedition Impossible Season 1 Episode 8 Now
The teams are desperate to race through a Morocco market. Later, an injury threatens to ruin one team's chances of moving on.
Watch Expedition Impossible Season 1 Episode 7 Now
Eight remaining teams become more determined than ever as they continue their treacherous Moroccan adventure.
Watch Expedition Impossible Season 1 Episode 6 Now
Beaten down by the high mountains, the California girls struggle repelling 300 feet down a waterfall.
Watch Expedition Impossible Season 1 Episode 5 Now
4
There's Snow in Morocco?
Teams must snag their next set of instructions using a grappling hook!
Watch Expedition Impossible Season 1 Episode 4 Now
3
I Don't Know How to Ride This Thing!
Team Kansas struggles to stay in the game when forced to ride a camel!
Watch Expedition Impossible Season 1 Episode 3 Now
The journey continues for the 12 remaining teams as they are challenged with taming unpredictable stallions and kayaking down a treacherous river.
Watch Expedition Impossible Season 1 Episode 2 Now
In the season premiere, 13 teams start out on their adventure across the ancient kingdom of Morocco. Will they survive the terrain, the animals, and each other?
Watch Expedition Impossible Season 1 Episode 1 Now

Expedition Impossible is a captivating adventure reality show that aired on ABC in 2013. Produced by Mark Burnett, known for his work on successful reality series like Survivor and The Apprentice, Expedition Impossible stands as a testament to the human spirit and love for challenge and adventure. The premise of the show is simple yet exciting. Thirteen teams of three participants each are dropped in the rugged and beautiful landscape of Morocco, where they face the immense challenge of traversing the varied terrain consisting of desserts, mountains and rivers, in order to reach the finish line. Each week, teams face off in a series of adrenaline-pumping challenges that test their strength, endurance, teamwork, and intellectual prowess. These tasks are no easy feats and deliver intense excitement, with challenges such as scaling enormous sand dunes in the scorching heat, crossing treacherous rivers, traversing high mountains, and deciphering cryptic clues. The teams rely heavily on their combined skills, teamwork, and resolve to overcome these challenges. Week by week, the teams that lag behind and finish last are eliminated, building an intense struggle for survival and triumph. Expedition Impossible is not just a test of physical strength and mental toughness, but it also provides a unique insight into the dynamics of teamwork. Each team is composed of three individuals, allowing for a rich diversity in personalities, strengths, and weaknesses. It is a fundamental aspect of the show to observe how these team members strategize their moves, delegate tasks according to their skills, and manage conflicts under incredibly high-pressure scenarios. The camera encapsulates this wonderfully, providing a deep study into characters and relationships and the human response to stressful and challenging environments. Moreover, one of the unique highlights of Expedition Impossible is its setting. The natural yet harsh landscape of Morocco serves as a vivid backdrop against the fierce competition taking place. From the undulating sand dunes of the Sahara, the craggy Atlas Mountains, to the winding ancient streets of Marrakech – the nation unfolds as a mesmerizingly diverse and beautiful location. The challenges are designed in such a way that they skillfully intertwine with the undeniably stunning environment, further enhancing the viewer's experience and the show's visual attractiveness. Expedition Impossible is not only a survivalist adventure reality show but also manages to weave a splendid travelogue into its fabric. The show successfully intersperses the competition with glimpses of local culture, heritage, and people, offering viewers a broader insight into the country of Morocco. This aspect brings an educational and cultural element into the competition, making it a well-rounded and enriching viewing experience. The show is helmed by Dave Salmoni as the host. Known for his work as an animal trainer and television presenter, Salmoni brings an engaging charisma to the series, guiding the competitors and viewers through the challenging journey. His commentary adds an additional layer to the fierce competition, providing real-time clarity on the nature of challenges, advancement, and eliminations. Overall, Expedition Impossible is a thrilling ride that expertly combines competition, adventure, and interpersonal relationships into a dynamic and engaging television series. It offers a unique viewing experience that goes beyond the simple contest of physical strengths by testing the mettle of its participants on multiple levels. For those who enjoy unscripted programming that pushes the limits and celebrates human endurance, this adventure-packed series will surely be a standout. From dramatic eliminations and intense challenges to surprising twists and turns, Expedition Impossible seeks to keep the viewers on the edge of their seats while still offering insights into the Morocco's diverse culture and stunning terrains.
Expedition Impossible is a series categorized as a canceled/ended. Spanning 1 seasons with a total of 10 episodes, the show debuted on 2011. The series has earned a no reviews from both critics and viewers..
How to Watch Expedition Impossible
How can I watch Expedition Impossible online? Expedition Impossible is available on ABC with seasons and full episodes. You can also watch Expedition Impossible on demand at Apple TV, Amazon, Google Play, Vudu online.
Cast
Raquel Sánchez-Silva, Leticia Sabater, Iván Armesto

Stream shows like Expedition Impossible