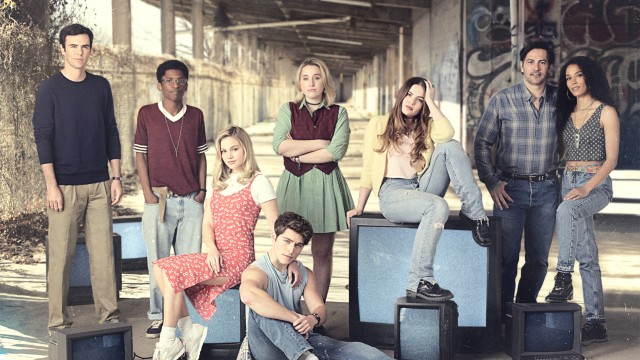 Where to Watch Cruel Summer
As timelines collide, friendships implode, new evidence emerges and the shocking truth is revealed.. in more ways than one.
Watch Cruel Summer Season 2 Episode 10 Now
9
The Miseducation Of Luke Chambers
Luke examines all his relationships and worries that the pressures of being a "Chambers man" have changed him.
Watch Cruel Summer Season 2 Episode 9 Now
In summer 1999, new friendships are formed, and secrets are kept as the crew approaches senior year at the annual school car wash; in winter 1999, Megan and Isabella push for answers; in summer 2000, Debbie wants to protect her daughter.
Watch Cruel Summer Season 2 Episode 8 Now
7
It's the End of the World
In winter 1999, tensions are high on Y2K; at the New Year's Eve party, a not-so-secret conversation changes the lives of the trio forever; in summer 2000, suspicion falls on Ned after some new evidence from summer 1999 comes to light.
Watch Cruel Summer Season 2 Episode 7 Now
In summer 1999, sparks fly at Luke's birthday party. In winter 1999, relationships are tested as Megan becomes more distant from Luke.
Watch Cruel Summer Season 2 Episode 6 Now
5
All I Want for Christmas
In Summer 1999, Isabella is rocked by a surprise visit from her past. In Winter 1999, Isabella's concerns for Megan lead her to some surprising news.
Watch Cruel Summer Season 2 Episode 5 Now
In Summer 1999, Megan wants to be adventurous and makes fake IDs for the gang. In Winter 1999, a burst pipe leads the Landrys and Isabella to a messy night at the Chambers house.
Watch Cruel Summer Season 2 Episode 4 Now
In Summer 1999, Megan and Isabella bond during an overnight at the Chambers' cabin. Luke tries to stand up to Brent, but ends up causing more problems for his dad.
Watch Cruel Summer Season 2 Episode 3 Now
In Summer 1999, Isabella grows closer to Luke while struggling to connect with Megan. In Winter 1999, Isabella searches for justice following the disastrous Christmas party.
Watch Cruel Summer Season 2 Episode 2 Now
In Summer 1999, small-town computer genius Megan resents the arrival of outgoing and mysterious foreign exchange student Isabella. Little does she know how her life will change by Summer 2000.
Watch Cruel Summer Season 2 Episode 1 Now

Cruel Summer is a gripping and intense psychological thriller series premiered in 2021 on FreeForm, starring a promising cast consisting of Olivia Holt, Chiara Aurelia, Froy Gutierrez, Harley Quinn Smith, Blake Lee, Michael Landes, and Brooklyn Sudano. The drama is both intricate and complex, marked by a unique storytelling device that revolves around three specific years - 1993, 1994, and 1995. At the center of Cruel Summer are two young women, Jeanette Turner (Chiara Aurelia) and Kate Wallis (Olivia Holt). Their lives are uncomfortably intertwined, with the storyline transitioning between the two characters and the three critical years that alter their lives forever. The plot explores the drastic paradigm shift in their reputations, dealing with themes of adolescence, trauma, and the inescapable scrutiny of the public eye. Jeanette Turner is a sweet and awkward teenager from a modest background. She, along with her family, is portrayed as the classic underdogs living in the small Texas town of Skylin. Jeanette experiences a metamorphosis over the series, going from an innocent, somewhat nerdy girl to a young woman whirled into the eye of a media storm. In contrast, Kate Wallis – the quintessential girl next door – is a popular teenager who mysteriously disappears without a trace. She hails from a well-to-do family and is the undisputed queen bee before her life tragically takes a turn. Her absence leaves a magnanimous void that takes center stage in the story. Adding to the complexity of Cruel Summer is the subtle mix of other characters. Froy Gutierrez portrays Jamie Henson, the love interest caught between Jeanette and Kate in an emotionally complicated exchange of relationships. The parents of both girls, including Cindy and Greg Turner (Sarah Drew and Michael Landes) and Joy and Rod Wallis (Andrea Anders and Benjamin J. Cain Jr.) also present polarized portrayals of families from two different social classes. Harley Quinn Smith as Mallory, Jeanette's spunky best friend, injects some lighter moments into this tense drama. The narrative is anything but linear - the plots overlap, scenes repeat, but from different points of view. The storytelling style adds an additional layer of anticipation and mystery. Each episode reveals bits of information, slowly filling in the gaps and offering different perspectives on the same incident as recollected by Jeanette and Kate. The transitions between years are also seamlessly managed, with a subtle change in the color palate to distinguish the timelines and evolve with the characters as they grow older. The series thrives on suspense amplified through the clever use of flashbacks and flash-forwards that make use of the characters' different viewpoints. Weaving in elements of betrayal, loss, and identity, Cruel Summer's narrative underscores the uncertainty and unreliability of memory. Cruel Summer is frank in its portrayal of teenage life, navigating the many layers of growing up, seeking acceptance, and the consequences of living under unrelenting media and societal scrutiny. It's a survival guide to some, a nostalgic trip to the '90s for others, all while offering a thrilling ride teeming with cliffhangers for everyone. Officially ordered to series in 2020, Cruel Summer is produced by Entertainment One (eOne) alongside Iron Ocean Productions. Jessica Biel and Michelle Purple serve as executive producers, while David Appelbaum holds the show-runner position. Tia Napolitano gears the series as the head writer, tracing the narrative arc across the three years. One of the unique selling propositions of Cruel Summer is its ability to strike a balance between maintaining suspense and slowly peeling back layers on the lead characters' complex personalities. The series has garnered praise for its non-linear storytelling format, haunting atmosphere, and powerful performances, particularly from its young leads, Aurelia and Holt. In summary, the series Cruel Summer is a captivating tale of dichotomous worlds colliding through a sequence of tragic events. Its storytelling genius lies in the constant uncertainty it keeps the viewers in, keeping them hooked until the very end. However, at its core, this thriller series is a haunting exploration of two young women learning to navigate the chaos of their lives, bringing their strengths to light amidst the storm.
Cruel Summer is a series categorized as a currently airing. Spanning 2 seasons with a total of 20 episodes, the show debuted on 2021. The series has earned a moderate reviews from both critics and viewers. The IMDb score stands at 7.4.
How to Watch Cruel Summer
How can I watch Cruel Summer online? Cruel Summer is available on FreeForm with seasons and full episodes. You can also watch Cruel Summer on demand at Hulu Plus, Amazon Prime, FuboTV, Sling, Freeform, Amazon, Google Play, Apple TV online.
Genres
Drama, Mystery, Thriller
Cast
Chiara Aurelia, Olivia Holt, Sadie Stanley

Similar Shows like Cruel Summer