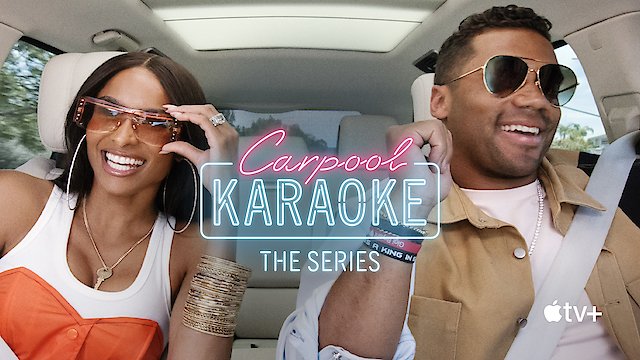 Where to Watch Carpool Karaoke
22
Alison Brie & Danny Pudi
The Community alums celebrate co-star Donald Glover with a Childish Gambino singalong and reunite with Joel McHale for some Eurythmics.
Watch Carpool Karaoke Season 5 Episode 22 Now
Which ghosts are the best? The cast of this hit comedy have a lively debate--and spotlight the freestyle skills of their own Utkarsh Ambudkar.
Watch Carpool Karaoke Season 5 Episode 21 Now
The four surviving members of this hilarious fictitious girl group receive amazing real-time news while bopping to Dua Lipa and Lisa Loeb.
Watch Carpool Karaoke Season 5 Episode 20 Now
19
Alanis Morissette & Cara Delevingne
Alanis superfan Cara gets to sing along to her hero's greatest hits
Watch Carpool Karaoke Season 5 Episode 19 Now
18
Cedric the Entertainer & Sheryl Lee Ralph
Cedric gives Sheryl advice on how to make her next awards speech even more iconic, plus they jam out to Luther Vandross and Donna Summer.
Watch Carpool Karaoke Season 5 Episode 18 Now
17
Lea Michele & Darren Criss
It's the moment Gleeks everywhere have been waiting for: Lea and Darren reunite to belt out Broadway showstoppers...and also Meat Loaf?
Watch Carpool Karaoke Season 5 Episode 17 Now
16
Avril Lavigne & YUNGBLUD
The pop-punk firestarters compare Canadian and UK slang
Watch Carpool Karaoke Season 5 Episode 16 Now
Brace yourself for outrageous death scenes and twist endings from the cast of the Apple Original comedy, plus singalongs to Lit and Haddaway.
Watch Carpool Karaoke Season 5 Episode 15 Now
14
Alan Cumming & Brian Cox
The Scottish actors and longtime friends try to remember all the movies they've been in while singing along to Bay City Rollers and The Crystals.
Watch Carpool Karaoke Season 5 Episode 14 Now
The power couple combine their passions as they sing along to Ciara's bangers and hit the football field for a climactic pass.
Watch Carpool Karaoke Season 5 Episode 13 Now
12
Method Man & Chris Redd
From Stevie Wonder to DMX -- and even Nickelback -- the rapper/actor and comic riff through their playlist and a round of Black Facts.
Watch Carpool Karaoke Season 5 Episode 12 Now
This duo celebrates their longtime band by covering songs from other sibling acts -- plus, Michael teases Kevin for his years of fashion fails.
Watch Carpool Karaoke Season 5 Episode 11 Now
10
Hillary Clinton, Chelsea Clinton & Amber Ruffin
Hillary and Chelsea turn to their gutsy pal Amber for support as they sing along to empowering anthems -- with an assist from Vanessa Williams.
Watch Carpool Karaoke Season 5 Episode 10 Now
The iconic Chicago band goes on an adventure with megafan Nikki, featuring a cameo by the great Mavis Staples and a Ferris Bueller homage.
Watch Carpool Karaoke Season 5 Episode 9 Now
In space, no one can hear you scream -- but can they hear you sing "Spice Up Your Life"? The cast of the Apple Original is determined to find out.
Watch Carpool Karaoke Season 5 Episode 8 Now
It's a dream come true for lifelong superfan Sandra when she meets her idols for the first time--and even performs with them.
Watch Carpool Karaoke Season 5 Episode 7 Now
Charli, Dixie, Heidi, and Marc reminisce about past family road trips and surprise a superfan between Whitney and Britney classics.
Watch Carpool Karaoke Season 5 Episode 6 Now
Two carfuls of wrestling dynamos hit the road in Minneapolis, playing Mind Meld and tearing through a songbook from Pat Benatar to DMX.
Watch Carpool Karaoke Season 5 Episode 5 Now
4
Zooey Deschanel & Jonathan Scott
These lovebirds first met on the set of this very show. They recount the details of their romance while singing Johnny Cash and Wham!
Watch Carpool Karaoke Season 5 Episode 4 Now
Slaying their own fierce hits, the superstars compare real names, take over a convenience store, and do the very first Boat-pool Karaoke.
Watch Carpool Karaoke Season 5 Episode 3 Now
2
Murray Bartlett, Alexandra Daddario & Sydney Sweeney
The White Lotus stars recall filming their smash show, share some hilarious self-taped auditions, and summon tears for the first Carpool Cry-Off.
Watch Carpool Karaoke Season 5 Episode 2 Now
1
Simu Liu & Jessica Henwick
It's a Y2K bop bonanza for these action stars as Simu draws on his boy-band past for some Backstreet Boys
Watch Carpool Karaoke Season 5 Episode 1 Now

Carpool Karaoke is a unique series that made its debut on Apple Music in 2017. Originally conceived as a segment on The Late Late Show with James Corden, Carpool Karaoke was so well-received that it was spun off into its own standalone show. Packed with foot-tapping music, hilarious banter, and a slew of today's hottest celebrities, this series is undoubtedly an entertainment goldmine that brings fascinating content that music lovers and pop-culture enthusiasts will enjoy. The premise of Carpool Karaoke is disarmingly simple: celebrities pair up and take a drive through the city street while singing their favourite songs and engaging in candid conversations. The unique spin is that the car's stereo system will only play songs from the guests' music catalogue. This vibrant blend of interview and singing session results in a thrilling, unpredictable series that offers viewers an intimate, up-close, and personal view of beloved stars as they have never been seen before. One of the distinct hallmarks that make Carpool Karaoke stand out from similar formats is its inherently casual and relaxed nature. Instead of rigid scripts and formal dialogue, conversations flow naturally, and celebrities have the freedom to express themselves, revealing delightful insights into their lives, careers, and personalities. This creates a humanizing effect that breaks down the walls between celebrities and viewers, making Carpool Karaoke an intimate journey rather than a detached viewing experience. The driving force behind the show's success is its impressive roster of celebrity guests. From musicians to movie stars to sporting legends, the show has welcomed a diverse ensemble of elite personalities. The dynamic interactions between the celebrities and the engaging selection of songs create a spontaneous, unscripted atmosphere that manages to retain authenticity while delivering entertaining content. The unfiltered laughter, pitch-perfect harmonies, and unexpected revelations add an extra layer of charm to this Apple Music original series. The show follows a format where a pair or group of celebrities embark on a musical journey, belting out familiar tunes and engaging in light-hearted yet revealing chats. While the journey is usually confined to a city ride, the show occasionally takes an adventurous turn with pit stops at various locations. The preferred route might include tours around the stars' childhood homes, visits to favorite hangouts, or impromptu performances in public places, giving viewers a unique twist to the usual in-car sessions. The charm of Carpool Karaoke also lies in its dedication to music; the show does not just focus on the guests' own songs but allows them to express their love for other artists and genres. As the ride progresses, the songs stimulate nostalgic reminiscences, personal anecdotes, and interesting discussions about the music industry. Additionally, episodes often have unexpected surprises, from impromptu dance breaks and public performances to fans' reactions upon seeing their favorite stars in the most unexpected places. This element of surprise keeps the viewers hooked, making for hilarious and unforgettable moments. Despite being an unconventional platform for interviews and performances, Carpool Karaoke has managed to attract the attention of millions of viewers worldwide. It has successfully shattered the traditional norms of talk shows by making it freer, more interactive, emotional, and filled with a fun, musical energy. The show effortlessly blends deep, introspective moments with lighthearted hilarity, creating an emotional roller coaster that keeps viewers coming back for more. In conclusion, Carpool Karaoke is a refreshing take on celebrity interviews and performances that manages to strike the perfect balance between entertainment and intimacy. By breaking down the barrier between celebrities and viewers, the series offers an innovative and inviting take on the world of music, allowing for spontaneous moments, heart-to-heart conversations, and lots of laughter along the way. For anyone who loves music, celebrity culture, or just pure, unfiltered entertainment, Carpool Karaoke is an absolute must-watch.
Carpool Karaoke is a series categorized as a new series. Spanning 5 seasons with a total of 75 episodes, the show debuted on 2017. The series has earned a moderate reviews from both critics and viewers. The IMDb score stands at 5.7.
How to Watch Carpool Karaoke
How can I watch Carpool Karaoke online? Carpool Karaoke is available on Apple Music with seasons and full episodes. You can also watch Carpool Karaoke on demand at Apple TV+ online.
Cast
James Corden, Billy Eichner, Jeff Gordon

Similar Shows like Carpool Karaoke