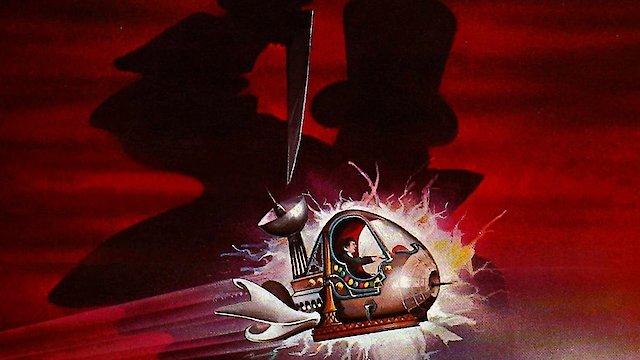 Where to Watch Time After Time

Time After Time is a captivating blend of science fiction and romantic adventure released in 1979. Directed by Nicholas Meyer, the film features Malcolm McDowell, Mary Steenburgen, and David Warner in leading roles. As a gripping narrative with a unique concept based on the timeless tale of good versus evil, Time After Time provides a whole new interesting twist on a familiar narrative, that continues to engage audiences for more than three decades after its release. Malcolm McDowell, an accomplished actor with a wide repertoire, plays the fictional version of famed science fiction writer H.G. Wells. Considered one of the pioneering figures of futuristic literature, Wells has been an interesting character in literary history. This whimsical story is posited on the scenario that H.G. Wells has actually developed a functioning time machine, very much like the one featured in his classic novel "The Time Machine". McDowell, known for his versatile portrayals, successfully captures the curious and ambitious but good-hearted nature of H.G. Wells. In the role of Wells' unlikely adversary and the film's key antagonist, we find David Warner as Dr. John Leslie Stevenson, none other than the infamous Jack the Ripper. Warner brings a chilling and yet fascinating dimension to this historical figure. This interesting juxtaposition of two figures from different interests and walks of life creates an intriguing narrative. The story begins in 1893 London when H.G. Wells invites his friends over to reveal his new invention, a time machine. However, the evening takes an unexpected turn when the police arrive at his doorstep looking for Jack the Ripper. The shocking revelation that one of his trusted friends, Dr. John, may very well be the feared killer, adds a layer of suspense and excitement to the story. The plot intensifies when Jack manages to escape arrest by using the time machine to transport himself to a later time, specifically, the late 20th Century, around 1979. However, the time machine, designed to return to the original time after reaching its destination, comes back, leaving H.G. Wells the means to follow Jack the Ripper into the future. This marks the beginning of an exciting chase through time. On arriving in 1979, H.G. Wells, the man from the past, has to grapple with the customs and technology of the future while trying to find and stop the nefarious Jack the Ripper. It's in this future setting that Wells, portrayed as a gentleman out of time, meets the charming and modern Amy Robbins, played by Mary Steenburgen. A bank employee tasked with helping Wells exchange his old British money for current U.S. currency, she becomes an integral part of the narrative in this futuristic world. A romance kindles between the Victorian gentleman and the independent modern woman, adding an engaging romantic subplot to an already thrilling narrative. Time After Time is an incredibly imaginative movie, filled with suspense, romance, and the charm of old-world characters dealing with a futuristic setting. It brings together the best elements of sci-fi time travel and historical fiction, with rich character development and interesting plot twists. The movie offers an excellent combination of H.G. Wells' visionary ideas and the thrilling narrative of Jack the Ripper's mystery, blending the lines between fact and fiction. With mesmerizing performances by the main cast and distinctive direction by Nicholas Meyer, Time After Time is a cinematic treat for adventure seekers and romantic hearts alike. The film's exploration of the themes of time, morality, and the concept of progress offer a philosophical dimension to the engaging narrative. Overall, Time After Time remains a standout film in the genre of sci-fi romance, offering an enjoyable mix of thriller, romance, and historical fiction with charismatic portrayals and a captivating narrative. For those who enjoy time-travel narratives with an engaging plot, this 1979 movie remains a must-watch. It exemplifies a creative narrative that keeps viewers on the edge of their seats.
Time After Time is a Adventure, Drama, Comedy, Science Fiction, Thriller movie released in 1979. It has a runtime of 112 minutes. Critics and viewers have rated it moderate reviews, with an IMDb score of 7.1. It also holds a MetaScore of 69.
How to Watch Time After Time
Where can I stream Time After Time movie online? Time After Time is available to watch and stream, buy on demand, download at Max, Amazon Prime, Apple TV, Amazon, Google Play, YouTube VOD, Vudu. Some platforms allow you to rent Time After Time for a limited time or purchase the movie for downloading.


Stars
Malcolm McDowell, David Warner, Mary Steenburgen
Genres
Adventure, Drama, Comedy, Science Fiction, Thriller

Also starring Malcolm McDowell
Also starring Mary Steenburgen
Watch movies on Apple TV+