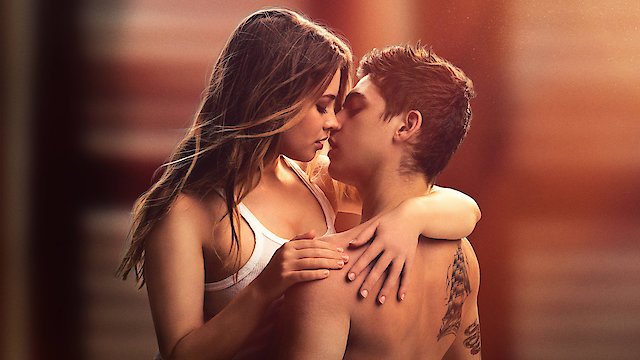 Where to Watch After

After is a captivating 2019 romantic drama film, directed by the talented Jenny Gage, translating Anna Todd's best-selling young adult novel of the same name to the big screen. The film showcases an impeccable cast including potent performances from Josephine Langford, Hero Fiennes Tiffin, and Khadijha Red Thunder among others. Langford perfectly embodies our protagonist, Tessa Young who is an introverted, conscientious, and high-achieving young woman who steps into her freshman year of college with well-charted plans for her life. Her transition from her settled life at home to the hectic vibrancy of college is effectively portrayed, with the central narrative following Tessa's experiences and growth on campus. Khadijha Red Thunder blatantly plays Steph Jones, Tessa's bold and socially involved roommate who significantly contrasts against Tessa's introverted personality and helps Tessa navigate through her new life at college. The film takes a compelling route when Hero Fiennes Tiffin, who plays the character of Hardin Scott, enters the scene. Scott is presented as a rule-breaking, secretive, and magnetic older student who initially seems to embody every commonly conceived stereotype of a 'bad boy'. The chemistry between Fiennes Tiffin's Hardin and Langford's Tessa is palpable from the get-go and becomes a driving force for the narrative. Their interaction and transformative journey resulting from their growing attraction, triggers an intense, whirlwind romance filled with peaks and troughs that absorbs the viewers into their shared world. The narrative is a coming-of-age story fusing a smidgen of naïveté, self-discovery, emotional ups and downs, choices, and consequences while whisking the viewers into the profoundness of young love against the backdrop of contemporary student life. Themes such as identity forging, freedom, the threshold between youth and adulthood, romantic complications, interpersonal conflicts, and first loves - form the crux of this engrossing tale. The filmmakers have also given keen attention to the movie's aesthetic appeal, creating a believable university atmosphere and aesthetically pleasing frames involving the protagonists. Despite being an adaptation of a novel, the film does an exceptional job of being a unique viewing experience, wherein viewers, either familiar or unfamiliar with the source material will find the drama engaging and worthwhile. Performance is a high point in this drama, with both Langford and Fiennes Tiffin giving breakout performances. Josephine Langford convincingly expresses Tessa's transformation from a guarded and disciplined teenager to a woman who explores the various dimensions of freedom, both emotionally and romantically. Fiennes Tiffin, on the other hand, does an excellent job at presenting Hardin with a seamless blend of vulnerability and rebellion, creating a character that viewers would find intriguing and irresistible. Khadijha Red Thunder's portrayal of Stephanie is also commendable, effortlessly delivering the sweetness and sassiness of Steph's character while providing a refreshing contrast to Tessa's more reserved nature. The supporting cast, too, complements the main starrers, helping to make the film an engaging watch. The film also employs a fitting soundtrack that significantly adds to its overall mood and atmosphere. Jenny Gage, with her skillful directing, has created a film experience that is as much about character introspection as it is about a raw, longing, passionate love story. The pacing of the narrative keeps the viewers engrossed, gradually revealing layers of the complex characters while expertly raising and resolving tension that keeps the viewers on their toes. 'After' does justice to its claim of being a mature, romantic drama that explores young love amidst life-altering choices and personal evolution. To summarize, After is a well-directed romantic drama that provides an alluring mix of young love, self-discovery, and the challenges of adulthood. The engaging performances, beautiful cinematography, and the atmospheric soundtrack make it an engaging watch. It appeals to not just fans of the novel, but anyone who enjoys a compelling coming-of-age narrative intertwined with a love story.
After is a Romance, Drama movie released in 2019. It has a runtime of 106 min.. Critics and viewers have rated it moderate reviews, with an IMDb score of 5.3. It also holds a MetaScore of 30.
How to Watch After
Where can I stream After movie online? After is available to watch and stream, buy on demand, download at Amazon Prime, Netflix, Apple TV, Amazon, Google Play, YouTube VOD, Vudu. Some platforms allow you to rent After for a limited time or purchase the movie for downloading.


Stars
Josephine Langford, Hero Fiennes-Tiffin

Watch movies on Apple TV+
Also directed by Jenny Gage
Also starring Josephine Langford
Also starring Hero Fiennes Tiffin