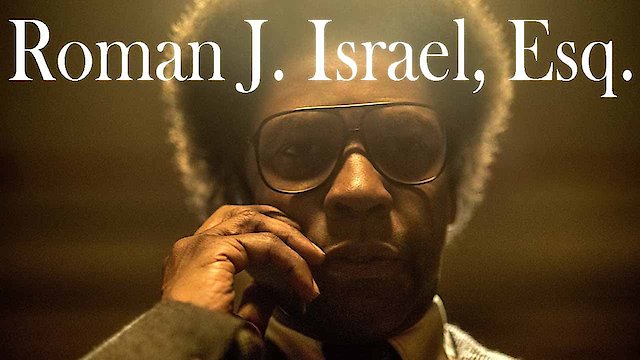 Where to Watch Roman J. Israel, Esq.

Roman J. Israel, Esq. is a 2017 drama film that sits comfortably at the intersection of legal thrills and engrossing character study. The movie is a sublime exploration of morality, law and society, presented through the lens of its titular character, Roman J. Israel. Directed by the accomplished Dan Gilroy and featuring an Oscar-nominated performance by the iconic Denzel Washington, this film gestures towards themes of personal and professional integrity, social justice, and the challenging compromises often required in the pursuit of change. Denzel Washington, one of the most admirable and respected actors of his generation, delivers a compelling performance as the film's protagonist, Roman J. Israel, Esq., an idealistic, eccentric lawyer who has spent years behind the scenes. He's passionate about activism and judicial reform, the living embodiment of a legal savant with a penchant for civil liberties, and an encyclopedic knowledge of legal codes. Roman is socially awkward and not well-suited to the courtroom due to his non-conforming personality traits, but his brilliance and commitment to social justice make him an unsung hero in his law firm. The plot pivots when Roman's law partner and mentor, who was responsible for the courtroom-facing side of their practice, suffers from a severe heart condition. This unfortunate occurrence pushes Roman into the limelight, a scenario for which he is ill-prepared. It's here that Colin Farrell enters the fray as George Pierce, an ambitious lawyer who once interned at Roman and his partner's firm. He takes over the management of the firm and Roman's future now lies uncertain, thrust into the ruthless jaws of the contemporary legal industry. A central relationship in the film is between Roman and Maya, played by Carmen Ejogo, the head of a non-profit civil rights group who admires Roman's enduring dedication to activism and social justice. Their dynamic adds another layer of complexity as it challenges Rome's convictions and ignites a personal transformation. The film delivers a riveting examination of the ambiguous tension between idealism and pragmatism. It is a journey that forces Roman to contest his steadfast philosophies in law and justice against the harsh realities of the modern-day legal world. As Roman's struggles with this predicament and navigates the upheavals thrust upon him, we are treated to Washington's masterclass in character study. He presents an intricately layered, deeply human portrayal of a man wrestling with the stringent demands of his conscience against a backdrop of professional survival and personal evolution. The narrative cleverly intersects personal journey with wider social commentary. Director Dan Gilroy presents a sobering critique of the American justice system, exploring its fallibility and the potential corruption within its structures. This further engages Roman's moral compass as he becomes exposed to various temptations that contradict his lifelong principles. What's more, Denzel Washington presents Roman as a symbol of the unsung heroes who work tirelessly behind the scenes in the legal system. His performance showcases an individual living in his intellectual bubble, averse to adaptability yet suddenly compelled to face the harsh realities of his profession. This highlights the raised stakes and challenges for those who dare to prioritize systemic reform over personal gain, a state that leaves audiences in a gripping state of reflection. Roman J. Israel, Esq. is unreservedly a character-driven film where the namesake character's moral journey is at the heart of the narrative. Featuring noteworthy performances from the studded cast, especially Denzel Washington, who masterfully disappears into his role, it offers us an introspective take on the intersections of an individual's principles with the world's pressing realities. This layered narrative combined with Gilroy's intuitive direction and a stellar supporting cast makes it a must-watch for those seeking a thoughtful cinematic experience. A film that is as dense as it is impactful, Roman J. Israel, Esq. challenges its audience to question their own principles and how these stand against the enormity of societal mechanisms in operation.
Roman J. Israel, Esq. is a Drama, Crime, Thriller movie released in 2017. It has a runtime of 129 min.. Critics and viewers have rated it moderate reviews, with an IMDb score of 6.5. It also holds a MetaScore of 58.
How to Watch Roman J. Israel, Esq.
Where can I stream Roman J. Israel, Esq. movie online? Roman J. Israel, Esq. is available to watch and stream, buy on demand, download at Hulu Plus, Amazon Prime, Apple TV Channels, Starz, The Roku Channel, Apple TV, Amazon, Google Play, Microsoft Movies & TV, YouTube VOD, Vudu. Some platforms allow you to rent Roman J. Israel, Esq. for a limited time or purchase the movie for downloading.


Stars
Denzel Washington, Colin Farrell
Genres
Drama, Crime, Thriller

Stream movies like Roman J. Israel, Esq.
Watch movies on Apple TV+
Also directed by Dan Gilroy
Also starring Denzel Washington
Also starring Colin Farrell