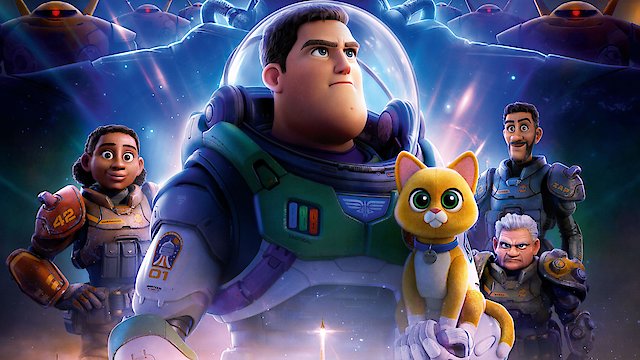 Where to Watch Lightyear

Set in the exciting Pixar universe, "Lightyear" is an animated science fiction movie directed by Angus MacLane. The film serves as a spin-off of Pixar's beloved "Toy Story" series and delves into the events that inspired the iconic action figure, Buzz Lightyear. Leading the star-studded cast is Chris Evans voicing the character of Lightyear, a young test pilot that soon becomes the superhero Buzz Lightyear, the character we know and love from "Toy Story". Evans, famed for his role as 'Captain America' in the Marvel Cinematic Universe, lends an undeniable charm and a sense of heroism to his character. In addition to Chris Evans, the film also features a prominent cast with performers such as the talented Keke Palmer and Peter Sohn. The tone of "Lightyear" is distinctly futuristic, as implied by the title and the promotional material shared for the movie. Set in a universe filled with state-of-the-art infotech systems, galaxy-travelling spaceships, and alien species, the movie presents a grand adventure that defies the limits of space and time. Told from Buzz Lightyear's perspective, the film is designed as an action-packed cosmic odyssey that traces his evolution into a galactic hero. The transition from young test pilot to the intrepid space ranger involves gruelling adventures, suspenseful dangers and evocative personal developments, creating a vexing and compelling narrative. The screenplay, rife with extraterrestrial marvels and animated in Pixar's classic style, fuels the storyline's gripping pace, while also sparking a sense of nostalgia for audience members familiar with the "Toy Story" franchise. The visual effects are imaginatively constructed and meticulously executed. Audiences can anticipate stellar sights of sprawling alien cityscapes, unexplored celestial territories, and thrilling high-stakes action sequences. The narrative of "Lightyear" stands out in how it emotionally attaches audiences to Buzz's character beyond his toy persona in "Toy Story". The story deepens his personality, showing the bravery and determination behind his renowned catchphrase "To infinity and beyond!". It tells the tale of his journey through the vast cosmos, portraying both his heroic feats as well as the profound character-building experiences he encounters along the way. Director Angus MacLane, known for his direction in "Finding Dory" and "Toy Story of Terror", undoubtedly brings his stellar storytelling skills to this exploration of one of Pixar's most iconic characters. MacLane's storytelling has been praised for his knack for blending action-adventure with character-driven narratives, elements that are notably present in "Lightyear". The voices provided by Chris Evans, Keke Palmer, and Peter Sohn, among others, add to the charm of the exclusive look into the space-age odyssey. They not only breathe life into the characters they portray but ensure a sense of familiarity while including unique traits. Chris Evans captures the essence of Buzz Lightyear with ease and skill, offering a more nuanced and rounded representation of the gallant space ranger. Keke Palmer and Peter Sohn provide their distinctive vocal talents to bring other pivotal characters to life, enhancing the entire cinematic experience. "Lightyear" seems to be set to charm audiences, both young and old. The new perspective on Buzz Lightyear's story looks promising, with a thrilling mix of heart-pulsing adventure, enthralling narrative twists, and Pixar's historically profound emotional depth. By digging into Buzz Lightyear's origin story, Pixar aims to offer a satisfying standalone narrative that brings something new to fans while still honoring the legacy of the "Toy Story" series. Expectations run high as "Lightyear" promises an adventurous journey with the courage and spirit of one of Pixar's most beloved characters. Keeping up with Pixar's reputation for producing heartwarming stories, humor-filled dialogues, and whimsical environments presented via stunning visuals, "Lightyear" appears to be a film that will capture the viewers' hearts and imagination, shining new light on a character we thought we knew. As quintessential as Buzz Lightyear is to the "Toy Story" saga, his individual journey has a unique identity, promising an entertaining interstellar adventure that retains the warmth of the Pixar universe. "Lightyear" is shaping up to be a must-see for Pixar fans and movie buffs alike, providing an intriguing window into the past of a beloved character and promising a visually stunning cosmic journey that both excites and pulls at the heartstrings.
Lightyear is a Animation, Action, Adventure, Kids & Family, Science Fiction movie released in 2022. It has a runtime of 100 min.. Critics and viewers have rated it moderate reviews, with an IMDb score of 6.1. It also holds a MetaScore of 60.
How to Watch Lightyear
Where can I stream Lightyear movie online? Lightyear is available to watch and stream, buy on demand, download at Disney+, Apple TV, Amazon, Google Play, Microsoft Movies & TV, Vudu. Some platforms allow you to rent Lightyear for a limited time or purchase the movie for downloading.


Genres
Animation, Action, Adventure, Kids & Family, Science Fiction

Stream movies like Lightyear
Also directed by Angus MacLane
Also starring Chris Evans
Also starring Keke Palmer
Watch movies on Apple TV+