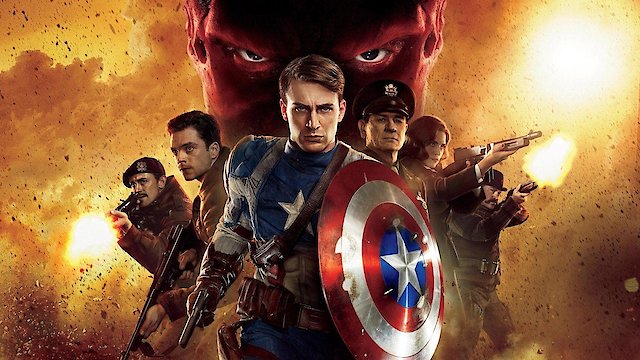 Captain America: The First Avenger

Where to Watch Captain America: The First Avenger

Set during the World War II era, Captain America: The First Avenger introduces audiences to the compelling origins of the Marvel Comics superhero known as Captain America or Steve Rogers, brought vividly to life by Chris Evans. The period-piece film, directed by Joe Johnston and released in 2011, weaves a tale of heroism, patriotism, and pop nostalgia, all underlined by the pulsating thrum of war. Before he becomes the emblematic Captain America, Rogers is just a scrawny Brooklyn kid with a heart full of courage but a body that fails to meet the army's physical standards. Always overlooked for military service due to his frail and feeble physique, Steve is eager to do his part in the ongoing War and signify his worth. That's when Dr. Abraham Erskine (Stanley Tucci), a kind-hearted German scientist working for the American government's Project Rebirth, takes note of Steve's unwavering spirit. Steve's inner mettle impresses Erskine, who chooses him to be the subject of an experimental procedure designed to create a super-soldier. Post the serum-induced transformation, Rogers undergoes an enormous physical change, while his core attributes - bravery, loyalty, and inherent decency, are amplified. Now with superhuman strength, speed, reflexes, and invulnerability to diseases, Steve is initially utilized as a patriotic icon to rally support for the war effort, embodying the moniker of Captain America. Hereon, the spectacle and costume serve as the effective cover for his real mission, which gears him up to confront the terrifying axis of evil. The film's antagonist delivers an irresistible mix of cunning intelligence and eerie fear, the instantly iconic villain - the Red Skull (Hugo Weaving). A chilling by-product of the same Super-Soldier Program that changed Steve's life, Red Skull rapidly ascends as the formidable head of HYDRA, Hitler's deep science division. With plans to unleash a special weapon capable of changing the course of the war, Skull is an unyieldy adversary for the young superhero, testing his abilities and sense of righteousness. As the gallant Captain America, Chris Evans embodies both the spirit of the era and the timeless heroism of his comic-book inspiration. He channels the boyish enthusiasm and inherent goodness of Steve Rogers, creating a character that is both relatable and admirable. Captain America is unapologetically righteous, but he wears his morality lightly, his appeal lying in his underdog beginnings, not just his muscular might. Hugo Weaving's portrayal of Red Skull provides a memorable villain, serving as a stark contrast to Rogers' grounded heroics. His chilling embodiment of the character brings a palpable sense of menace that elevates the stakes at every turn. Hayley Atwell as Peggy Carter, the British operative who forms a romantic bond with Rogers, also deserves a mention. Their chemistry adds an emotional layer to the film without diminishing the action-oriented narrative. Samuel L. Jackson's cameo as Nick Fury, the head of the espionage agency S.H.I.E.L.D., is a great tie-in to the greater Marvel Cinematic Universe. It hints towards the team-up of superheroes that looms in the future, thus ensuring that Captain America: The First Avenger is not just a standalone period piece, but an essential part of an interlocking series of films. Captain America: The First Avenger is an action-packed spectacle with an engaging storyline, stunning visual effects, and top-notch performances from its cast. It triumphantly combines elements of adventure, sci-fi, romance, and war aesthetics to deliver an enjoyable watching experience. It crafts a balance between grand battle scenes, smaller character moments, and the introduction of defining aspects that would setup sequels and spin-offs in the shared universe, such as Rogers' iconic shield and the cosmic cube. While rooted in the nostalgic wartime ambiance, the film remains aware of its part in the unwinding Marvel Cinematic Universe tapestry, assuring the spectators of more heroic feats to come. As such, besides bringing robust entertainment, Captain America: The First Avenger serves as a decisive introduction both to the star-spangled hero himself and the expanding universe that he resides in.
Captain America: The First Avenger is a Action, Adventure, Science Fiction movie released in 2011. It has a runtime of . Critics and viewers have rated it moderate reviews, with an IMDb score of 6.9. It also holds a MetaScore of 66.
How to Watch Captain America: The First Avenger
Where can I stream Captain America: The First Avenger movie online? Captain America: The First Avenger is available to watch and stream, buy on demand, download at Disney+, Apple TV, Amazon, Google Play, Vudu. Some platforms allow you to rent Captain America: The First Avenger for a limited time or purchase the movie for downloading.


Stars
Chris Evans, Hugo Weaving, Sebastian Stan, Hayley Atwell
Genres
Action, Adventure, Science Fiction

Stream movies like Captain America: The First Avenger
Watch movies on Apple TV+
Also directed by Joe Johnston
Also starring Chris Evans
Also starring Hugo Weaving