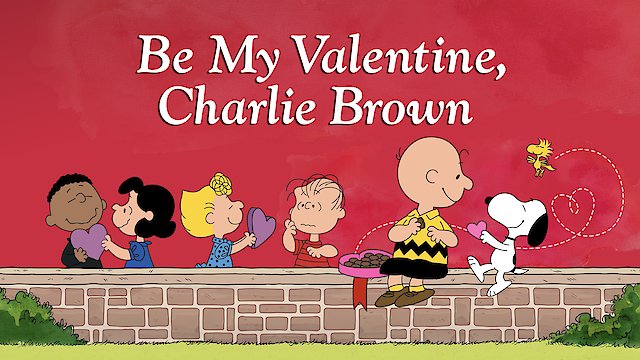 Be My Valentine, Charlie Brown

Where to Watch Be My Valentine, Charlie Brown

Be My Valentine, Charlie Brown is a heartwarming and timeless animated television special, first aired in 1975. This upbeat yet poignant classic, features familiar Charles M. Schulz's Peanuts character Charlie Brown, who continues to capture the hearts of viewers. The film stars Duncan Watson as the voice of Charlie Brown, Stephen Shea as Linus, and Melanie Kohn as the voice of Lucy. The painting of the film is brilliantly steeped in the complexity of childhood. Characters struggle with raw emotions and insecurities which, though heavily laced with humor, resonate with viewers of all ages. The 25-minute-long special is a delicate mesh of the classic style of Looney Tunes, comic strips, and Schulz's unique, cutesy style. In Be My Valentine, Charlie Brown, we follow the story of Charlie, the protagonist, as he anticipates his dreams of receiving a valentine from the little red-haired girl, with whom he is deeply smitten. The resulting tension brews as Valentine's Day draws near and Charlie's anxiety mounts, illustrating the timeless high school drama of yearning for belonging and affirmation from friends and crushes. Despite the heartache and high emotions, the movie remains light-hearted and comedic, delivering a perfect balance of joy, fun, and just the right amount of melancholy. Encapsulating the essence of Schultz's original comics, the animated film reflects the simplicity, charm, and emotional resonance that characterize the Peanuts gang. In addition to Charlie, we see engaging and remarkable narratives develop around other beloved Peanuts characters. The irrepressibly bossy but lovable Lucy once again finds herself yearning for the affection of the music-loving Schroeder. Linus, the philosophical and ever-wise best friend of Charlie Brown, contemplates buying a gift for his favorite teacher, Miss Othmar. Yet, the complicated dynamics of puppy love and childhood crushes unfold in ways that create both hilarity and heartache. While being ostensibly a children's film, Be My Valentine, Charlie Brown has a universal appeal gifted partly through its meaningful dialogues, simple but profound one-liners, and the depth of the characters' arcs. It reflects the frailties of our everyday friendships, our naive loves, our fears and hopes, and our yearnings for validation, gifts that make the Peanuts universe so enduringly popular. The animation style is drawn true to Schulz's original illustrations, lending the familiar, nostalgic comic strip aesthetic. Schulz's wit and wisdom shine through in each frame, adding depth and charm to this seemingly simple tale. Moreover, the riveting jazz soundtrack by Vince Guaraldi, a hallmark in the Peanuts classics, gives the film a stronger character and creates a lively pace for the story. The voice casting done by Duncan Watson, Stephen Shea, and Melanie Kohn is extraordinary as they breathe life into these animated characters with their heart-tugging performances. Particularly, Watson's voice-over brings out the inner workings of Charlie's heart splendidly, while Shea and Kohn's talent offer a vibrant energy to their respective characters. The voice actors, no doubt, add a nuanced layer to Schulz's rich narrative. Walking a delicate line between the classic and contemporary, Be My Valentine, Charlie Brown carries forward the legacy of Charlie Brown and his friends, their dreams and dilemmas, their losses and victories. It is a movie that is as charming and fresh today as it was when it was first released, making it an enduring classic, a valentine from Schulz to his audience that keeps on giving. Revisiting this story again and again, one can't help but sympathize with Charlie's sincere attempts and gang's youthful dreams. Whether it be the simple joy of sharing homemade valentines, the excitement about the arrival of Valentine's Day, or the pure disappointment when things don't go as imagined, the special manages to tug at heartstrings while still bringing a smile to one's face. Be My Valentine, Charlie Brown is more than just an animated television special. It is a gentle and loving examination of childhood, complete with its joy, sorrows, and simple pleasures. Beautifully themed around Valentine's Day, it's not just a story about chasing after affection but also about understanding, compassion, and learning to cope with unrequited feelings. The relatable struggles of the animated characters present a narrative that is warm, endearing, and suitable for viewers of all ages, making it an absolute treasure in the world of animation.
Be My Valentine, Charlie Brown is a Animation, Kids & Family, TV Movie movie released in 1975. It has a runtime of 44 min.. Critics and viewers have rated it moderate reviews, with an IMDb score of 7.4..
How to Watch Be My Valentine, Charlie Brown
Where can I stream Be My Valentine, Charlie Brown movie online? Be My Valentine, Charlie Brown is available to watch and stream at Apple TV+.

Genres
Animation, Kids & Family, TV Movie

Stream movies like Be My Valentine, Charlie Brown
Watch movies on Apple TV+
Also directed by Phil Roman
Also starring Duncan Watson