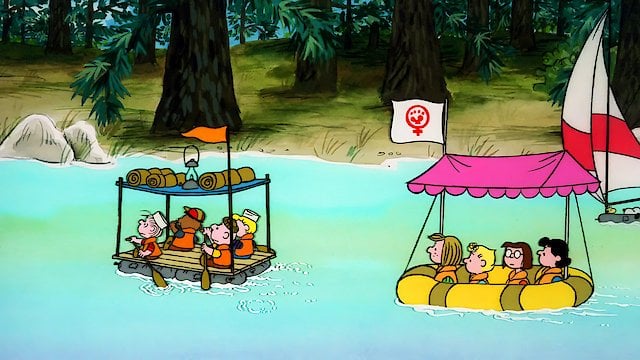 Race for Your Life, Charlie Brown

Where to Watch Race for Your Life, Charlie Brown

Race for Your Life, Charlie Brown is an animated children's adventure-comedy that was released in 1977 - the third full-length feature to come out from the universally adored Peanuts franchise. Directed by Bill Melendez and Phil Roman, it is one of the notable highlights of the iconic series. The film features our beloved Peanuts characters, Charlie Brown, Snoopy, Linus, Peppermint Patty, and the rest of their gang, who are brought to life by the vocal talents of Duncan Watson, Greg Felton, Stuart Brotman, and others, providing the viewer with just over an hour of innocent fun and pure heart. The narrative kicks off when Charlie Brown and his buddies get shipped off to a summer camp, named Camp Remote, tucked away in the wilderness, distant from the comforts of civilization. As expected, the get-away is far from being a bed of roses. The place is under the management of a nefarious trio who entertain themselves by arranging a challenging and dangerous river rafting race among the camp participators. Notably highly competitive, the race becomes the central plot device, weaving together a story full of precious moments, grim challenges, and vivid lessons. What unfolds next is a delightful mix of entertainment and social interaction as Charlie Brown and his friends offer us a wonderful time, that's classic Peanuts in every sense. Charlie Brown, as always, elicits our sympathy with his likeably innocent persona, while Snoopy and Woodstock cater to the laughter quotient with their charming antics. Throughout the tumult of the adventurous journey, the children not only deal with the physical hardships of the challenging race, but confront emotional ordeals, building bonds, resolving conflicts, and becoming savvier about the importance of teamwork and friendship in life. One of the elements contributing to the film's timeless charm is the authentic Peanuts touch - a collection of simple yet profound life lessons embedded subtly within the storyline, with gentle humor and sweet sentimentality perfectly balanced to move the hearts of both children and adults. In Race for Your Life, Charlie Brown, Charles Schulz's vision is brought to life in an enchantingly warm style, highlighting all-too-human dilemmas through its lovable cartoon characters. The film maintains the distinct Peanuts charmer with the mixture of the childlike innocence, the poignant melancholy undertone, and humor. It is filled with some memorable moments and sequences that echo the distinctive charm, warmth, and humor of Charles Schulz's timeless creations. Like previous entries in the Peanuts filmography, Race for Your Life, Charlie Brown cleverly addresses pertinent themes like bullying, competition, courage, friendship, and personal growth. While fun and amusements serve as the initial attractors, the film ultimately leaves viewers with life's valuable lessons, ensuring the content appeals to audiences of all ages. The film's animation, though relatively simple compared to contemporary standards, holds a timeless appeal with its clean line drawings, bright color palette, and classic aesthetic. The film's visual appeal is complemented by a pleasant musical score, including enduring melodies typical of Peanuts stories, which endows the film with a delightful sense of rhythm and pacing. In conclusion, Race for Your Life, Charlie Brown is a film that manages to capture the essence of Charles Schulz's incomparable comic strip, enriching it with its own narrative complexities and expanding it into a full-length cinematic format without losing an ounce of the comic's original charm. It is brimmed full of adventure and heart, retaining the humor and the warmth that makes the Peanuts world so special. A wholesome watch for both longtime fans of the endearingly relatable characters and newcomers to the world of Peanuts, the movie is a testament to the enduring appeal of Charlie Brown and his lovable gang.
Race for Your Life, Charlie Brown is a Kids & Family, Animation, Comedy movie released in 1977. It has a runtime of 76 min.. Critics and viewers have rated it moderate reviews, with an IMDb score of 7.2. It also holds a MetaScore of 55.
How to Watch Race for Your Life, Charlie Brown
Where can I stream Race for Your Life, Charlie Brown movie online? Race for Your Life, Charlie Brown is available to watch and stream, buy on demand, download at Amazon Prime, Kanopy, Apple TV, Amazon, Google Play, YouTube VOD, Vudu. Some platforms allow you to rent Race for Your Life, Charlie Brown for a limited time or purchase the movie for downloading.


Director
Bill Melendez, Phil Roman
Genres
Kids & Family, Animation, Comedy

Also starring Duncan Watson
Watch movies on Apple TV+