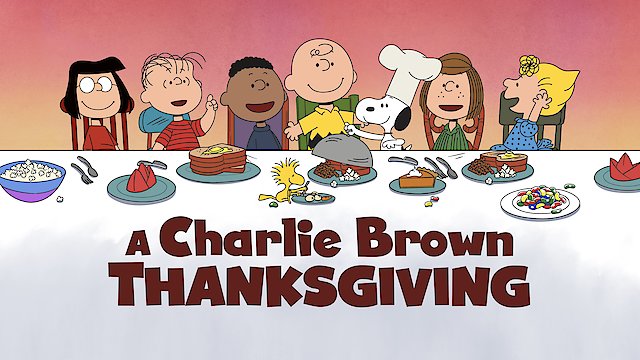 A Charlie Brown Thanksgiving

Where to Watch A Charlie Brown Thanksgiving

A Charlie Brown Thanksgiving is an animated television special that was first aired on November 20, 1973. From the renowned Schulz universe, the film features Todd Barbee as the voice of the relatable, good-natured Charlie Brown, Robin Kohn as Charlie Brown's hopeless crush, the little red-haired girl, and Stephen Shea as Linus, Charlie's closest confidant and philosopher companion. The film stands as a classic within the holiday film portfolio for its heartfelt narrative and iconic characters woven into relatable scenarios, all under the watchful spirits of the revered Thanksgiving tradition. The story begins with good ol' Charlie Brown, dealing with the usual dilemmas of life while trying to get a grip on the true meaning of Thanksgiving. He does this in a setting crawling with his quirky peers from the Peanuts gang, all of whom add their distinct chirpiness and vibrant hues to this festive tale. Peppermint Patty, the boisterous tomboy who is immaculately portrayed by Christopher DeFaria, invites herself over to Charlie Brown's house for a traditional Thanksgiving dinner. However, this puts Charlie Brown into a spin, as he is already committed to spend Thanksgiving at his grandmother's place with his sister Sally, voiced by Hilary Momberger, and Snoopy, Charlie Brown's loyal and imaginative pet dog. With two Thanksgiving meals to host, one at home for his friends and one at his grandmother's house, and an array of complications to deal with, Charlie Brown seeks advice from his voice of reason, Linus. What unfolds is a series of humorous, delightful, and sometimes, chaos-laden scenes that underline the essence of Thanksgiving, camaraderie, and friendship. One of the film's strengths is its ability to depict several transcendent moments through humor and simplicity, in which Charlie Brown and his friends grapple with the holiday's deeper meaning. It examines the pressures of hosting the perfect Gathering, the nuances of friendship, and the trials and tribulations of childhood. It is a story brimming with kindness, good intentions, and the occasional faux pas, which are warmly shared with audience through Charlie Brown and his motley crew. The film also features the legendary Snoopy in a significant role. Charles M. Schulz, the creator of the Peanuts comic strip, gives Snoopy his dedicated scenes of whimsy and slapstick humor that will certainly keep the younger viewers engaged. Moreover, Snoopy's playful interactions with Woodstock echo the more profound observations on the nature of friendship, support, and sheer joy of companionship. The animation brought to life by Bill Melendez and Phil Roman maintains its charm without leaning heavily on modern gimmicks. The simple, traditional style of animation preserves the essence of the original comic strip's characters and landscapes. The music by Vince Guaraldi Trio, with hints of jazz peppered into the classic theme, enriches the film with a warm, festive ambience. From a multitude of life lessons to the lively, humorous and at times chaotic depictions of the Peanuts Gang, A Charlie Brown Thanksgiving sits firmly as an incredibly appealing family film. We watch Charlie Brown, Patty, Linus, Schulz's entire beloved ensemble tackle the holiday's obstacles and ultimately reveal the essence of Thanksgiving: gratitude and staying together in times of joy and mishaps. It isn't always about the bountiful spreads or grand feasts, but the people we choose to share them with that matter. This gem of a film encapsulates that message so effortlessly, making it timeless and enjoyable for all age groups. A Charlie Brown Thanksgiving is a charming, comedic, and heartfelt exploration of friendships, family, and everything that makes Thanksgiving a holiday worth cherishing.
A Charlie Brown Thanksgiving is a Animation, Comedy, Kids & Family, TV Movie movie released in 1973. It has a runtime of 25 min.. Critics and viewers have rated it moderate reviews, with an IMDb score of 7.7..
How to Watch A Charlie Brown Thanksgiving
Where can I stream A Charlie Brown Thanksgiving movie online? A Charlie Brown Thanksgiving is available to watch and stream at Apple TV+.

Director
Bill Melendez, Phil Roman
Stars
Todd Barbee, Robin Kohn, Stephen Shea
Genres
Animation, Comedy, Kids & Family, TV Movie

Stream movies like A Charlie Brown Thanksgiving
Watch movies on Apple TV+
Also directed by Bill Melendez, Phil Roman
Also starring Todd Barbee