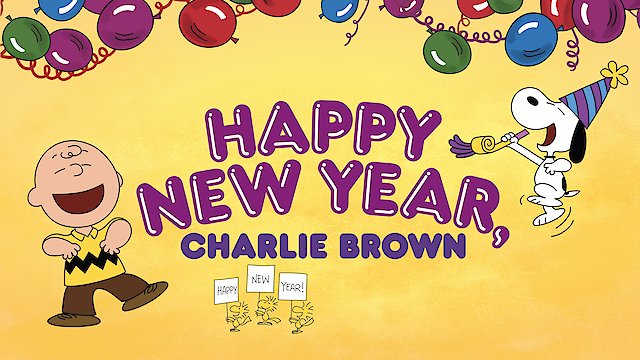 Happy New Year, Charlie Brown!

Where to Watch Happy New Year, Charlie Brown!

Happy New Year, Charlie Brown! is a heartwarming television special from the beloved Peanuts franchise that initially aired in 1986. The hour-long animation features the vocal talents of Chad Allen, Melissa Guzzi, and Kristie Baker, amongst others, and is part of a series of specials based on the comic strip created by Charles M. Schulz. The central plot surrounds Charlie Brown, the luckless but loveable protagonist of the Peanuts series, who is voiced by Chad Allen. With the festive season in full swing and the new year on the horizon, Charlie Brown is looking forward to enjoying his well-deserved winter break. However, his hopes are dashed when he discovers that he has been assigned to write a book report on Leo Tolstoy's War and Peace during this vacation period. Charlie Brown, who is notoriously a bit of a blockhead, finds himself struggling with this assignment. As fun winter activities and celebrations commence, Charlie Brown grapples with the enormity of Tolstoy's classic tale, which seems to get more confusing and daunting with every page he turns. His friends, including Linus and Peppermint Patty, among others, engage in a myriad of winter fun and New Year's Eve festivities, providing a stark contrast to Charlie Brown's predicament. It's a gentle and humorous exploration of the clash between the demands of the world and the simple pleasures in life, a theme often found in Peanuts stories. Adding another layer to the narrative, viewers see Charlie Brown wrestle with his growing feelings for the Little Red-Haired Girl, a character who is an icon within the Peanuts universe. This subplot provides an emotional climax and yields relatable situations that humorously touch on the delights and frustrations of young love. Melissa Guzzi voices Peppermint Patty, a character that is unconventionally charming and domineering, who extends an invitation to Charlie Brown to join her at a New Year's party, adding to his pressure. Meanwhile, Linus, voiced by Jason Mendelson, is also faced with a dilemma when Sally, Charlie Brown's younger sister, expects him to escort her to the party. This multifaceted storyline brings delightfully true-to-life dramas and comedy to the show, which ultimately teaches some valuable lessons about friendship and endurance. Despite the problems that he faces, the pursuit of happiness and a worry-free experience continues for Charlie Brown. As he juggles his school assignments, personal dilemmas and expectations, viewers are sure to resonate with his experiences and root for him, hoping that he will see in the New Year with a renewed sense of hope and joy, staying true to the lighthearted tone so prevalent in the series. Happy New Year, Charlie Brown! is a wonderful visual delight for all ages, characterized by the tan and black colors that are a unique attribute of the Peanuts series. It features recognizable Peanuts charm and nostalgic piano jazz tunes courtesy of the Vince Guaraldi Trio. Despite being set in winter and revolving around New Year's Eve, the special provides timeless humor and life lessons transcending across all seasons. Happy New Year, Charlie Brown! not only offers the classic comic strip characters in animated form exploring friendship and personal growth, but it also beautifully encapsulates the spirit of self-reflection and renewal that comes with the end of the year. Even after several decades, the film continues to bring warmth, humour and an inevitable stroke of nostalgia to the viewing audience. It's a fun-filled, feel-good film that continues to be cherished as an endearing piece of television history and a wonderful revisit to simpler childhood times.
Happy New Year, Charlie Brown! is a Kids & Family, Animation, Comedy, TV Movie movie released in 1986. It has a runtime of 28 min.. Critics and viewers have rated it moderate reviews, with an IMDb score of 7.2..
How to Watch Happy New Year, Charlie Brown!
Where can I stream Happy New Year, Charlie Brown! movie online? Happy New Year, Charlie Brown! is available to watch and stream at Apple TV+.

Genres
Kids & Family, Animation, Comedy, TV Movie

Stream movies like Happy New Year, Charlie Brown
Watch movies on Apple TV+
Also directed by Bill Melendez, Sam Jaimes