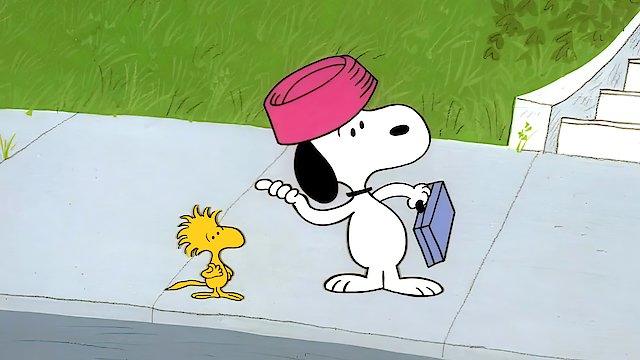 Where to Watch Snoopy, Come Home

Snoopy, Come Home is an American animated musical film, produced by Cinema Center Films and Lee Mendelson Films in 1972. It is directed by Bill Melendez and written by Charles M. Schulz, the creator of the original comic strip 'Peanuts'. The heartwarming film stars Chad Webber as the voice of Charlie Brown, Robin Kohn providing the voice for his sister Lucy, and Stephen Shea as Linus. An engrossing family movie, it maintains a perfect balance of emotion, humor, and adventure that leaves an indelible impact on the viewer. The plot revolves around the iconic and everyone's favorite beagle, Snoopy, who is central to the storyline. The film starts by portraying the fun, frolic, and mischief in Snoopy's routine life. Unforeseen circumstances, however, compel him to leave his beloved owner Charlie Brown and his other friends, leading to an emotional roller-coaster journey that sweeps across friendship, love, and loyalty. Notably, this movie pivots away from the previous 'Peanuts' TV specials, adding a unique touch by incorporating various songs in the film which play a significant role in carrying the story forward. As such, it sets a precedent in this avenue for future features. The harmonious melodies and catchy tunes, harmonized with expressive animated visuals, create a wonderfully appealing experience for the viewers, both young and old. The ever-together duo of Snoopy and his little bird companion Woodstock entertains with their subtly humorous and expressive silent communication throughout the film. Deftly done, the characters' voices are very much in tune with their animated persona, creating an enchanting blend of innocent and heartfelt dialogues. Chad Webber, as the voice of Charlie Brown, does a remarkable job of bringing forth the character's sensitive and caring heart. Robin Kohn, as Lucy, captures the infuriating yet beautiful nuances of Lucy's personality believably. And Stephen Shea, as Linus, effectively delivers the innocent wisdom of his character in a truly enjoyable form. The movie's animation is impressively close to the original comic strip's style, maintaining the looks and persona of the characters, keeping them authentic and relatable. People familiar with the 'Peanuts' comic strip would feel a wave of nostalgic recognition, while new viewers would appreciate its timeless appeal. The simple, expressive hand-drawn animations work magic, catching pure emotions in their raw forms. Snoopy, being the center of the film, shines through with his animated expressions revealing a range of emotions. The tone of the movie is set with the emotional dichotomy of cheerful and melancholy, which forms the crux of the narrative. It conveys a profound message about life, the power of friendship, and the value of saying goodbyes unexpectedly wrapped in a beautiful, entertaining package, apt for both children and adults. Despite being an animated film, Snoopy, Come Home doesn't shy away from exploring deeper topics. It subtly unveils the themes of longing, separation, moving on, facing challenges, and the celebration of reunions. These are mature themes for a typical animated movie, yet they are handled with a sensitivity that's appropriate for younger audiences while giving the adults something to think about. This adds an emotional depth and complexity to the film that potentially resonates with viewers of all ages. Overall, Snoopy, Come Home is a pleasant watch that manages to break the traditional boundary of a typical animated film. Its simplistic yet impactful storytelling, catchy music, and the characters' affable charm keep the viewers invested, resulting in an engaging watch from beginning to end. It serves as a worthy cinematic treat for a family movie night, full of laughter, tears, smiles, and most importantly, loveable characters. In conclusion, whether one is an old fan of Charlie Brown and Snoopy or a new audience who is yet to explore these beloved characters' world, this film definitely leaves a mark, taking viewers on an unforgettable journey of friendship, love, and life, filled with priceless moments that the audience would cherish long after.
Snoopy, Come Home is a Kids & Family, Animation movie released in 1972. It has a runtime of 77 minutes. Critics and viewers have rated it moderate reviews, with an IMDb score of 7.4. It also holds a MetaScore of 66.
How to Watch Snoopy, Come Home
Where can I stream Snoopy, Come Home movie online? Snoopy, Come Home is available to watch and stream, buy on demand, download at Apple TV, Amazon, Google Play, Vudu. Some platforms allow you to rent Snoopy, Come Home for a limited time or purchase the movie for downloading.


Stars
Chad Webber, Bill Melendez, Robin Kohn, Stephen Shea, David Carey, Hilary Momberger, Christopher DeFaria, Linda Ercoli, Lynda Mendelson
Genres
Kids & Family, Animation

Watch movies on Apple TV+