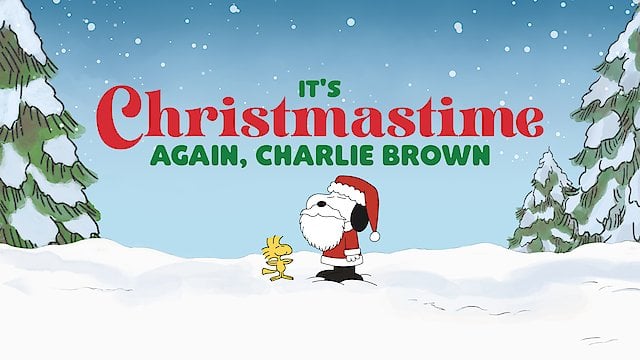 It's Christmastime Again, Charlie Brown

Where to Watch It's Christmastime Again, Charlie Brown

It's Christmastime Again, Charlie Brown was released in 1992 and it's a heartwarming made-for-television special that succeeded in reviving the charm and wit of Charles M. Schulz's beloved comic strip for a new generation. The film features the performances of Jamie E. Smith as Charlie Brown, John Christian Graas as Linus Van Pelt, and Marnette Patterson as Lucy Van Pelt. The film commences with Charlie Brown's character well-established in his position as the hapless, kind-hearted underdog we've come to know and love. His perpetual optimism despite his numerous misfortunes is an instantly recognizable feature that still resonates with audiences and establishes a heart-wrenching connection from the beginning. The holiday season has hit the Peanuts neighborhood once again, with its vivid, festive colors contrasting humorously against Charlie Brown's continued hardship. However, this is the charm of the Charlie Brown series; regardless of the merry season's joyful atmosphere, Charlie Brown never loses his timeless, endearing vulnerability. In this installment, Schulz weaves in a breadth of short stories that encompass an array of Christmas experiences. Each character gets their own moment to shine which allows the audiences to experience the multifaceted nature of the holiday season. One of the significant narratives involves Peppermint Patty and Marcie as they prepare for a holiday-themed school play. Unable to understand the play's symbolic meaning, Marcie and Peppermint Patty turn to Charlie Brown for support, adding another layer of complexity to the plot. The storyline involving Sally, Linus, and Lucy Van Pelt is another key highlight of It's Christmastime Again, Charlie Brown. Sally's struggle to grasp the true meaning of Christmas and Linus's attempts to explain it further showcase the film's light-hearted humor and philosophical undertones. Meanwhile, Lucy, with her bossiness and nutty psychiatric advice, ensures there's never a dull moment throughout the film. John Christian Graas and Marnette Patterson give standout performances as Linus and Lucy, capturing the complex dichotomy between Linus's philosophical character and Lucy's humorous stubbornness. The voices are convincingly youthful while maintaining the emotions and depth required for the complex narrative. As is tradition in the Peanuts universe, the film integrates various subplots featuring Snoopy, Schroeder, and Franklin, which injects yet more humor and depth into the narrative. The iconic scene of Snoopy decking out his doghouse with decorations, Schroeder's holiday piano performance, and Franklin's charming wisdom bring festive cheer and laughter to the audience. Despite the comedic antics, It's Christmastime Again, Charlie Brown, as per Schulz's usual manner, cleverly uses humour to convey deeper life meanings. It subtly addresses critical, timeless themes such as commercialism, materialistic attitude during the holiday season, and the importance of understanding the true spirit of Christmas. The beauty of Schulz's storytelling is that he weaves adult observations into a children's narrative, creating a tale that can be enjoyed by all age groups. Moreover, the film successfully redeems itself from being just another Christmas commercial and becomes a wholesome viewing experience that effortlessly combines humor, festive cheer, and profound messages. The animation and soundtrack play vital roles in creating the captivating Peanuts universe. It remains simple and faithful to the original comic strip style, a reminder that you don't need high-tech graphics to tell a compelling story. The soft, jazzy tunes lend an enchanting, nostalgic air reminiscent of the old Peanuts specials and keeps you humming long after the film ends. Above all, It's Christmastime Again, Charlie Brown succeeds as it stays true to the Peanuts' original essence - tender, light-hearted narratives laden with depth. The movie is a delightful blend of nostalgia and newness, making it a must-watch for both die-hard Peanuts fans and anyone wanting to introduce Peanuts to a new generation. The film demonstrates that Charlie Brown, our favorite perennial underdog, can still, after all these years, draw a smile and perhaps even a few tears. While the magic of Charlie Brown's world can be enjoyed at any time and any stage of life, its festive episodes like It's Christmastime Again, Charlie Brown magnify the charm, making viewers feel like a kid waking up on Christmas morning all over again.
It's Christmastime Again, Charlie Brown is a Animation movie released in 1992. It has a runtime of 22 min.. Critics and viewers have rated it moderate reviews, with an IMDb score of 6.9..
How to Watch It's Christmastime Again, Charlie Brown
Where can I stream It's Christmastime Again, Charlie Brown movie online? It's Christmastime Again, Charlie Brown is available to watch and stream, buy on demand, download at Apple TV+, Amazon. Some platforms allow you to rent It's Christmastime Again, Charlie Brown for a limited time or purchase the movie for downloading.

Stars
Jamie E. Smith, John Christian Graas, Marnette Patterson

Stream movies like It's Christmastime Again, Charlie Brown
Also directed by Bill Melendez
Watch movies on Apple TV+