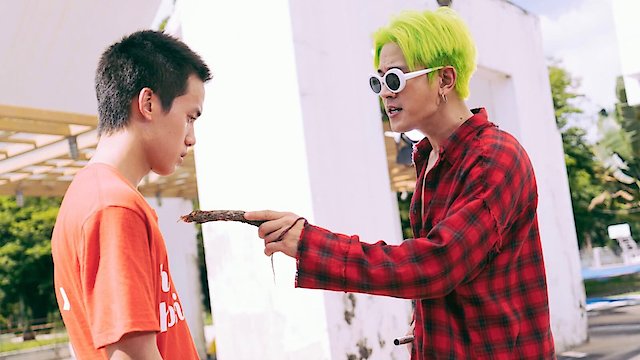 Where to Watch Project S The Series
Watch Project S The Series Season 4 Episode 8 Now
Watch Project S The Series Season 4 Episode 7 Now
Watch Project S The Series Season 4 Episode 6 Now
Watch Project S The Series Season 4 Episode 5 Now
Watch Project S The Series Season 4 Episode 4 Now
Watch Project S The Series Season 4 Episode 3 Now
Watch Project S The Series Season 4 Episode 2 Now
Watch Project S The Series Season 4 Episode 1 Now

Project S The Series is a profound Thai television anthology series, aired in 2017, which is structured around four different stories of sports drama, produced by Thailand's renowned GMM One television network. The series is intended to inspire people to engage and promote sports. It brings to light various challenges faced by the athletes and aims to promote encouragement and perseverance in the face of adversity. It carries a strong message, not only about sportsmanship but also about life struggles and victories. The series is a collection of four standalone narratives, each one dealing with different sport and featuring its characters, storylines, and conflicts. The following are the four segments of the series: 1. "Side by Side" (Badminton) 2. "Spike" (Beach Volleyball) 3. "Shoot! I Love You" (Archery) 4. "S.O.S Skate" (Skateboarding) "Side by Side" - This segment portrays the story of two aspiring badminton champions who face hardships and dilemmas in their journey towards fame. It highlights the love of the game and the grit that these young athletes go through while striving for their dreams. Alongside this, it delicately portrays interpersonal relations, friendship, competition, and a sense of rivalry, providing a sense of reality to the narrative. "Spike" - Giving an insight into the world of beach volleyball, this storyline involves a team that gets a chance to resurrect its popularity and dignity. The path is filled with struggles, team conflicts, and societal issues. Throughout their journey, they learn to strive through adverse situations and celebrate the small milestones, creating an intense yet heartwarming atmosphere. "Shoot! I Love You" - This section brings forth the world of archery combined with a romantic storyline. It revolves around an archery coach who inspires his team to rise from a tragic incident while facing his profound inner conflict. It is about the crucial balance between nurturing personal relationships and passion for sports, further bringing a unique narrative of love, longing, and dedication to the viewers. "S.O.S Skate" - This part ventures into the life of a young skateboarding enthusiast who devotes his life to the sport despite the various hardships he faces. It brings out the raw passion and determination of the youth, coupled with the struggle they go through to keep their hopes and dreams alive. Each narrative in Project S The Series portrays a specific sport as their central theme, clarifying that success is not just about winning, but also encompasses overcoming personal trials, growing from failures and losses, and nurturing valuable relationships along the way. The series deliver critical life lessons using sports as a medium, such as the importance of team spirit, respect for competitors, and the significant role of support systems like family and coaches. The Series emphasizes the value of hard work, dedication, and resilience. It highlights that nobody becomes successful overnight and that the journey towards success involves diverse experiences that shape an individual. While uniquely integrating love stories and friendships, the series also deals with essential societal issues, making it more relatable to a broader audience. The series is layered with emotions, desires, dreams, and touches multiple facets of an athlete's life journey. At the same time, it masterfully incorporates elements of joy, despair, hope, and resilience. From inspirational athletic performances to the deep, internal struggles of the characters, each episode is loaded with emotions which keep the audience engaged and rooting for the characters. Project S The Series is more than just a sports narrative. It is a testament to human resilience, the strength of one's spirit, the power of dreams, and the incredible power of sports to inspire and unite. Each story is a heartfelt portrayal of self-belief, perseverance, and the pursuit of passion in the face of adversities, making it an overall exhilarating, emotionally satisfying, and humbling experience.
Project S The Series is a series categorized as a cancelled. Spanning 4 seasons with a total of 32 episodes, the show debuted on 1969. The series has earned a mostly positive reviews from both critics and viewers. The IMDb score stands at 8.5.
How to Watch Project S The Series
How can I watch Project S The Series online? Project S The Series is available on GMM One with seasons and full episodes. You can also watch Project S The Series on demand at Netflix online.
Genres
Comedy, Drama, Romance, Sports
Cast
Chanon Santinatornkul, Kritsanapoom Pibulsonggram

Similar Shows like Project S The Series