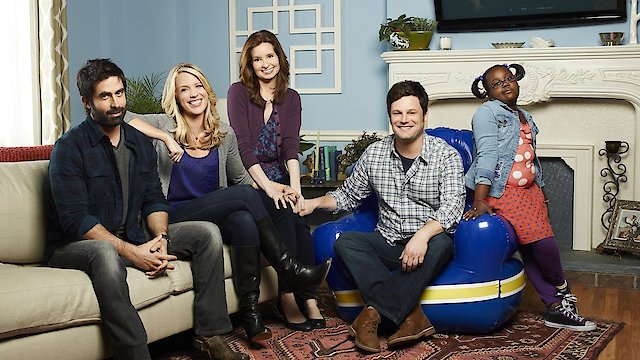 Where to Watch Best Friends Forever
Joe, Lennon, Jessica and Rav head to Atlantic City for a gaming convention to debut Joe's videogame. The ladies quickly realize that in order for Joe to win Fan Favorite, they will need to cater to the nerds.
Watch Best Friends Forever Season 1 Episode 6 Now
While Jessica tries to plan Lennon's open house for her new community dance studio, Lennon's former dance partner who is now a famous choreographer, Ken Haskins, shows up forcing Jessica to share her best friend planning duties. Meanwhile, Joe questions Ken's sexuality and true intentions and wonders if Lennon's old pal is really just a friend.
Watch Best Friends Forever Season 1 Episode 5 Now
Jessica starts dating after receiving a Facebook message from a former crush. However, after things go awry, she takes Rav's advice and ends up at an unusual frat party.
Watch Best Friends Forever Season 1 Episode 4 Now
Lennon goes the extra mile to create a wonderful surprise gift for Joe's dad's upcoming retirement party. However, it's Marilyn, Luka's mom, that Lennon is most worried about pleasing.
Watch Best Friends Forever Season 1 Episode 3 Now
Jessica butt-dials her ex-husband a few days before their anniversary. Meanwhile, Lennon, Joe and Rav try to cheer her up.
Watch Best Friends Forever Season 1 Episode 2 Now
In the series premiere, when Jessica is served divorce papers, her best friend Lennon convinces her to return home to Brooklyn to live with her.
Watch Best Friends Forever Season 1 Episode 1 Now

Best Friends Forever is a unique, touching, and hilariously relatable American sitcom that graced NBC's television programming in 2012. Created by the brilliant comedic minds of Lennon Parham and Jessica St. Clair, the show combines heartfelt moments with elastically hilarious comical performances to serve up a delightful television viewing experience. The premise of Best Friends Forever revolves around the lives of Jessica Black (played by Jessica St. Clair) and Lennon White (played by Lennon Parham), best friends since childhood who share a deep, almost familial bond that is frequently tested and upscaled through the trials and tribulations of their daily lives. In the wake of a jarringly sudden divorce, Jessica Black abandons her life in San Francisco to move back to her old apartment in Brooklyn, where she's pleasantly shocked to find Lennon still living, albeit with her live-in boyfriend, Joe (played by Luka Jones). The circumstances of Jessica's arrival adds depth to a show that artfully explores the humor found in the simplicity of everyday life, providing entertainment with an unexpected twist. The three characters' unique dynamic is at the heart of Best Friends Forever. Jessica's sudden presence disrupts the quieter life Lennon and Joe had been leading, marking the inception of an unlikely yet entertaining love triangle that drives much of the show's plot. Despite Lennon's excitement at the prospect of living with her best friend again, Joe is a lot less enthusiastic about sharing his home with a near-stranger. How they interact, their past relationships, and their ability to adjust to an almost sitcom-like living arrangement sets the tone for a series packed with quintessential humor, relatable circumstances, and unexpected heartwarming moments. The other supporting characters add depth to Best Friends Forever. Comedian Stephen Schneider plays the role of Rav, Jessica's ex-husband in an effort to make their interaction look comfortable despite their recent divorce. Meanwhile, Daija Owens plays the role of Queenetta, a bright young girl who lives next door and brings her charmingly brash morality to the mix. The writing is a major highlight of this sitcom. Real-life best friends Parham and St. Clair not just write but also serve as executive producers, allowing them to inject a significant amount of personal nuance and genuine intersubjective chemistry into the series. The tenes of friendship portrayed are beautiful, messy, complicated, and enduring, portrayed with a comedic undertone that leaves viewers frequently laughing and occasionally tearing up. In essence, the show highly emphasizes the emotional depth of the situation but without losing its comedic essence. Best Friends Forever is short-lived but packs a punch, as it did not shy away from delivering an authentic representation of adult friendship along with its beautiful complexities and the awkward, funny moments that transpire when life doesn't go as planned. Despite running for only six episodes in its single-season stint, Best Friends Forever usually left its audience with a sense of warmth and camaraderie mirroring the bond between Jessica and Lennon. Nostalgia, humor, friendship, love, and heartbreak play a massive part throughout the series, ensuring that the show reaches out to audiences on an emotional level. Romance and friendship are intertwined skillfully, providing several comic yet intimate moments that left viewers wanting more with each episode. There is nothing quite like the show Best Friends Forever. It was an earnest, heartfelt presentation that bore the signature charm of its creators. The story is inviting, the characters are lovable, and the bond between Jessica and Lennon conveys an impeccable balance of sweetness and humor, making it a memorable sitcom during its short stint on NBC. In conclusion, Best Friends Forever stood out owing to its unique approach towards sitcom. It blended humor with the realities of adult friendships, managing to succeed in offering a witty, warm, and heartfelt viewing experience despite its short run. For lovers of sitcoms layered with authentic humor, emotional depth, and real-day situations, this show remains a hidden gem in the realm of American television sitcoms.
Best Friends Forever is a series categorized as a canceled/ended. Spanning 1 seasons with a total of 6 episodes, the show debuted on 2012. The series has earned a moderate reviews from both critics and viewers. The IMDb score stands at 6.5.
How to Watch Best Friends Forever
How can I watch Best Friends Forever online? Best Friends Forever is available on NBC with seasons and full episodes. You can also watch Best Friends Forever on demand at Apple TV, Google Play online.
Cast
Lennon Parham, Jessica St. Clair, Luka Jones

Stream shows like Best Friends Forever