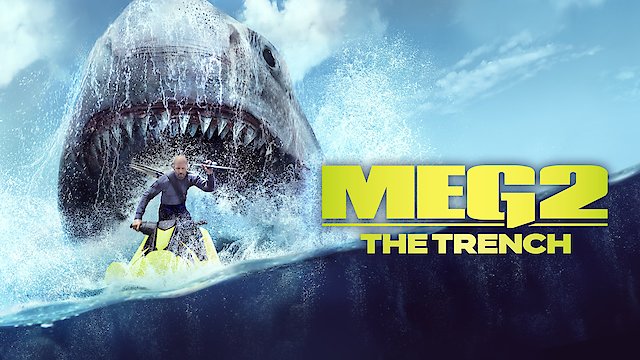 Where to Watch The Meg 2: The Trench

The Meg 2: The Trench brings back the nail-biting underwater thriller about the prehistoric megalodon shark with another action-packed deep sea adventure. Jason Statham returns as expert rescue diver Jonas Taylor alongside new cast members Wu Jing and Shuya Sophia Cai. In this sequel, Taylor thought he had rid the ocean depths of the massive, terrifying megalodon years ago, but now he learns the 70-foot long predators have returned even more vicious and in greater numbers. An emergency rescue mission reawakens the beasts' bloodlust as they begin attacking research stations in the Mariana Trench, plunging Taylor into another deadly confrontation. Teaming up with an ambitious Chinese oceanographer named Zhang (Wu Jing) and a teenage marine life enthusiast named Pom (Shuya Sophia Cai), Taylor ventures once again into treacherous waters populated by the predatory behemoths. Zhang has developed groundbreaking technological advances that allow his crew to withstand the immense water pressure of the Mariana Trench, the deepest point on Earth. But when disaster strikes, Taylor, Zhang, and Pom find themselves relying on each other for survival as the massive sharks close in. They'll need more than technology if they hope to battle a threat that has remained hidden under thousands of feet of water for centuries. The megalodon's ancestral mating ground in the depths of the Pacific must not be disturbed again or mass marine extinction could follow. Filled with death-defying action, chilling underwater photography, and escalating suspense, The Meg 2 promises to deliver another thrilling clash between man and nature's ultimate apex predators. The megalodons may have sheer size and primal hunger on their side, but Taylor and his allies bring unparalleled courage and ingenuity. Casualties mount and air supplies dwindle as our heroes become both hunter and hunted deep beneath the waves. Director Ben Wheatley ensures a white-knuckle ride that will leave audiences short of breath by the time the colossal megalodons meet their match. Strap in for another deep dive into aquatic terror when The Meg 2's man-versus-mega-shark showdown surfaces on the big screen.
The Meg 2: The Trench is a Action, Science Fiction, Horror movie released in 2023. It has a runtime of 116 min.. Critics and viewers have rated it no reviews, with an IMDb score of 0.0..
How to Watch The Meg 2: The Trench
Where can I stream The Meg 2: The Trench movie online? The Meg 2: The Trench is available to watch and stream, buy on demand, download at Apple TV, Amazon, Vudu. Some platforms allow you to rent The Meg 2: The Trench for a limited time or purchase the movie for downloading.
Stars
Jason Statham, Jing Wu, Sienna Guillory
Genres
Action, Science Fiction, Horror

Stream movies like The Meg 2: The Trench
Also directed by Ben Wheatley
Also starring Jason Statham
Watch movies on Apple TV+