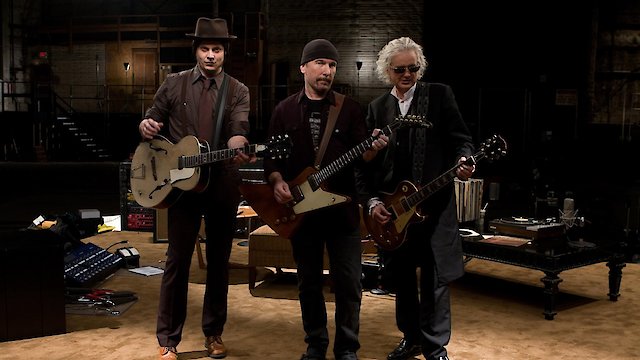 Where to Watch It Might Get Loud

It Might Get Loud is a dynamic 2008 film produced by Thomas Tull. This enticing and in-depth musical documentary directed by Davis Guggenheim is an enchanting expedition into the artistry, persona, and sheer love for music that shapes legendary guitarists Jimmy Page, The Edge, and Jack White. It was a unique opportunity for audiences worldwide to get a glimpse of these artists' creative process and unique personal narratives. The seventy-two year-old British guitarist Jimmy Page, iconic for his rock band Led Zeppelin, represents the past. The fifty-five-year-old Irish guitarist The Edge from U2 epitomizes the present, while the thirty-two-year-old American guitarist, Jack White from the White Stripes epitomizes the future. They are three different generations of guitarists, each with their original approaches and distinct sounds, yet united by a common thread: their profound passion for music. The film gives an exclusive and immersive understanding of not just their skills but the inventiveness that propels them to craft evocative, iconic tunes. A nuanced exploration of the lives of these three influential and diverse musicians, It Might Get Loud is a celebration of the relentless spirit that inspires them to make music that transcends time and resonates with listeners across generations. A substantial part of the film revolves around the musicians playing and discussing their instruments, with a specific focus on the electric guitar. However, the real beauty of It Might Get Loud lies in the intimate conversations between the three artists when they meet in Los Angeles. They discuss their musical inspirations, their major influences, and the 'eureka moments' that shaped their playing styles. Jimmy Page's elegant charisma dominates the screen as he takes us down memory lane, sharing tales from his early years and ascension to stardom with Led Zeppelin. We see him in his stately home, playing the gramophone and getting lost in his music - strumming intoxicating riffs that proves he's lost none of his magic. Through his narrative, we understand his fascination with creating new sounds and his fearlessness in pushing musical boundaries. Simultaneously, we get an up-close look at U2's The Edge. In contrast to Page's vintage charm, The Edge provides an insight into his technological approach towards music. Embracing a more contemporary style, he emphasizes the use of effects and technology to enhance the guitar sound, thus creating an immersive soundscape. Finally, there's Jack White, the wild card of the bunch. White brings raw intensity to every scene. He constructs an eccentric guitar out of bits and pieces, then plays it for the audience, demonstrating his love for minimalism and proving that music can come from the simplest of instruments. His narrative is rooted in rejection of over-sophistication in favor of authenticity, a mantra that seems to enhance his commanding onscreen presence. Guggenheim's masterful cinematography combines the separate strands of the three guitarists into a coherent and compelling narrative. He weaves in archival footage, interviews, and live performances from each of their storied careers to underscore their shared infatuation for the guitar. The film's climax is marked by a memorable jam session where the trio performs together, a dream collaboration that can only be described as exhilarating. It Might Get Loud caters not only to die-hard fans of these three musicians but also music lovers and guitar enthusiasts in general. Even for viewers without a prior understanding of the guitar or its artists, the film is deeply engaging. The blend of varied perspectives, the shared camaraderie and passion for musicaking this an intriguing deep dive into the love affair between musician and instrument. The film transcends being a merely musical documentary by showcasing the individual journey of these artists, their personal and musical evolution, and their transcendence to fame. It digs deep into their psyche, exploring how these iconic musicians perceive their instruments beyond the superficial, manifesting their inner thoughts and emotions through the language of music. In conclusion, It Might Get Loud is an enriching exploration of the sheer artistry, emotion, and intellect that goes into making music. The film's brand of storytelling is contagious, inviting the viewer into a profound homage to the spirit of rock 'n' roll and the timeless love of the guitar. It's a must-watch experience for any music aficionado, and indeed, for anyone passionate about creativity and the human spirit.
It Might Get Loud is a Documentary, Music movie released in 2008. It has a runtime of 98. Critics and viewers have rated it moderate reviews, with an IMDb score of 7.6. It also holds a MetaScore of 70.
How to Watch It Might Get Loud
Where can I stream It Might Get Loud movie online? It Might Get Loud is available to watch and stream, buy on demand, download at Amazon Prime, Tubi TV, Apple TV, Amazon, Google Play, YouTube VOD, Vudu. Some platforms allow you to rent It Might Get Loud for a limited time or purchase the movie for downloading.


Stars
Jimmy Page, The Edge, Jack White

Stream movies like It Might Get Loud
Also directed by Davis Guggenheim