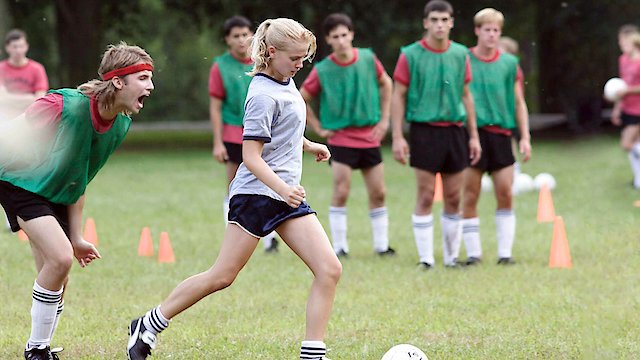 Where to Watch Gracie

Gracie is a heartwarming 2007 sports drama directed by Davis Guggenheim and features an ensemble cast of veteran actors such as Elisabeth Shue and Dermot Mulroney, and breakout newcomer Carly Schroeder in the titular role of Gracie. The film is a family affair as siblings Andrew and Elisabeth Shue, who co-produced the movie, while drawing on their own childhood experiences, channel these memories into a deeply personal and touching narrative. Set in the late 1970s, Gracie portrays a profound tale of determination, equality, familial support, and the power of women in sports. For Gracie Bowen, played by Carly Schroeder, soccer is not just a game; it's an integral part of her life that helps her form strong ties with her competitive family. She idolizes her older brother, Johnny (Jesse Lee Soffer), a star soccer player who meets an untimely death, causing a massive shock for Gracie and her family. Grieving and heartbroken, Gracie yearns to honour her brother's legacy and decides to step into his shoes by joining the high school boys' soccer team – a seemingly unreachable goal considering the societal norms and constraints of that time. Her decision puts her at a crossroads not only with the conservative school administration and her own peers but also within her own family. It leads to a potent exploration of empowerment and resistance that goes beyond the soccer pitch. Elisabeth Shue portrays Gracie's loving and steadfast mother, Lindsay Bowen, who, despite initial reservations, provides unwavering support for her daughter. Dermot Mulroney plays Bryan Bowen, Gracie's father, who is initially reluctant about her soccer aspirations. He is an old-school, tough-love kind of dad poised with the challenge of reconciling with his own grief while grappling with the changing dynamics of his youngest daughter's ambitions. Andrew Shue appears as Coach Owen Clark, who plays an integral role in Gracie's journey, presenting an endless source of turmoil and inspiration for the young soccer enthusiast. The character dynamics, combined with the societal backdrop of the period, smoothly gives the coming-of-age story a unique context that effectively resonates with the audience. Screenwriters Lisa Marie Peterson and Karen Janszen impeccably craft a narrative that conveys a powerful message about breaking barriers and challenging the status quo. Gracie's story is subtly projected as emblematic of the larger struggle for gender equality in sports, a pertinent subject matter even today. The setting of New Jersey in the late 70s serves as a captivating backdrop for Gracie's journey. The sepia tone and the authentic depiction of the period — from fashion styles to societal attitudes — stimulates the audience's sense of nostalgia while never veering away from the crux of the narrative. Carly Schroeder is particularly commendable as Gracie, a complex character that's part combative and rebellious, and part endearingly vulnerable. Her determination is inspirational, and her resilience is felt and seen throughout the film. Schroeder's performance, coupled with the engaging storytelling, makes Gracie a memorable character and a symbol of rebellion and transformation. Further adding dimension to the film are the sports-action sequences, depicted in an authentic and exhilarating way, resulting in truly gripping soccer scenes. The stark realism of these sequences is sure to keep the audience on the edge of their seats while appreciating Gracie's growth as an athlete. The film 'Gracie' exemplifies a unique blend of family drama and sports action mixed with elements of social commentary. Davis Guggenheim's gentle, emotionally stirring direction effectively brings out the cinematic beauty of this underdog story. The film is sure to stay with you for its important themes of resilience in the face of adversity, the relentless pursuit of one's dreams, and the power of family bonds. To summarize, 'Gracie' is a touching narrative that throws light on the struggle of a young woman carving her own path in a world rigidly bound by gender norms. At once thought-provoking and inspirational, it's a film that strikes a fine balance between entertainment and social commentary while exploring universal themes of ambition, perseverance, and self-belief.
Gracie is a Drama movie released in 2007. It has a runtime of 95 min.. Critics and viewers have rated it moderate reviews, with an IMDb score of 6.2. It also holds a MetaScore of 52.
How to Watch Gracie
Where can I stream Gracie movie online? Gracie is available to watch and stream, buy on demand, download at Apple TV, Amazon, Google Play, YouTube VOD, Vudu. Some platforms allow you to rent Gracie for a limited time or purchase the movie for downloading.


Stars
Elisabeth Shue, Carly Schroeder, Dermot Mulroney, Jesse Lee Soffer, Andrew Shue, Trevor Heins

Also starring Carly Schroeder