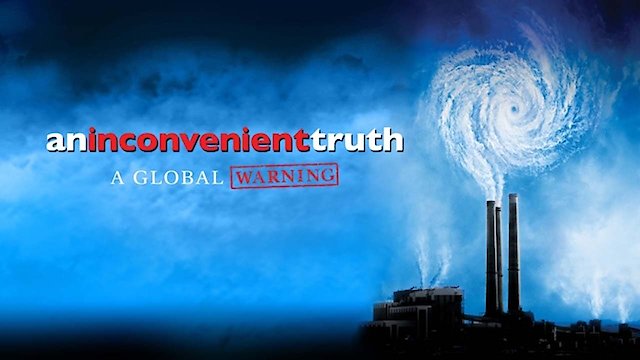 Where to Watch An Inconvenient Truth

An Inconvenient Truth is a compelling and provocative documentary film from 2006, featuring former U.S. Vice President Al Gore. It is a passionate and highly persuasive cogitation on climate change, bravely advocating for urgent societal, political, and economic changes to avert an impending global environmental catastrophe. The film, directed by Davis Guggenheim, is presented in a lecture format, with Al Gore giving a multi-media presentation on the escalating danger of global warming. The talk involves vivid graphics, historical photos, scientific data, and personal anecdotes and boldly challenges viewers to reflect upon and rethink our relationship with our planet. Beginning with a scenic aerial view over Greenland's vast landscape, the movie immediately establishes the severity of the situation at hand. With dramatic imagery and graphs presenting alarming levels of carbon dioxide in Earth's atmosphere, Gore provides an articulate and exhaustive explanation of the greenhouse effect, tracing its ominous implications. He presents the audience with a grim image of the Earth's potential future should we continue down this destructive path, demonstrating melting glaciers, shifting weather patterns, and the resulting catastrophic effects on global biodiversity. Yet, An Inconvenient Truth is not just a litany of overwhelming information about climate change. The documentary skilfully intersperses the presentation with biographical segments about Gore's life. Through this, we learn about his early exposure to environmental issues through his professor's research on carbon emissions. Bouts of personal narrative bring a humanizing dimension to the subject matter, intermingling the objective and subjective aspects of his climate rhetoric. The narrative also illustrates Gore's experiences in the political arena, from his tenure as Vice President to his controversial loss during the 2000 election. Moreover, the inclusion of other political figures such as George Bush ensures that the issue of climate change is grounded in real-world political struggles. As Gore lays out the empirical evidence in visually stunning detail, one is confronted with the harsh reality of melting polar ice caps, rising global temperatures, shrinking glaciers, and the ever-increasing ferocity and frequency of natural disasters worldwide. This direct and uncomplicated approach lends a sense of urgency and immediacy to the subject. Gore's persuasive argument and expert narrative style create a profound and urgent call to action. He reaches beyond the screen, appealing to every viewer's sense of responsibility and stewardship for the planet. The film's title "An Inconvenient Truth" is therefore a stark reminder of the inconvenient and undeniable realities of climate change that our societies tend to overlook but cannot afford to ignore anymore. Billy West adds an interesting voice performance in the film, offering snippets of comic relief that operate side-by-side with chilling facts, curating an effective balance of sobriety and levity, and thus making the content more engaging and palatable. The documentary does not end on a dismal note; it rises to a crescendo with Gore's resounding call for change and his undying optimism in humanity's ability to alter our destructive course. It offers various concrete actions that individual citizens and societies can undertake to mitigate the adverse effects of climate change. From advocating for renewable energy sources to simply using less energy, Gore's solutions are far-reaching but feasible. An Inconvenient Truth ultimately encourages viewers to do their part in combating this global threat but also emphasizes the necessity for systemic, political change. Regardless of any opinion on Al Gore the politician, the film highlights his remarkable ability to bring a complex issue to the forefront of global consciousness. The film garnered widespread attention and served as a catalyst for conversations about global warming, accentuating its pressing nature and the need for immediate action. It won two Academy Awards, including the Best Documentary Feature, underlining its significant contribution to mainstream cinema and its importance to global dialogue about climate change. For anyone interested in the future of our planet and the role humanity plays in protecting or destroying it, An Inconvenient Truth is an environmentally conscious and politically challenging watch that is as relevant, if not more, today as it was upon its release.
An Inconvenient Truth is a Documentary movie released in 2006. It has a runtime of 94 min.. Critics and viewers have rated it moderate reviews, with an IMDb score of 7.4. It also holds a MetaScore of 75.
How to Watch An Inconvenient Truth
Where can I stream An Inconvenient Truth movie online? An Inconvenient Truth is available to watch and stream, buy on demand, download at Amazon Prime, Pluto TV, The Roku Channel, Kanopy, Apple TV, Amazon, Google Play, YouTube VOD, Vudu. Some platforms allow you to rent An Inconvenient Truth for a limited time or purchase the movie for downloading.



Stream movies like An Inconvenient Truth
Also directed by Davis Guggenheim
Watch movies on Apple TV+