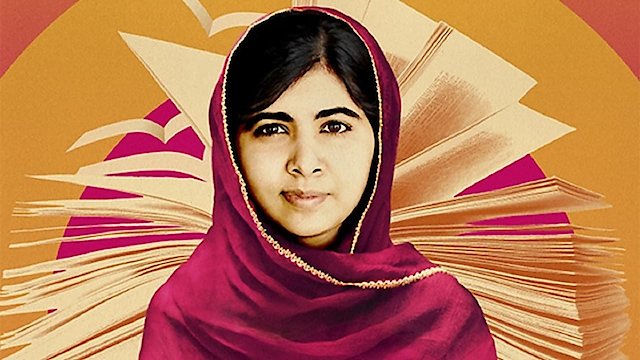 Where to Watch He Named Me Malala

He Named Me Malala is a documentary film released in 2015 featuring the inspirational life journey of Malala Yousafzai herself, her father Ziauddin Yousafzai, and her mother Toor Pekai Yousafzai. Directed by acclaimed documentarian Davis Guggenheim, this film eloquently captures Malala's story, piecing together a narrative enriched by intimate interviews, family photos, and animated scenes. It starts by focusing on Malala's relationship with her father, Ziauddin, as narrated from their home in Swat Valley in Pakistan. Ziauddin, an educational activist in his own right, inspired the name Malala, taken from a Pashtun heroine known for her bravery. The film uses Ziauddin's influence in Malala's life as the platform for her character formation, her fight for education, and speaks to how deeply parent-child relationships can impact and shape the world. Malala was thrusted into the global limelight after she survived an assassination attempt by the Taliban at the age of 15. She was targeted because she vocally advocated for girls' education in her region, which went against the oppressive regime's efforts to shut down girls' schools. Her story and incredible recovery resonated far beyond her home nation, pitching her into the vortex of international politics and making her an icon for resistance, female empowerment, and the global right to education. He Named Me Malala transcends the conventional story of a survivor. Instead, it provides a credible perspective not just on the miraculous recovery and resilience of a young girl, but also on her life before and after the incident. The film offers an intimate portrayal of Malala's life within her close-knit family, far from the public eye. Scenes of shared laughter and everyday conversations show her as an ordinary teenager as much as a Nobel laureate. In addition, Guggenheim's movie also takes the audience on a poignant journey through stunning animations that bring to life aspects of Malala's history. By painting a vivid picture of Malala's cultural ties, the animated scenes further add depth to her legacy. The power of these animations lays out the contrast between the loving, peaceful home created by the Yousafzais and the chaos and terror wrought by Taliban rule in their home valley. Malala's mother, Toor Pekai, is another noteworthy character in the film. As an uneducated woman, she represents the silent women in the Swat Valley who are deprived of education, making Malala's mission to secure education for young girls in the region even more poignant. Toor Pekai's presence further underscores the vital role women play even when they remain largely behind the scenes, which adds another layer of depth to the overall narrative. Interestingly, the film challenges the view of Malala as just an education activist. While she is famously known for her staunch advocacy for girls' education, Malala's persona unfolds as far more multifaceted. The portrayal of Malala as a teenager encapsulates her vulnerability together with her strength. This allows the audience to empathize and form a more potent connection with her as an extraordinarily brave normal girl, rather than a distant icon. This has the effect of making her inspirational story feel more accessible and relatable to a wider audience. He Named Me Malala, therefore, stands out as an emotional, powerful narrative that humanizes the extraordinary girl who stood up against the Taliban. It uncovers the human behind the headlines, the girl behind the laureate, and the family behind the fight. This revelation of the personal in the public is the film's greatest strength, resulting in a feature that goes far beyond just being another biopic. The film not only tells Malala's story; it also serves as a call for viewers to take on a role in the fight against the global education crisis. It inspires with Malala's courage, and raises awareness about the challenges that millions of girls face worldwide in getting education. In conclusion, He Named Me Malala is a gripping, vibrant celebration of a teenage girl's incredible spirit. It contains powerful messages about the importance of education and freedom, stressing the urgency of standing up against oppression. It is an essential watch for understanding the courageous journey of an ordinary girl who dared to raise her voice, becoming a symbol of peaceful protest and the youngest Nobel Peace Prize laureate.
He Named Me Malala is a Documentary movie released in 2015. It has a runtime of 87 min.. Critics and viewers have rated it moderate reviews, with an IMDb score of 7.0. It also holds a MetaScore of 61.
How to Watch He Named Me Malala
Where can I stream He Named Me Malala movie online? He Named Me Malala is available to watch and stream, buy on demand, download at Apple TV, Amazon, Google Play, YouTube VOD, Vudu. Some platforms allow you to rent He Named Me Malala for a limited time or purchase the movie for downloading.



Stream movies like He Named Me Malala
Also directed by Davis Guggenheim